Southampton's FA Cup Blues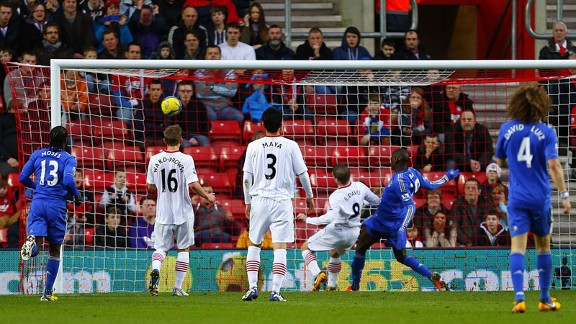 PA PhotosDemba Ba nets Chelsea's opener against Southampton
Well that was wholly disappointing but there was an air of expectancy as to Saints fate when the teams were named for the cup visit of Chelsea.

It was the visitors that named a full strength line-up, new boy Demba Ba replacing the jaded Fernando Torres perhaps the only exception. The home side decided to change things around, in personnel and in shape. Oh dear.

In Saints defence, for thirty five minutes they were the better side and looked good for Jay Rodriguez's well taken opener, but the signs were there that this might be a long afternoon. Jack Cork was getting overrun on the right hand side, as Chelsea focused their attacks at the makeshift right back.

As soon as Demba Ba (with shades of a Steven Davis own goal) got his obligatory first goal for new club against Southampton and levelled the scores you could tell that this was only going one way.

And that it did. Despite only being a goal down at half time, Saints laid their cards on the table with regards to how much they really wanted to stay in the competition, not changing the shape or strengthening the right-hand side to cover Jack Cork. It was all but an acceptance of defeat.

'One way traffic' to describe the second half would be drastically kind to Saints. It was a pure show of dominance by the European Champions as Rafa Benitez' men set mercilessly dismantling Saints. The removal of Schneiderlin (presumably for protection) and replacing him with Steve de Ridder merely cemented my opinion that Saints were barely trying to stay in the cup at this point, but it was the second substitution that worries Saints fans the most.

Not Nigel Adkins fault of course, but an unwanted injury. Jose Fonte being stretchered off on the hour to be replaced by Jos Hooiveld.

It rapidly turned into one of those games where you just sit back and admire the work of your opponents. Chelsea were in full flow, and I hadn't experienced this lack of care for the end result in a Saints game since I watch Ruud Gullit waltz through our defence for the Blues in the mid-90's.

By the time Saints were 1-4 down and had the most ridiculous penalty decision you will see all season given against them (referee's are getting worse. There. I've said it.) I was actually annoyed that Lampard was taking it to deny Ba is hat-trick. That annoyance was soon dampened though as somebody explained to me that he is trying to break a Kerry Dixon record. Anything to spoil something for Kerry. What a waste of money.

So that's that. Another year, another cup dream over. I was bitterly disappointed when I saw our line-up and my stance won't change on that. Am I saying we would have definitely beaten Chelsea with our best XI and usual shape? No, of course not, but we might have given it a better go.

I just hope that the players' confidence isn't knocked too much ahead of a crucial trip to Aston Villa. I am always wary of an adverse effect of rolling over in a cup game.

Of course, the manor of such a heavy defeat at the start of the transfer window means our supporters are even more restless than usual. Now of course we need a whole new team! The world beaters who drew with Arsenal no longer cut the mustard!

Keep the faith.