Saints stutter to festive point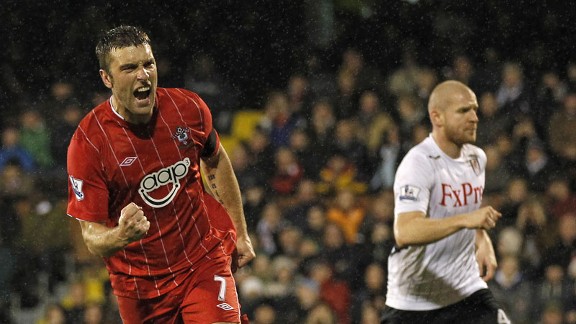 GettyImagesSouthampton striker celebrates earning his side a point at Fulham after scoring from the penalty spot

I know it was Boxing Day, but Saints and Fulham laboured to a draw, and both teams will be disappointed with the nature of it.

Forget Fulham, Saints looked like Christmas day had taken its toll and they were full of ham (see what I did there?) in the first half, producing the kind of lacklustre display only the horrendous weather could make look even greyer than it was. It tells a tale that I am having to make up corny jokes so that I can say anything at all about it.

Were it a boxing match, it would have been two jobbing sloggers pussy-footing around, hoping they might strike one lucky blow to take the victory.

Kelvin Davis in the Saints goal, truly embodied the Christmas spirit though, deciding to make the game a little interesting by gift wrapping a Fulham cross and presenting it to Dimitar Berbatov, a man who needs little help. Goalkeeping mistakes have played a starring role in Saints season so far, and just as we think we have the man for the full time job, something like this happens, only Rob Green's efforts for QPR diverting the post-match pundits attention away from Davis' howler.

The aftermath of the goal brought about the biggest sticking point of the match, Berbatov revealed a t-shirt underneath his strip saying 'Keep Calm, and pass to me', despite being, like his haircut, distinctly behind the times, the Bulgarian was, as per the rules, booked for this action.

The ref has no choice but to produce a yellow card for this, and though it is ridiculous that isn't the sticking point. Later in the half, Berbatov scythed down Jason Puncheon, a cynical foul that by clear definition was a bookable offence. The referee gave the free kick, but did not produce a second yellow for the striker. Why not? By the rules he should have been sent off, but clearly the ref, knowing in his own mind the nonsense of the shirt rule decided to spare him.

At this point Berbatov was having a big influence on the game, so it was infinitely frustrating that he was given a let off. I know the celebration rule is crazy, but the players know it, and the refs have to abide by it, and to that end should not allow it to effect other decisions. Bah humbug.

Saints were much better in the second half, and the moving of Gaston Ramirez into the centre and the introduction of Jay Rodriguez meant we finally showed some attacking intent. In fact they could have won it. Having got the equaliser through a Rickie Lambert penalty (27 out of 27, not bad eh?), Mark Schwarzer came so close to repaying the Davis favour buy palming Ramirez's stinging shot into his own net, the Australian made a fantastic recovery.

Worryingly, like the Sunderland game, statistically it reads like a Saints victory, better passing and aerial success than the hosts, sharing possession but not creating and converting chances.

The January sales start this week, and I have a feeling Saints could be big movers. Something needs to be done from a goalkeeping point of view and some much needed big league experience wouldn't go amiss either. I am fully confident we aren't one of the three worst teams in this division. In fact I don't think we are in the worst five, but we do need someone with a level head and some experience to see games like this and Sunderland out. We aren't that far off having a decent Premier League team that will compete. We need to look at Swansea, Norwich and in particular Stoke and West Brom as to how they have built the core of their teams since coming up. No drastic overhauling is needed, just strengthening in the right areas.

Tough one up next at the Brittania. They looked immense on Wednesday and outclassed Liverpool, but if Saints play their best that have the chance to take something from it.

Keep the faith.