The team that Santa Claus forgot...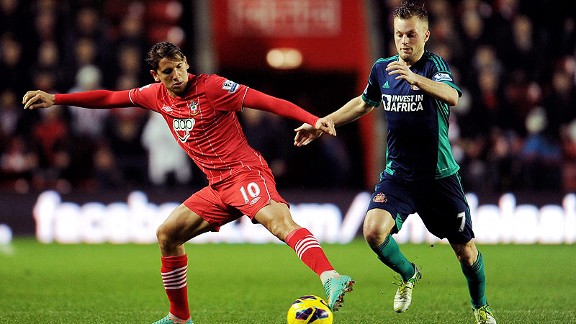 Tom Dulat/Getty ImagesSouthampton's Gaston Ramirez struggled to get a hold of the game versus Sunderland while playing out wide to the left instead of his customary role in the center.
Bah humbug. Nothing can put a damper on Christmas like a lacklustre home performance, especially in a game you really needed to win.

Saints knew they would miss Adam Lallana, but to this extent? It has taken me by surprise, though I wonder if it is too harsh to lay this one at the feet of Nigel Adkins?

- Report: Southampton 0-1 Sunderland

As I spoke about in a previous post, replacing Lallana was not going to be easy, though Saints have a plethora of players capable of taking on that position, and position is the key word. Lallana usually plays on the left, so the disruption needs to only be in that area. Replace Lallana with somebody to play on the left. No need to mess around with the rest of the team, which under its current regular setup has been playing well.

Adkins didn't do that. He brought in Emmanuel Mayuka to replace Lallana personnel wise (and as per the Lallana post, I was in support of this) but, in a positional sense, he moved things around a little too much.

Putting Mayuka up top and moving Gaston Ramirez to the left hand side meant a lot of responsibility was placed on the inexperienced Zambian's shoulders. It also meant Ramirez's influence from the centre was gone, and furthermore the shape that had been working so well was then gone.

This team setup relied on Mayuka having a good game. Sadly he did not, but for that matter neither did anyone else. Was it just an off day? Possibly. But why change the shape the players had been used to for weeks?

If you look at the statistics, the change of shape looks to have been a massive factor in losing this game. Saints finished the game with 60% possession. Getting and retaining the ball was not an issue, breaking Sunderland down was. In fact statistically, with the exception of the all-important 'goals for' column, the numbers read like a Southampton victory. Sadly that was not the case. They looked bereft of ideas, and in a game I expected them to win, they looked clueless as to how to go about it.

I don't want to take anything away from Sunderland. They admirably stuck to their game plan. Martin O'Neill has always been a 'negative' manager in my eyes, and his team played out the 'smash and grab' victory to perfection. Their defence held firm (that is the quietest Rickie Lambert has been in three seasons) and Simon Mignolet was barely troubled. They deserved their win.

Saints have to take stock of their mistakes though. There were missed chances, poor tactics and odd substitutions.

The decision to bring Steve De Ridder on was the most bizarre. With respect to the Belgian, he hasn't featured all season, and for me, always has been a backup player, so to bring him on when chasing the game instead of Jay Rodriguez was baffling. Seven million pounds on a striker who isn't going to come on when 1-0 down at home? Difficult to justify that one.

It makes a refreshing change to be talking about attacking frailties rather than defensive ones, but all excuses aside, losing at home to Sunderland is a poor result.

We go into the festive celebrations thankful for the fact that we aren't Aston Villa or Pompey and that those around us lost too.

100% improvement needed against Fulham.

Keep the faith.