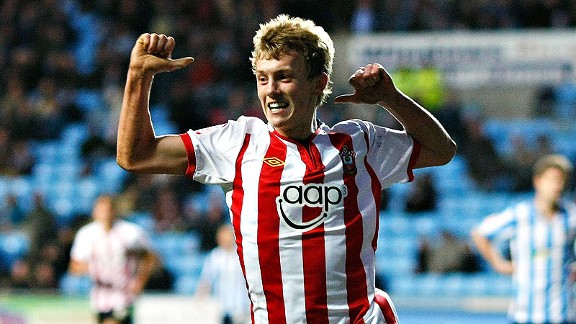 Tom Dulat/Getty ImagesJames Ward-Prowse is just one of the rising stars emerging from Southampton's budding youth system.
Last night saw the Saints' Under-21 squad run riot on their Newcastle counterparts, trouncing them 5-1 and ensuring their qualification to the U-21 "elite" Premier League group stage.

They will now compete with the development squads of Arsenal, Liverpool, Manchester United, Spurs, West Brom, West Ham and Wolves in competing for the title.

This is another great success for the Southampton Academy who have built a reputation over the last twenty years as being one of the (if not the) best in the country, and this comes on the coat tails of the Under-18 squad having already won their division and qualified for their respective elite group.

The U-18s will face their equivalents from Bolton, Chelsea, Crystal Palace, Everton, Fulham, Manchester United and Reading in the race for their title.

If you scan the two separate lists for the elite qualifiers, you will notice how remarkable an achievement this is for Saints. Only two names make both lists: Southampton, and the kings of youth development, Manchester United.

Over the last twenty years and beyond, United have been the country's leaders in producing, nurturing and embedding their own youth players into their first team. From the likes of Ryan Giggs, Lee Sharpe and Mark Hughes, through to brothers Phil and Gary Neville, Paul Scholes and David Beckham, they have been prolific in their contribution to British football, building and rebuilding successful teams with a basis of homegrown talent.

Saints are now heading in that direction. After rebuilding the club, Theo Walcott, Gareth Bale and Alex Oxlade-Chamberlain are among the Premier League's best and James Ward-Prowse and latterly Luke Shaw have been starting games for Saints and turning heads.

The balance between investment in homegrown talent and foreign imports has to be right. And while the likes of Manchester City will always do it one way, there will always be clubs that produce from within.

For Saints, it has historically been a case of 'needs must', produce the star, sell him on and count the pennies. But now it feels like the club has entered a period of consolidation. We can offer these players first team football at the highest level. Our ambition is clear and we are showing that with investment in your English players from other clubs (Nathaniel Clyne from the also highly reputable Crystal Palace academy is a case in point) and mixing it with big name foreigners like Gaston Ramirez.

With managerial stability, fantastic coaching and state of the art facilities, who knows where Saints young stars can take the club? Are we on the cusp of a Manchester United-style revolution? Perhaps that is a little far-fetched, but while watching England time after time disappoint with a mix of tactical naivety and players who lack the technical skill of their foreign counterparts, it is nice to know that there are a few clubs putting time and effort into their youth systems so that we can compete again.

I was scoffed at when I said both Walcott and Chamberlain would play for England, and I don't think anyone saw the transformation of Bale as the best player in the Premier League coming, but Luke Shaw at 17 is another one who looks to have rolled off the red and white striped conveyor belt with the ability and temperament to play at any level.

It is an exceptionally nice place to be when you know it isn't a matter of if, but when the Academy will produce gold, and at the moment it is on a yearly basis for Saints.

The chairman has talked in the past about 'The Southampton Way' and emulating Barcelona's homegrown policy, and many will believe it to be 'pie in the sky' from 'little' Southampton. But this is the realisation of a long term project, and the results so far have been very good.

Of course it is impossible to know what the future holds, but in a football world that is on the verge of bringing in strict financial rules, the policy of producing your own stars could very well be the most fruitful.

Keep the faith.