Gratitude but no regrets about Pardew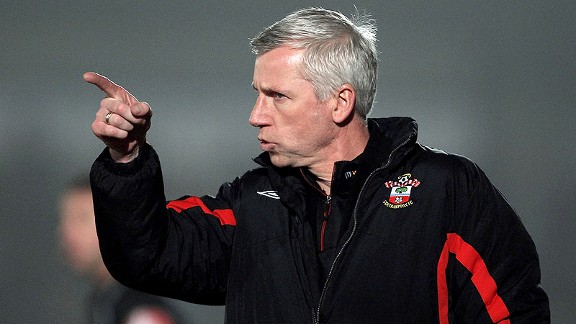 Phil Cole/Getty ImagesAlan Pardew left a strong foundation for Southampton
This Sunday sees the return to St. Mary's of former boss Alan Pardew for the first time since his departure almost a year and a half ago.

Sacked at the end of August 2010 under mysterious circumstances - surprisingly after a 4-0 away win against Bristol Rovers - it will be interesting to see the reception Pardew gets from home fans when Newcastle United visit.

Pardew did a good job on the pitch - I'm not sure anyone is likely to disagree, which is why his dismissal left a bad taste in the mouth of most fans at the time. But the club has prospered since and I'm not sure many would go back and change it now.

- Pardew struggling at Newcastle

It is frustrating that we can never know what would have happened had Pardew stayed. Would Southampton have been promoted from League One in that season? Would they still have made it to the Premier League?

Rumours of 'low staff morale' made the papers as the reason for his dismissal, while far more serious unsubstantiated allegations made their way round the internet. I'm not interested in any of that.

I'm glad how things have turned out, and I for one wouldn't change anything. His sacking was the catalyst for the appointment of NIgel Adkins and everything that has followed. It is difficult to see how it could have been better under Pardew.

Pardew had his faults with Saints - the football was agricultural at times (though effective) and he wasn't smart enough at the Johnstone's Paint Trophy final (this may just be me though). These faults pale into significance in comparison to his achievements though.

Alan Pardew will always be the manager who started the fantastic journey we are on. He will always be the first Southampton manager to win a trophy in 23 years. He will always be the manager who took a gamble on Rickie Lambert.

It is likely that both Lambert and Jose Fonte, both signed by Pardew, will start Sunday, two leagues higher than they were when they were signed.

We have much to thank him for, and it was the solid foundations he built from day one in the summer of 2009 that the club stand on as they look to take him on in the Premier League this weekend.

I hope he gets a good reception' I think he will. For all the rumours of 'off the pitch' problems the man deserves our respect and gratitude. His relationship with the fans was always good, and I see no reason for that to change. Let's give him a warm welcome off the pitch and send him packing on it.

Keep the faith.

Chris Rann is a football obsessed Southampton fan who runs the blog georgeweahscousin, which made the four site shortlist for the 2012 football blogging awards. He has also written for many leading sites and magazines.