The best form of defence is...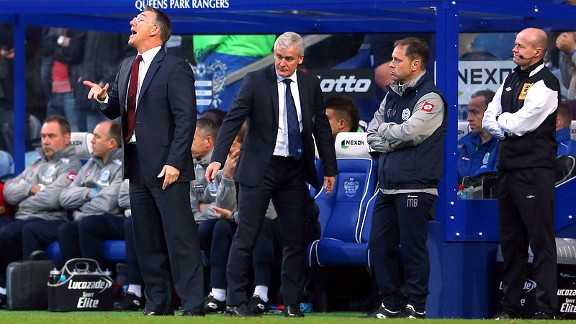 Julian Finney/Getty ImagesNigel Adkins, left, and Southampton were the victors over Mark Hughes, right, and QPR in Saturday's 'El Sackico'.
...attack. That is literally the case for Saints who tonight are celebrating their first away points of the season after an impressive victory at QPR.

Battle, guile, speed, skill and ingenuity. These were just a few areas where Saints proved to be better than their expensively assembled West London opponents today. Nigel Adkins can be forgiven for being just a little more smug than usual tonight after Saints were convincing winners today and still playing to the manager's principles.

Still no clean sheet, and it was with a now regular sense of inevitability that Rangers pulled one back with Saints seemingly cruising. There were a couple of dodgy moments for Saints keeper Paulo Gazzaniga, most notably the QPR goal, but today is certainly a day to focus on the positives.

No one watching Saints today would have them down as relegation battlers. They were outstanding. Rickie Lambert, fresh from hearing his name spoken by England boss Roy Hodgson, was playing with renewed impetus. He gave the defensive pair of Ryan Nelsen and Anton Ferdinand a torrid time from the off and was duly rewarded with the opening goal.

It was Saints' attacking unit as a whole that was just too much for the Loftus Road side and in truth, the score flatters QPR. Gaston Ramirez and Adam Lallana did a fantastic job continuously unlocking their back four as Saints started to look like they have in the previous few seasons. Attack after attack looked like it would pay off as yet again, the right hand side partnership of Jason Puncheon and Nathaniel Clyne looked electric. Puncheon in particular was the clear man of the match as he created chance after chance. He also found himself applying the finish for several opportunities himself and it was he who effectively sealed the victory with the second goal.

Much was said before this game that the losing manager may face the sack and it could be a double win for Saints as Harry Redknapp lurks in the background like a bad smell. To the victor the spoils, and to the loser they might well have a cockney wheeler dealer in place by Monday.

Many people have put a number on the amount of points Adkins needs to deliver by Christmas and today showed that home or away, there are certainly wins in this team. The clean sheet will come. This attacking unit will score goals. Saints will pick up points. Playing like they did today, they will pick up wins.

When Saints perform like they did this afternoon they are irresistible going forward. And a last mention for the travelling support. Through thick and thin they give their all to the players.

Winning feels pretty good. We really should try and do this more often.

Keep the faith.