Five centre-back transfer options for Southampton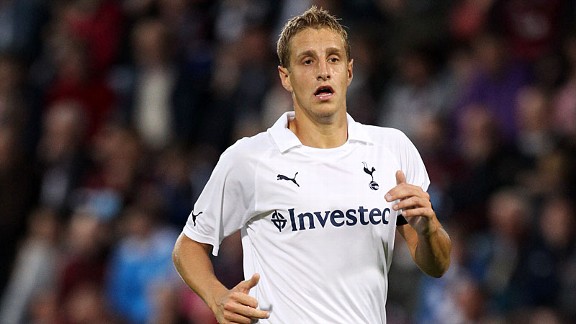 APMichael Dawson: A realistic target, on loan at least, for Southampton
Saints problems have been pretty clear since day one of this season. The back four just doesn't look good enough to keep clean sheets. Part of the problem is that none of them have any top flight experience.

- WhoScored: The battle at the bottom
- Smith: Mistakes? Hughes has made more than a few

To that end I have taken it upon myself to come up with a list of five centre halves that might be worth looking at in the January transfer window. These are in no particular order.

1. Michael Dawson

Dawson reportedly turned down a move to QPR in the summer over wages, but that shouldn't stop Saints having a look at a decent defender who is out of favour at Spurs. A player who has always been on the fringes of the England squad, Saints could do a lot worse than bring him in. Bags of Premier League experience and an on the pitch leader. Perhaps a loan if wages are an issue?. The expensive option.

2. Mikael Silvestre

A free agent, the Frenchman certainly ticks the experience box. Five times a Premier League winner with Manchester United and also won the Champions League while at Old Trafford. There is a case to say he would be past it at 35, but his influence on Saints young team could be crucial. The experienced option.

3. Scott Dann

A summer target for Saints if reports are to be believed. Played three consecutive seasons in the Premier League for Birmingham and Blackburn, and though two of those ended in relegation he was well thought of at both clubs. The cheap option.

4. Sebastien Squillaci

The French international may not have had the best of times since joining Arsenal, but his experience around European top flight football cannot be questioned. Another who may be open to a loan move. The risky option.

5. Gianluca Zambrotta

Ok. Technically not a centre half. But a defender, and unfathomably a free agent. A three time Serie A winner and one time world champion, the Italian lists Barcelona, AC Milan and Juventus as some of his previous clubs. This is probably wishful thinking from me, but while he is out of contract there is always a hope. He could probably adapt to centre half too right? The dream option.

So that is my list of five. Undoubtedly there will be many other eligible choices, but I based these on those I feel could be realistic (Zambrotta excluded perhaps). What is certain is that Saints need something to gee their back four up, whether that be new players or a change in coaching method is debatable, but playing like they are at the moment only leads to one thing. QPR on Saturday, and already a must win game. Maybe they will prove me wrong and get that much wanted clean sheet that was in touching distance against Swansea.

Keep the faith.