Spurs: Fond Memories of a Saints fan
The venom which Saints fans reserve for Harry Redknapp these days (the increasingly worrying links to his return are never far from our minds) was once aimed at another cockney.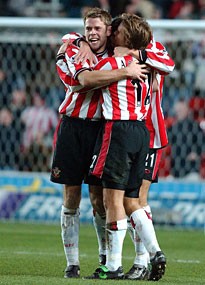 PA PhotosAnders Svensson celebrates scoring the third goal against Spurs
Glenn Hoddle had left Saints under a cloud of frustration and fury. Walking out on a side that he had rejuvenated, that were playing great football and most importantly were above Spurs in the Premier League table.

In hindsight you can see why he would want to rejoin his beloved Spurs, they were in an FA Cup semi-final, and they had always been the club closest to his heart, but at the time it seemed unfathomable, and Saints fans have rejoiced in his failing career ever since.

The events of the 4th January 2003 were particularly sweet then, as Saints took apart Hoddle's Spurs in clinical fashion.

I was seated in the Northam stand and my most vivid memory of the pre-game was the hostile atmosphere. Saints v Spurs had become much bigger and more important to both sets of fans since Hoddle had defected, and then heinously came back and swiped Dean Richards (R.I.P.) from us too. It had taken on a derby feel, and the fact that it was an FA Cup game meant that Spurs had a big allocation and the atmosphere was tense.

Spurs hadn't actually fared that well under their returning messiah in the one and a bit seasons he had been there, and Saints were flying under Gordon Strachan so I was confident. This was compounded by a 1-0 victory just three days earlier in a league encounter!

I wasn't expecting the one sided affair that I got though. It will go down as one of the best Saints performances at St Mary's. Saints played the ball around with confidence and ripped Spurs to pieces.

An early goal from Michael Svensson, who reacted first to a parried Wayne Bridge freekick was amazingly the only moment to trouble the scorers in the first half. Saints had been irresistible, and Hoddle's sheepish appearances on the touchline were met with rallies of abuse. He looked like there was nowhere he would less like to be.

Saints killed the game in the second half, Jo Tessem doubled their lead before I was to witness one of my favourite ever Saints moments. Just six minutes had passed since the second goal and Anders Svensson picked up the ball in midfield. He ran with the ball, Beattie and Tessem made runs left and right.

"They're backing off him" I told my brother, "They're backing off him". "Shoot" I cried. Now, I can't say for sure if he heard me or not (I like to think he did), but he instantly pulled the trigger. The ball flew through Kasey Keller and into the back of the net. 3-0.

By the time James Beattie added the fourth in the 80th minute, the Spurs fans were in meltdown, and on their way back to North London.

This was a vintage Saints performance against our pantomime villain at the time, funnily enough another of our pantomime villains of later years in Gus Poyet struck a frustrated figure in the Spurs midfield that day. Perhaps that's why he hates us?

At the end of the season Saints went to Wembley and Hoddle would only last at Spurs until September the following season. It's funny how things turn out. Saints fans would have liked a certain Mr. Redknapp to have been leading his Spurs side out at St Mary's this Sunday but fate intervened.

In truth once Hoddle was gone from White Hart Lane the temporary rivalry was gone, and many called for a Hoddle return to Southampton a few years later. He was a very good manager for Saints, that can never be denied.

Southampton: Niemi, Telfer, Lundekvam, Michael Svensson, Bridge, Fernandes, Delap, Marsden (Anders Svensson), Oakley, Beattie (Ormerod), Tessem (Davies).
Subs not used: Jones, Williams.

Tottenham: Keller, Carr, Perry (Anderton), King, Taricco, Davies (Doherty), Freund (Iversen), Poyet, Thatcher, Keane, Sheringham.
Subs not used: Sullivan, Bunjevcevic.

Keep the faith.