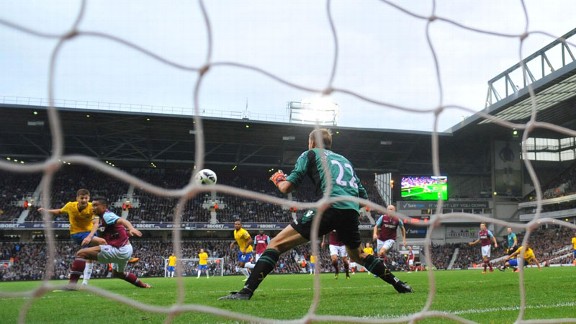 PA PhotosSouthampton's Adam Lallana got one back for Saints against West Ham
Embarrassed. A feeling I haven't felt as a Saints fan for some time. But that was exactly how it was at 16:45 on Saturday afternoon. Luckily for me I was in the South of France working and was able to soon take my mind off the debacle that was Saints woeful showing at West Ham.

I said last week that we shouldn't let our last minute equaliser against Fulham paper over the cracks of a poor performance, but worryingly it would seem that is exactly what we did. I still felt confident that we could hold our own at Upton Park, on paper, we have as good a squad as they do, but that confidence was soon blown out of the water when I saw our teamsheet.

- Hammers turn tables on fellow new boys
- Noble brace downs Saints
- Allardyce praises recovery

The decision to play Rodriguez (that £7 million price tag is looking like a sick joke) and Guly (homesick) in the front three ahead of Rickie Lambert is staggering to me. Never in football has leaving your top scorer out been a wise move, even more so when you are playing one of the most physical and aerial sides in the league and he is an added dimension in defensive situations. Couple this odd tactical move to playing a centre half at left back and dropping Gazzaniga after a decent showing against Fulham. Why have we signed Mayuka? Looked incredibly dangerous against Villa yet finds himself an afterthought behind several players who have looked poor.

I don't have an issue with 4-3-3. I think we have brought in the players capable of doing it, but away from home we need to be able to do something different.

In truth we were the better side in the first half, and going in at 0-0 the travelling Saints fans might be forgiven for thinking we could push on and win the game. What followed was an absolute calamity. Defensive mistakes were yet again our downfall as the away side capitulated in all too familiar a fashion.

The second half performance was simply unacceptable. I defy any Saints player to say they played well on Sunday, or for that matter gave it their all? West Ham can't have believed their luck, they barely got going themselves yet an easier three points will not come their way this season.

All in all it was a terrible day, one to forget for everyone connected with Southampton Football Club, and after weeks of "it's early days" and "it's not time to panic yet' I get the feeling that the true inquest will start this week. Something has to change or we are only going one way.

So far this season Saints downfall can be credited to three things. Individual errors, tactical naivety and the oversight of not strengthening the defence more.

I am a fan of Nigel Adkins, and it hurt me to listen to his (perhaps for the first time ever) dejected post match interview. He sounded like a broken man, and perhaps one that had run out of ideas himself.

Ultimately the buck stops with Adkins though. Individual player performances and poor transfer policy may not be completely in his control but he is the man with the tactics board and the substitution decisions. No amount of internet led conspiracy theories will have me believe otherwise.

I worry that Adkins may become a victim of his own success and the fantastic achievement of back to back promotions (or are we crediting these to the chairman conspiracy theorists?) may have led him and his squad to the Premier League a season too soon. Some of our players don't look up to it I'm afraid. I hope they prove me wrong, but I think the team needs a more comprehensive overhaul than it got in the summer if we are to survive.

I am all for giving Adkins more time, I completely bought into his philosophy and the notion of stability at the club when he was appointed and I am not about to change now. But. On Sunday, for the first time, his popularity with the supporters started to look shaky. Something needs to change and fast. The future of the club depends on it.

Keep the faith.