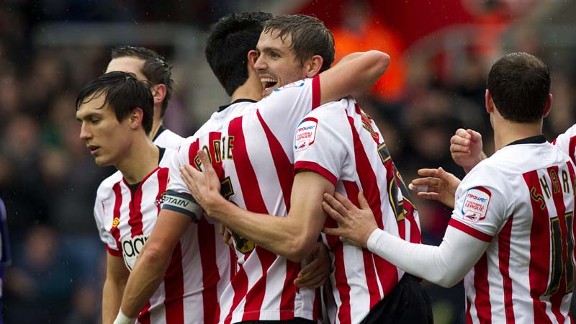 GettyImagesJos Hooiveld: His height could be crucial in dealing with Andy Carroll.
Of the three promoted sides from the Championship it is third-placed West Ham that are having the quickest and most convincing readjustment. This may not be too surprising as arguably, of the three clubs, they were (on paper at least) the one who already had the most top level experience at the club.

If I was being facetious I would say that the Hammers have had the easiest start, but the cliché that 'there are no easy games in the Premier League' is becoming abundantly clear to everyone at St. Mary's.

West Ham are often knocked for their style, and under Allardyce it is clear that substance will take precedence over fancy play, and that will be the biggest hurdle for Saints. Since Adkins took over, our own play has been easy on the eye but we have struggled defensively against those who like to use the ball a little more 'agriculturally'.

Andy Carroll up top will no doubt be a threat, and whichever combination of Fonte/Hooiveld/Yoshida get the nod at centre half are going to be in for a tough afternoon. Despite his rather accident prone start to the campaign, Hooiveld's height could be invaluable for this, and given his record of scoring in both games against the East London club last season we may need that sort of talismanic charm again!

West Ham started their season looking like they might be very much a difficult side to beat at home while struggling on the road, but recent results against Arsenal and QPR have turned that around. With 11 points from the first seven games and a league position of 8th, no one at the Boleyn Ground will be disappointed.

Saints will be looking to bounce back from the topsy turvy account they gave of themselves against Fulham and it might be wise to go into this game more conservatively than we have on the road thus far.

Packing the midfield to nullify the likes of Noble, Nolan and Diame could be key and a strong performance from our full backs to counter the talent of long-time Southampton linked Matt Jarvis will be crucial.

On the other hand the West Ham back four look nothing to write home about, and could struggle against a firing Lambert, Lallana et al. In fact I will stick my neck on the line and say that they look considerably weak in comparison to their midfield and forward options.

Last season's encounter at Upton Park was a fiery affair, and Saints need to be the side that keep their heads in that situation, exactly as they did last season. West Ham are a physical team, that much we know already, but they are also a decent attacking force, the combination of which will make it a rocky ride.

My Saints line-up:-

Boruc
Clyne Fonte Hooiveld Yoshida
Scneiderlin
Puncheon Cork Davis Lallana
Lambert
Keep the Faith.