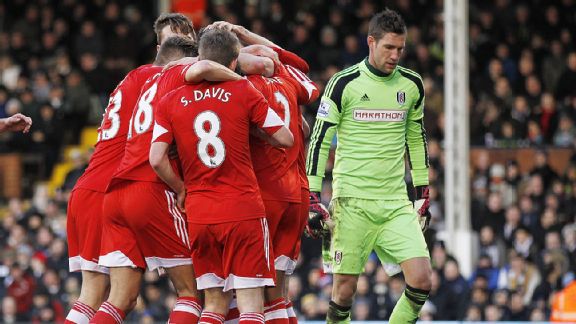 Ian Kington/AFP/Getty ImagesSouthampton hope their winning momentum carries into Saturday's home date with Fulham.
Saints face Stoke City on Saturday, as this match represents the second fixture in a month which will either make or break their season.

After an emphatic victory over Fulham to get February rolling, a home date with the Potters is the ideal way to continue the momentum.

The 'sticky patch' is well and truly behind Saints; many of the injured players are now back and they are unbeaten in six matches. Carry on this form among a relatively 'easy' (by Premier League standards anyway) fixtures and Saints will have a clear idea as to whether their season will end well ,or very well.

- Report: Fulham 0-3 Southampton

The remainder of February sees Saints travel to Hull City (undoubtedly the most difficult tie of the month), Sunderland for the FA Cup 5th round and then stragglers West Ham. These fixtures could see Saints go into March -- the true business end of the season -- with a very real possibility of their highest ever Premier League finish (Saints finished eighth in 2002-03) and through to the FA Cup quarterfinals.

I still maintain that 10th or above in the Premier League represents a splendid season for Saints and represents another rung on their ladder of progression, but with the table as it stands, there is nothing to stop them looking at seventh as a difficult but realistic target.

Any cup run this season might be considered a bonus, but with the draw pairing all of the Premier League top 4 together (not that Saints should fear any of them, except Chelsea based on this season's league results), it has really opened up for a less-favoured team to make a run for the final.

First things first though; Saints, it seems, have a series of games against those battling against the relegation spots (which is pretty much everyone from 11th down), and as Saints fans know only too well, never underestimate a team battling for survival.

Stoke City are a prime example of how tight it is at the bottom. At lunchtime on Saturday they were in 18th position and sat despairingly in the relegation zone. By 17:45 however they were in 11th, mid-table obscurity in any other season, having seen off Manchester United no less.

As with any game, Saints need to go into Saturday knowing that as long as they play their game to the best of their ability, they should prove victorious. Only Chelsea and the 'Special One' have truly shown Mauricio Pochettino up in his own back yard, and with a Stoke side under Mark Hughes who are trying to banish their direct reputation, it should all play into the Saints boss' hands.

The Saints staff and players will know only too well how important the next run of games could be to the season.

Keep the faith.