Stability here to stay for Saints?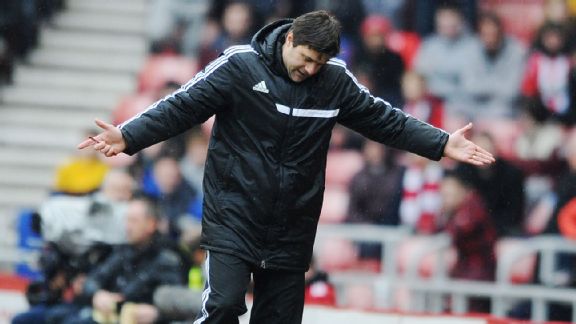 Chris Brunskill/Getty ImagesAfter a week of turmoil at Southampton, it appears Mauricio Pochettino will stay on as Saints manager.
Well, what a week this has been.

What started on Wednesday with Nicola Cortese's departure and an expected "meltdown" of epic proportions at the club looks to have ended with an open letter to the fans from owner and now Chairwoman Katharina Liebherr.

- Report: Saints chief pledges not to sell players

The letter divulged that any suggestion that Cortese's departure would signal a fire-sale at the club could not be further from the truth. She has reiterated that she has full faith in Mauricio Pochettino as manager and will fully back him, again saying that no players will be sold against his wishes.

She also talked of continuing the progression that the club is on and the will to make it bigger and better. What stood out for most Saints fans reading it though was one particular line: "with the prime objective of honouring and maintaining the club's heritage and tradition in the Southampton way."

While Cortese was a highly successful chairman at Saints, many fans felt a little uncomfortable with some of the club's traditions and heritage being overlooked. The red and white stripes, synonymous with Southampton perhaps more than any other English club, have been missing since Saints' return to the Premier League, and the treatment of the likes of club legends Matthew Le Tissier and Francis Benali (who was banned under Cortese) have been bugbears that Saints fans have had to accept. Those former players are already welcomed back to the fold, and with the hint in Liebherr's statement too, it seems the club may be going back to a more fan-focused era.

This letter coincides with the expected appointment of John Williams as CEO -- another move that would, on the face of it, look extremely positive. Not only was Williams an extremely successful chairman at Blackburn Rovers and someone considered good enough to take a position at Man City recently, Williams is a Saints fan, hailing from the Totton area.

It feels like Saints new Chairwoman knows her market and if the PR that was coming out from the Cortese end was all doom and gloom, the retort has been nothing but positive. Let's face it; you don't leave your father's incredibly successful business empire if you aren't up to the task of leading it.

I certainly don't want to show any lack of gratitude to Cortese, or the great job that he did at the helm of the club, but, if Liebherr is to put her money (perhaps literally) where her mouth is, then this really might be a case of business as usual at Southampton Football Club, and dare I say it, with an appointed board of directors on which the owner of the club sits, perhaps business might even get better?

Something tells me that the next six months will be a pretty interesting time to be a Saints fan. Welcome to the club, Katharina, I think your dad would be incredibly proud of you today.