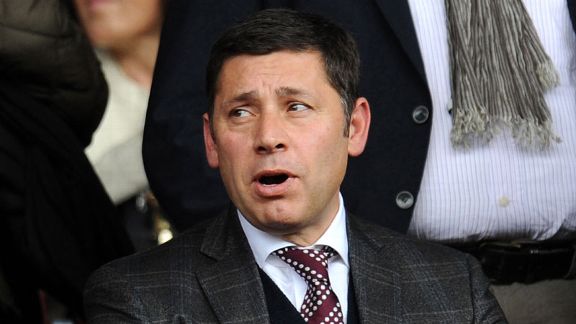 GettyImagesNicola Cortese's exit has prompted doubts over Mauricio Pochettino's future.
Well, well, well. Just when the Southampton fans were starting to relax, everything went pear-shaped on Wednesday. Executive chairman Nicola Cortese resigned, after months of speculation about his continued future with the club, and the so-far-silent owners installed Katherina Liebherr as non-executive chairman.

Not the news most Saints supporters wanted to hear.

Nicola Cortese persuaded billionaire Markus Liebherr to purchase the club when it was at its lowest ebb. He oversaw its rise from the bottom of League One to the top half of the Premier League in just four-and-a-half seasons. He made all the tough calls and took all the accompanying flak, time and time again, only to be proven right in the long run. He was a huge asset to the football club, and perhaps the one man who was keeping all of Saints' stars at the club.

Now the future is uncertain. The manager, Mauricio Pochettino, was extremely loyal to Cortese and has in the past suggested he would follow him out of the door if he left. The players loved him and there is some suggestion that they all committed their respective futures to the club on his vision.

This could be a period of extreme upheaval, or it might not. No one man is the club, and no one knows the intentions of Liebherr, whose family have bankrolled the club, and deserve huge credit themselves.

The statement from the club suggested that she was immediately looking for a CEO to come in, so maybe, just maybe, her intent is to continue where Cortese left off. At this stage, we don't know.

It is easy to forget at times like this that football goes on, and Saints have an important trip to Sunderland on Saturday. Hopefully Mauricio Pochettino and his players can focus on the job in hand and go about their business as professionals.

Sunderland have had an upturn in form of late as Gus Poyet instils his style on the club, and Southampton can expect them to be physical and a tough challenge at their home ground. With Saints getting back on track with a good win over West Brom last week, the last thing they will want is to capitulate at the Stadium of Light.

If the players loved Cortese as much as it is being suggested then perhaps this weekend's game is the ideal way to show him that and give him a fitting send-off.

Southampton Football Club is a wily old beast, and its supporters have been through a lot worse. At the end of the day, it is only the fans that stay constant and, though there might be a distinct feeling of disappointment at the moment, football has a habit of moving on fast.

Never a dull a moment as a Saints fan. Keep the faith.