Be careful what you wish for in transfer window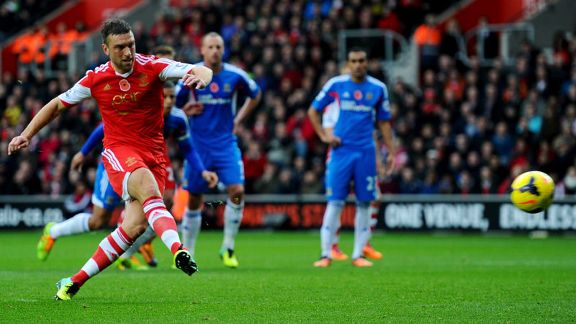 GettyImagesRickie Lambert is still essential to Southampton.
Transfer windows have a funny effect on people. From chairman, to managers, to supporters, they provoke irrational behaviour. How else do players like Andy Carroll end up demanding such vast fees? Everyone suddenly feels panicked into making rash decisions on players coming in and going out.

This is happening amongst the Saints faithful at the moment, as some -- and I find myself pretty surprised to be typing it -- are looking to cash in on Rickie Lambert.

This has built up due to a number of factors. Mainly based around much tabloid speculation that West Ham want Lambert to solve their striker crisis and that they are prepared to pay 8 million pounds for him. Add to this that Lambert isn't perhaps having the main role he might like at Saints at the moment, and with the World Cup on the horizon (his one and only chance) he might be forced to consider his position.

I would have said that this was all nonsense as recently as a week ago, but on Saturday against Burnley in the cup, Rickie looked fed up, he barely even celebrated his finely taken goal and it made me wonder if he was playing under the impression that he was considered second choice.

Personally, I wouldn't sell Lambert, not even for 8 million pounds; he still has a big role to play and Saints would not be able to replace him for that money. I'm not in charge of the books at Southampton, though, and that level of offer could easily tempt them.

Some fans seem pretty happy with the thought of cashing him in, but I say to them: Be careful what you wish for. Suggesting replacements is all well and good, but the likes of Danny Ings from Burnley, which would seem to be the most popular choice, come with a certain element of risk. Ings isn't as good as Lambert right now. To replace the latter with the former would be a huge gamble.

With the exception of pace and age on his side, I saw nothing of Ings in the cup game at the weekend to suggest he could fill those boots. For starters, he is a different style of player, more a competitor for Jay Rodriguez than Lambert, whose hold up play and calmness on the ball sees him often the creator for Saints.

The fact is, Lambert has, since the arrival of Dani Osvaldo, had to get used to not being a guaranteed starter in games and that would have been tough, but his role has still been fruitful. With Osvaldo suffering a few injuries and his eye for trouble already leading to a suspension, it could be disastrous to let a player of Lambert's stature go.

Perhaps this isn't about Saints and what they want, though. I'm sure no Saints fan would begrudge him a big money final move for his career and a crack at the World Cup.

Players come and go at every club, but some make their mark and can be considered legends. I don't think I am being over the top by suggesting that Lambert falls into that category.

Saints should keep hold of Lambert, and invest in the future of Sam Gallagher as his eventual replacement. The thought of seeing Lambert line up in the colours of West Ham and play as the target for countless aimless hoofs is sickening. He's better than that.