Bad acting from Oscar doesn't dampen Chelsea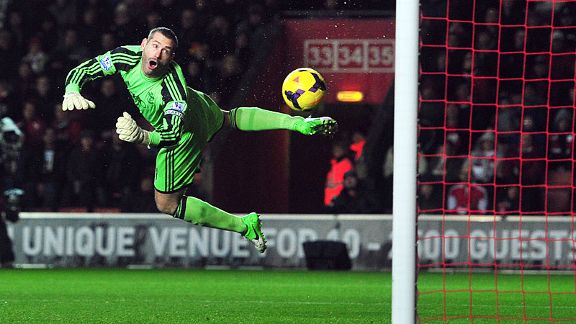 GettyImagesKelvin Davis is powerless to stop Fernando Torres giving Chelsea the lead.
The Southampton players celebrated the New Year by watching their Chelsea counterparts put on a show. Watching was all they could do in honesty as Jose Mourinho showed his tactical nous, changed his team at half time and reaped the benefits.

Chelsea had already been the better side in the first half, Fernando Torres in particular giving Saints the run-around from the off, but the additions of Oscar and Willian early in the second half added a clinical edge to Chelsea's superiority.

- Lythell: Oscar stars in New Year win

Saints were out-thought, out-played and out-classed in the second half, and it could have been worse had Martin Atkinson been fooled by an horrendous bit of diving by Oscar. That level of foul play needs to be addressed and in my opinion needs to be a red card offence. Kelvin Davis would have been sent off had the referee been fooled, so perhaps the fooler should receive the same level of punishment.

Of course it was Oscar who started to pull the strings for Chelsea after that, and he had a hand in all three of their goals, assisting Torres and Willian, and then adding the third himself.

This isn't a complaint, or a suggestion that Saints were hard done by, they really weren't. Chelsea were tremendous value for their three points and in truth the deficit could have been bigger.

Saints have had plenty of reasons to be aggrieved in recent defeats, but there was none of that on Wednesday, and there was an air of acceptance in the St. Mary's crowd that their team had simply been undone by a much better side.

I admire Saints' determination to fuel the team with the products from their youth system, and in truth those players look perfectly comfortable against the likes of Chelsea, but they shouldn't kid themselves that they don't need to strengthen if they want to fulfil their ambitions. Saints still need to assess the level of some of the players in squad and where necessary improve upon it.

It wasn't the best way to start 2014 by a long shot, but at the same time perhaps it was the ideal time to dampen expectations and in a rain soaked St. Mary's it was certainly the ideal place. Saints are still going to have plenty to say this season, of that I am sure, but there'll be a few more days like that too...