Will Spurs' misery continue at St. Mary's?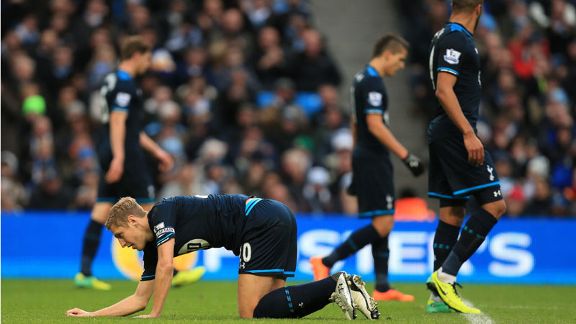 PA PhotosCan Southampton profit from a Tottenham squad at its lowest ebb?
Is this the best or worst time to be playing Spurs? Difficult to tell.

Based on their performance against West Ham on Wednesday night, it might have been handy had that game not happened, and then Saints would have got to face Tim Sherwood's first team selection. To be honest, I think the Saints may have preferred AVB holding on for a little longer. That is certainly my opinion. In AVB's Spurs, Saints would have known what they were going to get, and been already well preparing for it. Now there is the air of the unknown about Sunday's game.

Sherwood wrapped himself in one giant, cuddly English cliche last night. A 4-4-2 formation, big and little man up top -- but it didn't work. Losing to this current West Ham team at home is not a great application for the full-time job for the club's ex-midfielder.

So what of their trip to St. Mary's on Sunday? Confidence-wise, they might be at their lowest ebb, which will of course benefit the hosts. But they could also arrive with a "nothing to lose" attitude, and with the likes of Sherwood and Les Ferdinand in charge, dare I say it, they could prove to be a nightmare for Saints by playing it long?

If Saints play to the level they have done so far at home, then they should win the game, and I'm confident that applies no matter who the opposition are. But if the temporary Spurs coaching team have done their homework, and want to add a traditional English touch, then balls over the top to Emmanuel Adebayor and Jermain Defoe really wouldn't be a bad way to go.

The key will be getting at the Spurs back four, who have been less than impressive this season. If, as expected, Michael Dawson returns from suspension, Saints need to tell the likes of Jay Rodriguez and Adam Lallana to run at him. His clumsiness could pay dividends at the end of each attack.

What Saints certainly shouldn't do is look at the last week in the life of their opponents and think that this will be an easy game. There is some serious midfield talent in their squad -- Christian Eriksen, Gylfi Sigurdsson and Mousa Dembele -- capable of winning games on their own. Containing them will be crucial. The return of Morgan Schneiderlin couldn't be better timed, and I expect he and Jack Cork to harry the Spurs midfield at their usual high standard.

This has the makings of a great game, and one that both sides will see as "winnable." I fancy Spurs to go for it, which might play right into Mauricio Pochettino's hands.

Keep the faith.