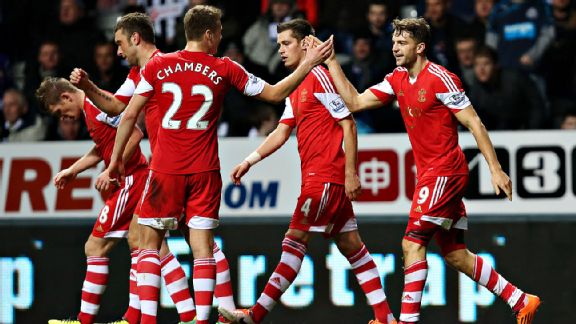 Jan Kruger/Getty ImagesSouthampton picked up a rare point at Newcastle thanks to Jay Rodriguez's second half goal.
Saints' 1-1 draw at Newcastle on Saturday was certainly a point gained in my opinion, as the travelling side managed to survive a team in form, a goalkeeping howler, a flag happy linesman and a unhappy hunting ground.

- Match report: Newcastle 1-1 Southampton

Saints never get anything at St. James' Park, and Newcastle never get anything at St. Mary's; it's almost an unwritten agreement between the two clubs to share the points and write off the long trip. But Saints did get a point on Saturday, and it was against all the odds.

Newcastle have been the form side of late, and with Saints ever growing injury list (Adam Lallana and Jose Fonte were dropped to the bench), I was certainly not expecting much from the game. If that feeling was strong before the game, it was at its peak at halftime. Saints had a torrid first half, and at times it looked like Newcastle were going to romp their way to a big victory. Much like at Arsenal though, it was a case of Saints shooting themselves in the foot: Jos Hooiveld's left foot to be precise -- the big Dutchman missing his clearance to allow Yoan Gouffran the easiest of openers. For Mauricio Pochettino, it must have been highly frustrating to see his team, having weathered a storm and soaked up some pressure, go in at halftime one down and all their own doing.

Whether or not Pochettino's plan all along was to get to halftime and then unleash Lallana against tired Geordie legs or a decision based purely on the performance in the first 45 minutes, we will never know, but it worked. Immediately, Saints were in the game, and looking dangerous. Jay Rodriguez's equaliser was a perfect example of a counter attack, executed expertly and no more than Saints deserved. The home fans were incensed, screaming that Rodriguez was offside, as did the bewildered Tim Krul. Thankfully on this occasion the linesman was not influenced and the goal rightly stood.

I was looking forward to not mentioning the officials -- even the referee who was grounded by Moussa Sissoko -- but having watched the video replays it was disappointing to see how often Saints were wrongly given offside during the game. I know Southampton and Newcastle are completely opposite ends of the country, but I don't think they play a different offside to us? To see the Toon players and fans scream in unison every time a Saints attack made the box was staggering, but more so that it was often wrongly followed by the raising of the linesman's flag.

In fairness though, Newcastle fans will have been far more disappointed with their point than Saints -- Loic Remy spooning the chance to win the game after Paulo Gazzaniga struggled to deal with an awful back pass and passed the Magpies' Frenchman the ball on the edge of the box. From a Saints perspective, it was a difficult afternoon that in the end was fruitful.

It's a wounded Spurs team without AVB up next for Saints -- a chance to get back to winning ways?

Keep the faith.