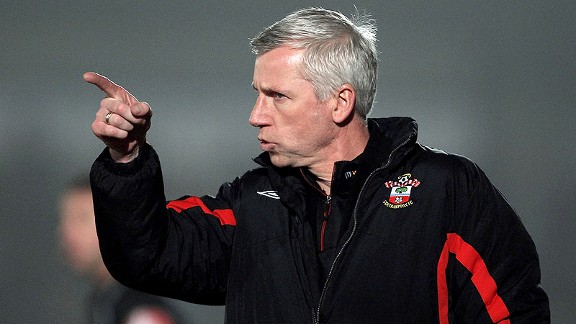 Phil Cole/Getty ImagesAlan Pardew left a strong foundation for Southampton.
When the fixtures were released before the start of the season, everybody looked at Saints' December run and thought it was difficult. That has proved to be the case. Even the 'winnable' fixture so far, Aston Villa at home, proved to be a banana skin and Saints did well to respond with a point against Manchester City.

Next up on Saturday is Newcastle United, another tough fixture. Traditionally Saints have a good time of it against the Toon at home, but struggle on the road. While Saints have been praised lavishly for their start to the season and many have started to suggest that they can break into the group vying for Europe, former Saints boss Alan Pardew and his men have slowly built up their run of good form and overtaken them.

-Pochettino: Shaw not for sale

In their last six Premier League games Newcastle have had five victories and just one defeat, and perhaps it is they that can be considered the 'surprise package'. Either way, Pardew has made no apologies for wanting to beat Southampton, given the curious nature of his dismissal back in 2010. It might be considered fair enough that Pardew is still bitter. But Saints fans, though disappointed at the time, have watched two evolutions of their side after what were thought to be unfair sackings.

I might have fallen into the trap of suggesting that this game would be difficult because of the style of play Pardew employs, but that wouldn't appear to be the case this season, the Geordie side playing far fewer long balls than they have done in the past. Interestingly though, Newcastle don't keep the ball, even at home, averaging 50 percent of possession at St James' Park, something undoubtedly for Mauricio Pochettino to exploit.

Looking at Newcastle's statistics, something that immediately stood out was their penchant for a pot shot. They average 17 shots a game at home, 58 percent of which come from outside the 18-yard box. Paulo Gazzaniga will need to be ready for the strikes from distance.

It's hard to pinpoint a particular player in the Newcastle team who Saints need to keep an eye on; their assists are evenly spread out among the team. Loic Remy will of course be a threat, and despite criticism because of his off-the-field problems, for me that was an exceptionally shrewd summer signing. I like the look of Mathieu Debuchy at right back, someone who will certainly keep Luke Shaw on his toes with his bursting run forward.

On any other day, I might be forgiven for suggesting that Saints would be pleased to get a point from a game like this. But with the recent run of fixtures it would be nice to get all three. Pochettino isn't in the habit of playing for a draw and with Pardew admitting a personal desire to win this particular game it could prove to be a cracker.

Keep the faith.