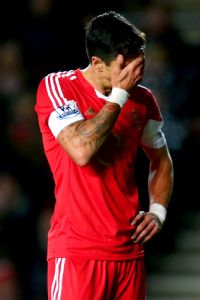 Bryn Lennon/Getty ImagesJose Fonte is on the ever-growing list of injured Saints.
I have to say something about Wednesday night, but I'll keep it brief as the less said about that freakish game the better.

It was just what Saints didn't need. A third defeat on the trot before facing Manchester City -- and the manner in which it came about made it a thousand times worse. Saints lost fair and square, there is no denying that, but on the balance of play they were in complete control.

Saints had two key players missing in Artur Boruc and Morgan Schneiderlin, but still had way too much for Aston Villa. They just couldn't turn their absolute dominance into goals. On the other hand, Villa had three chances, and scored all three in a 3-2 victory. It was a freak result. On any other day, it would have been a 2-0 victory for Southampton.

But, some serious alarm bells are now ringing for Saints, particularly regarding their depth, and that is about to get a whole lot worse.

Saints will take on the gargantuan that is the free-scoring Manchester City at home Saturday without Boruc, Kelvin Davis, Nathaniel Clyne, Victor Wanyama, Guly do Prado and potentially Jose Fonte and Gaston Ramirez too.

-Mooney: City out to exorcise St Mary's demons

The injuries that really stick out are those of Boruc, Wanyama and Schneiderlin. Three extremely important players to Saints defensively, and linking play between defence and attack. Those who came in against Villa looked ring-rusty and not up to the task.

So, Manchester City then. Let's not be coy. This was an extremely difficult game at full strength, let alone with a growing injury list to contend with.Now it looks daunting, but for several players who will start for Saints, they must look at this as their opportunity to force their way into favour.

Saints need to dig in. This was always going to be a tough run, and undoubtedly these injuries couldn't have come at a worse time, but this is a squad game and the players who usually find themselves out of favour need to show their professionalism and get on with it.

City aren't unbeatable, no one is, and their away form is nothing like the hammerings they have been dishing out at the Etihad. City are a side that dominate possession in pretty much every game they play, as do Saints. The home side must frustrate the visitors by keeping the ball away from them. If City have a weakness -- and this is really clutching at straws -- it is in the air. Saints should put plenty of balls into the box at height, interestingly just like the two chances they did finish against Villa.

In many ways, this game may suit Saints more than the Villa match did. Saints have always struggled against those that go direct, and City certainly won't do that. This is going to be a battle of style, and Saints might want to think about ditching a bit of theirs and getting this done dirty.

Keep the faith.