A Bridge too far? Not if Saints possess will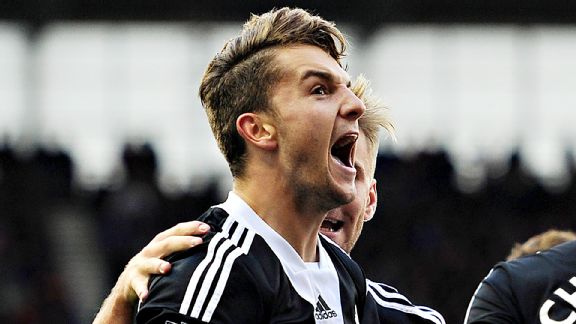 Chris Brunskill/Getty ImagesJay Rodriguez and Southampton are taking their no-fear attitude to Stamford Bridge this weekend.
For the traveling Saints fans who paid the extortionate price for a ticket at Stamford Bridge on Sunday, I tip my proverbial hat. I hope you get the result you deserve. That might be a lot to ask of the team though, given Jose Mourinho's home record as Chelsea boss -- and that recently the match referees look determined to help him keep it!

No Saints fan will travel thinking it is a no-win situation though, of that I am sure. Saints players have proved they have nothing to fear in any game this season, and gone are the days where an away game for Saints fans was just a nice day out. They have every chance of a positive result if they play to the best of their ability and impose their style on Chelsea.

-Luiz, Eto'o out for Chelsea

No one is unbeatable. Not even Mr. Mourinho, despite his admittedly phenomenal record as a manager. It is interesting to note that despite their credentials at Stamford Bridge, Chelsea haven't kept a Premier League clean sheet there since September. Aston Villa, Cardiff City, Manchester City and West Brom have all breached Chelsea's defence at the Bridge, and there is no reason why Saints can't, too.

Take the performances of the two Midlands clubs in particular and you will see that the 2013 Mourinho Lions are not quite as impenetrable as those of 2005. You can argue the case that Aston Villa should have won, and only a massive injustice prevented West Brom from doing so.

The key for Saints will be possession. Chelsea enjoy an average of 61 percent at home; it will be nice to see how they react without it. Saints have gone to Old Trafford, Anfield and the Emirates and out-possessed their hosts with mixed results, but if one thing is clear, the big boys don't like it when you take their ball away from them. Bullies don't like being bullied, and may implode.

Again this might be a game won and lost in central midfield. To take that possession from Chelsea, Victor Wanyama and Morgan Schneiderlin will have to be at their robust, energetic best, hopefully up against the aging Frank Lampard. If they go about their job as they have done consistently this season then Saints can win the possession battle and ensure that the result of this game is all about what they do with the ball.

Chelsea have a very talented attacking support that includes Juan Mata, Eden Hazard, Oscar et al. They won't need many opportunities to create a threatening situation. Saints need to eradicate the final third hesitancy from the Emirates and make any attacking play count. Chelsea are the kind of team that could beat you 1-0 from a single attack.

If Saints have had a fault so far this season, it is the insistence on walking the ball into the net, and poor decision-making at the final phase of an attack. This is fine in a game you are comfortably winning, but won't do against a team like Chelsea, or indeed Arsenal, as they discovered last week.

Mourinho instils belief into his players -- he is probably the best in the world at it. I would suggest Mauricio Pochettino, a man often compared to his friend Jose, adopts a similar ethos. It might just be a case of who believes more.

Keep the faith.