Big chance for England's Saints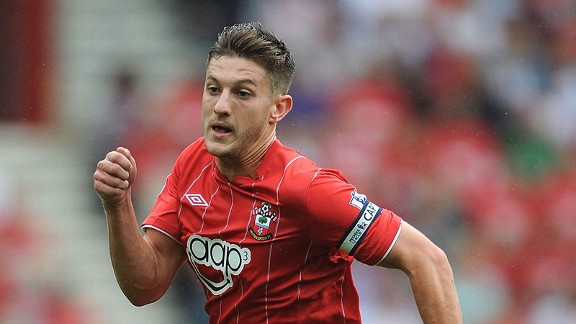 GettyImagesAdam Lallana is likely to be given his chance to impress after last week's performance against Hull.
It all seems to be falling into place for the the Southampton trio in the full England squad this week. With squad drop outs from Steven Gerrard, Michael Carrick and Danny Welbeck it seems likely that all three will get the chance to show their credentials as international footballers sooner, rather than later.

Most eyes will be looking to see Adam Lallana after his immaculate showing in the destruction of Hull City. Statistically he is one of the top four English midfielders at the moment, according to whoscored.com and you would like to think he has earned a starting place on Friday night.

In my opinion Roy Hodgson could do worse than start all three Saints against Chile, especially if he decides to utilise a similar formation and outlook as Saints (radical thinking when discussing the English national team I know, but sooner or later they must catch up with the clubs playing progressive football).

So this is the lineup I would like to see, playing 4-2-3-1:-

Forster
Johnson Cahill Jagielka Cole
Wilshire Henderson
Rodriguez Rooney Lallana
Lambert
Apart from a ropey back four, that would be a team that could excite this nation out of the doldrums. There would be an argument for Sturridge to be involved, and it would be a very fair point. He could be interchanged with any of the supporting three roles, though for me I wouldn't play him as the lone man up top.
Those of us privileged enough to see the Saints trio work together on a weekly basis will know exactly how much damage they can do, and squad familiarity could be used to England's advantage. Rickie Lambert is the perfect foil for the oncoming Rodriguez and Lallana, three players that will work tirelessly for each other.
It could be the tirelessness of the three around him that could, for me, unlock Wayne Rooney. Undoubtedly the biggest talent in English football, it's time to give him some freedom. With the Saints triumvirate doing the level of graft they are used to at club level, Rooney can concentrate on running the game. With the amount of space Lallana and Rodriguez can create with their trickery and their use of the long lost art of taking defenders on, Rooney might just have a field day roaming around the edge of the 18-yard box, especially with Lambert winning the ball and teeing him up.

Dare I say, this is a freedom the Manchester United forward might not get playing alongside a Sturridge or a Defoe. The emphasis on teamwork that has become a solid foundation for Saints' rise to prominence could put Rooney on a pedestal he has never previously experienced in an England shirt.
If Roy Hodgson is serious about taking his England squad to the next level, he has to be brave enough to experiment in these friendlies. The way forward is to look at the way the likes of Southampton, Liverpool and Swansea City are playing and try and emulate it. Tired old 4-4-2 formations and picking the same old faces because they play for the big clubs has got us nowhere. It's time to take a chance on a style producing the goods at club level. Saints have given you the arsenal, be sure you know how to handle it.
Keep the faith.