Andrew Farrell just the player New England needs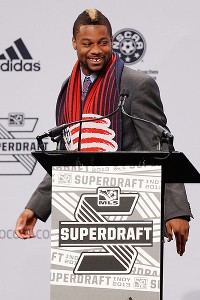 Joe Robbins/Getty ImagesNew England Revolution selected defender Andrew Farrell as No. 1 overall pick in the MLS SuperDraft.
INDIANAPOLIS -- Andrew Farrell knows where he stands. The New England Revolution may have made him the No. 1 pick in the 2013 MLS SuperDraft, but he knows he still has a lot to prove.

"Today is the highest moment, the top guy," he said after his selection. "But on Monday, I'm just the rookie. I've just got to go back and start working again."

Fortunately for Farrell, his versatility and experience growing up abroad should all stand him in good stead and allow him to be an impact player. The University of Louisville defender lived in the U.S. for the first five years of his life, but his parents, Hunter and Ruth, were Presbyterian missionaries and moved the family to Peru, where they lived for 10 years. While he was unhappy to leave the U.S. at first, playing soccer eased his assimilation to a new country whether it was in the street, the playground, or with his club.

"I played everywhere," he said. "You try to play everywhere you can. You're out there and you try to have some fun with the guys."

But the biggest impact was in terms of Farrell's skill level. At 5-foot-11, he isn't the biggest central defender out there, and he admitted he was a bit undersized as a kid. That allowed him to improve the technical parts of his game.

"I think especially as a center back and a defender, I think that's where I got my decent feet," he said of playing in Peru. "That's something that I learned down there, just to play relaxed and a little more technical. I'm not just an athlete, so I think that's where it helped me."

The delight on the face of Revs manager Jay Heaps was obvious. The night before the SuperDraft, New England had acquired the pick from Toronto FC in exchange for allocation money and the Revolution's original selection, which was the fourth overall. Heaps admitted that the move was made with the express intent of acquiring Farrell.

"Farrell was someone I tracked pretty closely in college, a little bit last year … and then this season quite a bit," Heaps said. "He fits exactly what we want to do. We want to play, and we want defenders that can defend and play. It's as simple as that."

New England was also a team that struggled mightily along the back line last year, and Farrell's versatility -- he can play center back, right back or holding midfield -- will give Heaps plenty of flexibility in how he ultimately decides to use Farrell.

"I think when you're putting it all together, I'll try him at center back and right back first," Heaps said. "I think he's a really good center back and I want to see his strengths as a right back."

Former Louisville teammate -- and reigning MLS Rookie of the Year -- Austin Berry has seen Farrell up close as much as anyone, and is among those who are convinced the defender has what it takes to succeed at the next level.

"Farrell is kind of more of a finesse defender, but he'll get stuck in," said Berry via telephone prior to the draft. "And he's got the right mindset for it. He's confident in himself, and he's the kind of kid where he'll get along with the team. He's not going to clash with anyone. If he's not playing, he's the kind of kid who's going to work his butt off to try and get on the field."

That sounds like just the kind of player New England needs to get back to the postseason for the first time since 2009.