Cosmos sending a strong message to MLS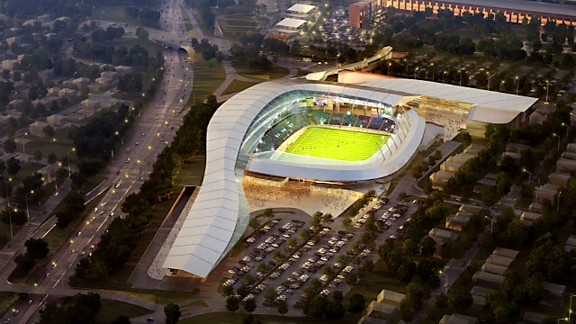 Matter, IncA rendering of Seamus O'Brien's vision for the New York Cosmos.
New York Cosmos chairman Seamus O'Brien says he's not afraid of competition. With the news that the club is aiming to build its own soccer specific stadium in Belmont Park on Long Island, that looks exactly like what he's giving Major League Soccer.

- Cosmos plan Belmont Park venue

The NASL club announced Wednesday that it has submitted a proposal to the State of New York to build a 25,000-seat professional soccer stadium as part of a broader economic development plan for two sections of Belmont Park. The proposal also contains plans for nine restaurants, nearly 250,000 square feet of retail space, a 175-room hotel, development of a brand-new 4.3 acre public park for the residential community, as well as a community soccer field.

If approved, ground will be broken in 2014, and the stadium is expected to be completed by the end of 2015, with the field being installed and stadium opening in spring of 2016. Retail establishments are expected to open in the autumn of 2015.

"Ideally I would have like to have had a season under our belt, got all the management team and the playing team all bedded in," O'Brien told ESPN.com via telephone. "But these opportunities, one as good as this, come around very rarely, and we had to move quickly and grab it."

It's important to remember that the Cosmos' proposal, first reported by Newsday, is just one of possibly several that will be considered by the State of New York. Newsday reported that the state has already received another proposal for the area. And given the numerous false starts soccer stadium projects have endured in this country over the years, now is not the time for irrational exuberance. But O'Brien's confidence and enthusiasm for the project were clear.

"In terms of all the things that you'd look for in a site to build a stadium, this probably had 90 percent of them," he said. "The important one was that it was state land, and in this case it was the state looking for proposals, wanting to build something. It wasn't us going out there trying to acquire a piece of land and putting a stadium in some other environment. Most of the hurdles have been crossed. It's a site that has been effectively zoned as a sports facility. It's got rail links already build. You haven't got to demolish anything. And it's in a very attractive neighborhood, so we're pretty pumped about the opportunity."

The entire project will be privately funded at a cost of $400 million. The Cosmos said that over 3,000 permanent jobs will be created and will generate $200 million a year in revenue. Much of the funding will come from the Cosmos' owners, Saudi Arabia-based Sela Sport, but O'Brien added that the proposal is a joint bid, and that a Long Island developer has already been lined up to build the retail, restaurant, and hotel aspects of the facility.

A big question surrounding all of this is how the project will impact MLS. MLS Commissioner Don Garber has long stated his desire to put the league's 20th team in New York, and has been pushing to build its own $300 million stadium in Flushing Meadows-Corona Park. While the proposal has the support of political heavyweights such as Mayor Michael Bloomberg, it has been met with some opposition by neighborhood groups concerned that park land is being used for the facility. MLS has long insisted it would work with the city to make up for the loss of park land. But if the proposal for the Belmont Park project is approved, that could give opponents of the MLS project more ammunition. And even if that opposition were to be placated, just how much of an appetite there would be for two similar projects is unknown, although it's worth noting that two different political entities -- the City of New York for MLS and the State of New York for the Cosmos -- are involved.

League spokesman Dan Courtemanche said via email, "Major League Soccer continues to work with the city of New York and local elected officials on our quest to build a soccer stadium in Queens and are making progress with the project. We are in discussions with a variety of potential ownership groups, all who are very interested in being involved with the division 1 soccer league in North America. MLS continues to support the development of the lower leagues."

All of this is of little concern to O'Brien for now. He's busy trying to revive the storied franchise that once ruled the original NASL in the late 1970s and early 1980s. The current incarnation of the league operates in the second tier of the U.S. soccer pyramid, and is slated to begin playing at Hofstra University later this summer. O'Brien didn't rule out the possibility of one day joining MLS, but added it's not a requirement for the Cosmos.

"Sport in the modern age is a competitive business," he said. "We're happy to live and die with the best of them. All I know here is there is a site that that has been tendered by the state, they have an agenda. They have asked for proposals that have a predetermined set of parameters. We believe we've hit those absolutely straight on. They'll make the decision to say 'Yes, we can' or they want to do something else. To be frank, I don't know where MLS is at, but it won't affect us in what we want to do."

Whether the same is true for MLS remains to be seen.