MLS SuperDraft still offers values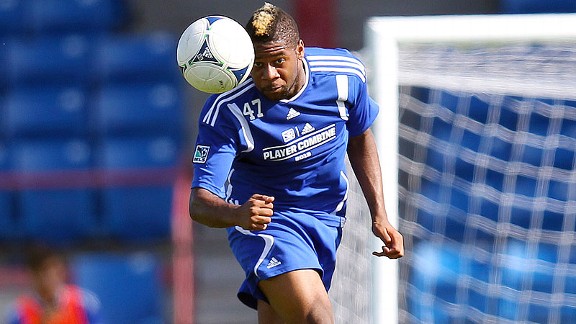 Robert Mayer/USA TODAY SportsAndrew Farrell, who starred as a defender at the University of Louisville, shows off his skills at the MLS Combine in Florida.
There was a time when the MLS SuperDraft could make or break a team's fortunes. The foreign player market was more restrictive, making the draft one of the primary mechanisms to bolster a roster.

That level of influence has lessened in recent years. The ubiquitous presence of green-card holders has expanded the footprint of foreign players in MLS. And the advent of the Homegrown Player -- teams can sign young players with connections to their youth academy -- has further diluted the talent in the SuperDraft.

But there are still good players to be had even after the first few selections. Last season's Rookie of the Year, Chicago Fire defender Austin Berry, was taken with the ninth overall pick, while others who logged significant minutes such as New York Red Bulls goalkeeper Ryan Meara and Philadelphia Union defender Ray Gaddis weren't taken until the second round.

With that in mind, here are some storylines to keep an eye on as Thursday's SuperDraft in Indianapolis approaches (draft starts at noon Eastern time on ESPN3):

1. Decision time in Toronto

Toronto FC holds the first and third overall picks, leading to rampant speculation they will deal one. Andrew Farrell remains the consensus top choice, and given the help TFC needs in defense -- not to mention Farrell's versatility (he can play center back, right back, or holding midfielder) -- there's little reason to change that view. But Toronto could extract some valuable assets by dealing the third pick, be it a player, allocation money, or both. Then again, TFC could keep the selection, as the draft track record of team president and general manager Kevin Payne is fairly impressive, at least in recent years with Chris Pontius, Perry Kitchen, and Nick De Leon all coming on board while Payne was at D.C. United.

2. Chivas USA narrows its choices

With the Latino influence once again carrying the day at Chivas USA, the team seems determined to use the second overall selection on a Mexican-American, be it University of North Carolina midfielder Mikey Lopez or University of Connecticut playmaker Carlos Alvarez. Both have stated their desire to be selected by the Goats, and both operate in the center of the park, although Alvarez is deemed to be more of an attacking threat. In an interview with FutbolMLS.com, new head coach Jose Luis Sanchez Sola (a.k.a. Chelis) stated that he preferred Alvarez, but he also said in the same interview, "The decision is not for me to make alone." We'll see just how much gamesmanship Chelis is engaging in here.

3. The rise of the Canadians

This weekend's combine in Florida has been notable for the impressive performances of some players from north of the border. Boston College midfielder Kyle Bekker has seen his stock rise significantly with eye-catching performances that showed off his impressive mobility and distribution. Countryman and club teammate Emery Welshman also shined and scored on the second game day with an impressive first-time finish. Add in defender Kofi Opare, who according to Soccer by Ives is close to gaining Canadian citizenship, and it's been good weekend for Canadians. That will count as good news for Canadian MLS teams. They have five first-round selections, meaning teams such as Vancouver and Montreal could grab a player who, unlike U.S.-based teams, won't count as a foreigner.

4. Beware of combine myopia

One story coming out of the combine has been the unimpressive play of highly touted VCU forward Jason Johnson, who has admitted to not being in shape for what is by all accounts a demanding five days. Given his status as a Generation adidas player who won't count against a team's salary cap, he's not expected to slip too far down in the draft. But it's also worth remembering that combine performances have to be placed in proper context. Last year, De Leon injured his hamstring on the first day, and then by his own admission didn't impress teams during interviews. As a consequence, he slid a few notches to No. 7, where D.C. United was only too happy to pick him up. This merely points out a player's entire body of work needs to be considered.

5. That said, some players are moving up

Every year the combine sees players who not only confirm what coaches already thought about them, but actually exceed expectations. In addition to Bekker and Welshman, among those whose stock is rising are speedy Santa Clara forward Erik Hurtado, Maryland box-to-box midfielder John Stertzer, and Washington central defender Dylan Tucker-Gangnes, who showed off his passing ability in addition to his dominating aerial presence.

6. Will RSL surprise once again?

No team shows a willingness to think outside the box quite like Real Salt Lake. In 2009 RSL shocked those in attendance by taking midfielder Jean Alexandre out of tiny Lynn University. Last year Real went the unusual route of mining the junior college ranks to select Sebastian Velasquez in the second round. Of course, general manager Garth Lagerwey and coach Jason Kreis have made more conventional picks such as midfielder Collen Warner in 2010, but either way, it will be interesting to see what direction the team takes this time around.

7. Will Arena strike gold again with late picks?

L.A.'s perch atop MLS has meant they are usually one of the last teams to pick in each round. Yet that hasn't stopped Galaxy manager Bruce Arena from adding quality to his roster. In 2010 it was midfielder Michael Stephens, who has been a steady contributor off the bench and as an occasional starter. Last year it was Tommy Meyer, who ended up delivering critical performances late last season -- especially in the postseason -- after A.J. DeLaGarza went down with a knee injury. L.A. has already signed highly-touted forward Gyasi Zardes to a Homegrown Player deal, meaning Arena may be more inclined to select a player who operates on the defensive side of the ball.