How much stock should we put in the MLS Combine?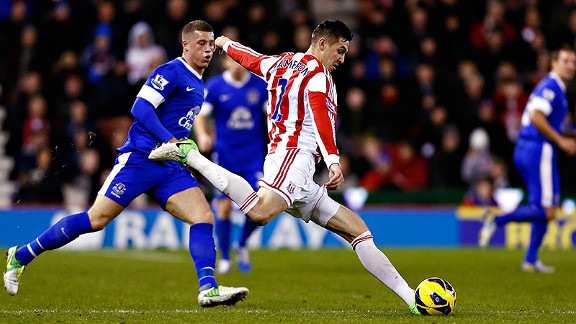 Paul Thomas/Getty ImagesFormer Houston Dynamo and current Stoke City defender Geoff Cameron is an example of a player who improved his draft status at the MLS Combine.
The most uniquely American thing Major League Soccer does, even beyond the draft for which it's a precursor, is the player combine that takes place in Ft. Lauderdale just days before the selection process. Yes, the draft smacks of rampant Yankitude -- with its similarities to drafts in the NFL and NBA -- but Mexico has one, so it's not solely just an American thing (it's worth noting that Mexico's draft is very, very different). The four day showcase is one last opportunity for rising college players (and a few internationals) to prove themselves worthy of one of the 38 SuperDraft spots.

- Red Bulls hire Sousa
- Sporting KC stadium gets new name

But can a player really improve his chances of being drafted or jump up in the order if he plays well at the Combine? Conversely, if a player shows poorly in Ft. Lauderdale, can he drop out of the picture altogether?

MLS scouts college players throughout the year, as time and budgets allow, and those players invited to the Combine tend to be the ones about whom clubs already know the most. MLS signs select seniors in the group to contracts before the Combine starts, making the notion of "improving one's draft stock" a nonstarter for many (unlike their peers in the NFL or NBA, moving up in the draft isn't going to bring additional financial reward -- viva single entity). Save for the chance a player somehow moves from "likely undrafted" into the plans of a team, the Combine looks mostly like the a game of musical chairs.

Maybe there's something about a player's Combine performance that can put them over the top for a particular team. But four days in January, playing alongside people they've never met before, seems like an odd way to judge a player's potential to contribute to your professional soccer team in the long term. The Combine is "small sample size" made worse by the ad hoc nature of the games. Back when the SuperDraft was the only way to bring amateurs up to the pro ranks, that reality wasn't so stark. The Combine was the only chance many coaches had a chance to see college players up close and personal. Now, with the league announcing homegrown signing after homegrown signing (most of who would be top picks if they went through the draft) the Combine is taking on the peaked color of anachronism.

To that point, Major League Soccer's website chose not to webcast the Combine this year after providing that service to fans in the past. As the draft's importance recedes, so does the need to keep fans informed about the events of the Combine. Reports out of this year's edition sounds like an echo of previous years -- a few players making a positive impression, a few making a negative one, and lots of choppy, unsettled soccer.

But, like any good broadly drawn conclusion, the notion that the Combine isn't crucial to players' fortunes has a number of holes. Namely, instances of players who performed well at the Combine and benefited from doing so, and a few that fell out of their projected draft spots based on poor showings. Former Houston Dynamo and current Stoke City player Geoff Cameron stands out as an example of the former; Cameron made enough of an impression in 2008 to convince the Houston Dynamo to spend a third round pick on him, despite some concern over what position he would play as a pro (this actually turned into one of his biggest assets). Four years later, Cameron's making a name for himself in England after Houston and MLS cashed in on his burgeoning abilities. On the other end, the Union's Michael Farfan was tabbed as a first round pick, had a poor Combine, and fell to the second round at the 2011 SuperDraft. It's quite possible the two were connected.

Then again, Nick DeLeon had a terrible showing at the 2012 Combine, was still chosen seventh overall by D.C. United, and justified his selection by putting in a Rookie of the Year-caliber campaign.

As long as there's a SuperDraft, there will be a Combine. MLS has even added a new wrinkle in recent years, inviting foreign loan signings to improve the available player pool. This, more than anything else, will help extend the life of the draft as a significant part of MLS team-building.

Whether the Combine is an effective means to evaluate talent is in the eye of the beholder (though there's undoubtedly value in the one-on-one time teams get with potential picks), but it still serves a necessary purpose as part of Major League Soccer's uniquely American, slowly evolving, approach to identifying the next wave of talent.

This year's Combine is producing the requisite chatter on players either showing well and increasing demand or playing poorly and prompting questions about their abilities. Ives Galarcep says Kyle Bekker, a Canadian midfielder out of Boston College, is on the rise, while VCU forward Jason Johnson's stock is dropping precipitously. Conventional wisdom before the Combine had Bekker as a solid prospect more attractive to the Canadian teams, and Johnson one of the draft's more exciting forwards. If the word out of Florida is accurate, a three day stretch playing in front of MLS technical staffs, in games with little or no cohesion, has dramatically affected their draft status.

Maybe Bekker is better than people thought and maybe Johnson is worse. Or maybe there's too much stock put into the Combine.