Porter, Portland embrace the challenge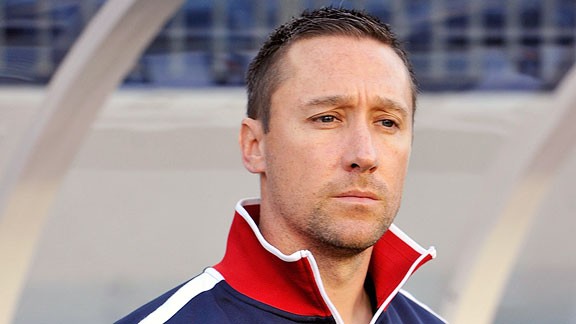 Frederick Breedon/Getty ImagesCaleb Porter comes to Portland with a lofty reputation and loftier expectations. Can he provide what the Timbers need?
PORTLAND, Ore. -- It was mid-morning when Gavin Wilkinson led his club's new capture into the conference room at Jeld-Wen Field. The Portland general manager and his new coach audaciously displayed the obligatory green, yellow and white scarves that their fanbase see as a part of the management's uniform. With the team's crest (broken onto the left and right halves of the scarf) emblematically aligned across his chest, Caleb Porter made his first impression.

"I'm obviously thrilled, I'm honored, I'm privileged to be sitting up here as coach of the Portland Timbers," were some of the first words out of the 37-year-old's mouth.

"[I]t would have taken the right fit and the right opportunity and certainly the right timing [to leave Akron]. The Portland Timbers was the right opportunity - the right fit."

The former University of Akron coach was finally unveiled on Tuesday, five months after the 2010 NCAA national champion was announced as the new skipper of Portland's high-profile, if wayward, ship. He succeeds John Spencer, the former Houston Dynamo assistant, who was dismissed in the middle of a season that saw the second year playoff aspirants toil near the bottom of the Western Conference.

It was the perfect capture for a club that has never let its small market of under-600,000 limit the club's ambition, even if that ambition has yet to meet results. Owner Merritt Paulson's goal was to be in the playoffs in year two (2012) and an MLS Cup contender by the upcoming season. That didn't come off, nor did the club's first two Designated Players; neither Colombia midfielder Diego Chara nor Scottish striker Kris Boyd have been above-average Major League Soccer players.

- Davis: Toronto takes a gamble on Nelsen
- News: Montreal hires Marco Schallibaum

Aware of those disappointments, Paulson and Wilkinson have made a splash with the hiring of Porter, a name that many once cast as the brightest young talent on the U.S. coaching landscape. Short of a high-profile foreign hire or luring the likes of Bruce Arena or Dominic Kinnear to Portland, no appointment would have created the same level of impact as Porter's, particularly given that the former Zips boss turned down one of the league's marquee franchises (D.C. United) just three years ago.

"We came to a conclusion very early on in the process that the gentleman sitting here next to me would be the best person, the best fit for this club," Wilkinson said, his seat at the dais squarely in front of Paulson.

"[Porter is] young, he's hungry, he's intelligent, he has a great soccer mind. He's somebody we believe in."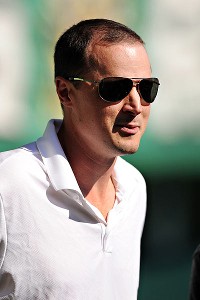 Steve Dykes/Getty ImagesTimbers owner Merritt Paulson has faltered in recent seasons when trying to inspire his MLS club up the table. Will Porter be the one to bring success?

He's also not without his skeptics who depict the 37-year-old former San Jose midfielder as a product of good recruiting -- somebody who was found out during the U.S. U-23 national team's failure to quality for the 2012 Summer Olympics. For many, that disappointment embodies the drawbacks to hiring the much-hyped yet still unproven coach.

"In the end, it didn't go right," Porter said of the qualifying experience. "We failed. We didn't qualify, and in my role as the coach, I take responsibility for that."

"Including friendlies and everything, [the U-23 national team] were 6-1-2. In the qualifying format... three games in five days, we were 1-1-1. That meant we got four points and that meant we didn't go through," explained Porter. "That made it very difficult because the process was comfortable. It did go very well. Those are things that no one will know other than the players. I think if you ask the players, they'd say it went very well, they were prepared thoroughly, they were on board 100 percent."

But for all the debate about his CV, Porter's capture is a still a coup, particularly for a team looking to move on from the failures of 2012. By luring him to Portland, Merritt Paulson and Gavin Wilkinson continue to send the same message they've been spreading since Spencer left in July: Last season was completely unacceptable.

They also gave Major League Soccer an example of Portland's unique drawing power.

"This is one of the few jobs out there that I would have left for," Porter confessed, having previously praised the club's fans as possibly "the best in North America."

"This is the one [job] I had in the back of mind, believe it or not, that I wanted to come to. It was the right time and the right place, and this was the right situation for me."

There's also the team's playing aesthetic, something Paulson has been insistent about since the Timbers joined MLS in 2011. He wants his team to play attractive soccer, something that underpinned the team's courtship of Porter

At Akron, Porter's preferred style has been ham-handedly likened to Barcelona's, a clear exaggeration -- "we're never going to be Barcelona," Porter said on Tuesday. More accurately, Porter prefers a possession game that controls play, most often keeping the ball on the ground while relying on player movement over physical imposition. It's a style that doesn't fit the personnel with which the Timbers ended last season but one Porter made clear will come with him from the Mid-American Conference.

"If we're going to be a team that's consistently winning games, we need to move in a direction where we are the dominant team," Porter said when asked to describe his approach. "That doesn't mean we're going to dominate for 90 minutes, but it means that hopefully in time -- with our training, with our player acquisition, with certainly getting the culture right -- that we start to move in a direction where we're controlling major portions of the game."

"A lot has been written about my aesthetically pleasing style. That's great, but ultimately it's about winning. If you control major portions of the game, you increase your chances of winning consistently. That's the only reason I believe in the philosophy that I have."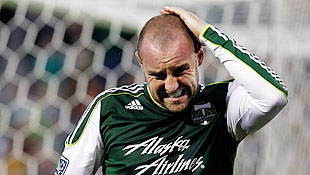 Jonathan Ferrey/Getty ImagesThough Kris Boyd has disappointed since joining the Timbers, he'll have every opportunity to impress new coach Caleb Porter in 2013.
The aesthetic preferences, lack of experience, the hype and speculation -- it all fits perfectly into Portland's short MLS history. Like the franchise he's joined, Porter is a bright star on the North American soccer landscape but one that has yet to fully prove itself, and just as Porter has delivered success on one level (an NCAA title), Portland has been an unmitigated success in a very specific realm: on the business end. As Porter's failings came on his biggest stage in U-23 qualifying, Portland flamed out in the season their owner demanded a playoff appearance.

To their credit, neither the team nor its coach are shirking new challenges. With their fanbase and resources, the Timbers could have gone out and acquired somebody with more Major League Soccer success, but they've doubled down on an driven approach that has delivered mixed results so far. In their minds, Porter is the man to match their ambition, regardless of where that ambition has carried them to this point. And while Porter could have stayed in Ohio and continued to cultivate and venerated but limited reputation, he's decided to not only jump to the pros but embrace a high risk-high reward project.

"I don't avoid challenges," Porter said of his time with the U-23s, a philosophy just as applicable to the project in Portland. "I look at not what could go wrong but what could go right."

For better or worse, Porter's the perfect fit in Portland and together, they'll either confirm their potentials or fuel their critics. But after today's unveiling, the futures of the two are indelibly entwined.

Richard Farley is a freelance writer based in the Northwest covering MLS and European soccer. You can reach him on Twitter at @richardfarley or via email at richardfarley@gmail.com.