Nelsen's hiring at Toronto highlights MLS coaching news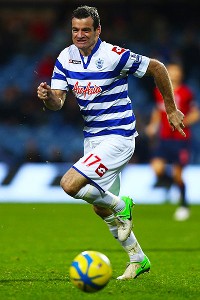 Paul Gilham/Getty ImagesRyan Nelsen could still be playing for QPR when Toronto kicks off its season March 2
As Caleb Porter finally settles into the business of taking day-to-day control of the Timbers after signing on as coach-in-waiting during a turbulent 2012 in Portland, his status as the most notable absentee hiring in MLS history has been trumped by events in Toronto.

Toronto FC, operating under the leadership of former D.C. United president Kevin Payne, announced Tuesday that Queens Park Rangers defender Ryan Nelsen will take the coaching reins. Nelsen is TFC's eighth head coach in the club's seven-year history, making his hiring extraordinary even without the strange conditions under which he takes the job. Because although Nelsen will launch his long-assumed coaching career in MLS in 2013, he remains an active player contracted to QPR until the end of the Premier League season. Nelsen now has the unique distinction of holding a head-coaching position at TFC while also being available for selection this Saturday when Rangers take on Chelsea in a Premier League fixture.

"Strange" does not begin to fully capture the situation.

While Nelsen plays out his contract in London and/or negotiates with the club for his early release, TFC's coaching duties will be handled by Fran O'Leary, a longtime friend of Nelsen and a career college soccer coach whose most recent position was head coach at Division III Bowdoin College.

Nelsen won't be present at the MLS combine this month, or the MLS SuperDraft that follows. He likely won't be in Vancouver when Toronto opens its season March 2. Until further notice, Nelsen's role will be one of absentee coach, and, considering the state of QPR's battle to remain in the top flight in England, it's difficult to imagine him having much time to give to coaching Toronto FC from afar.

Toronto has hired an active player with no coaching experience (and no coaching badges) to right a sunken ship that has yet to make the playoffs in its history. In the interim, O'Leary will handle all of the head-coaching responsibilities, including picking the team.

As a corollary, TFC let go interim coach Paul Mariner. Mariner was director of player development before stepping onto the sidelines after Aron Winter's firing last year. A small measure of progress during his run was not enough to save him in the wake of wholesale management changes. It's Kevin Payne's club now; the hiring of his old D.C. United buddy Nelsen and the firing of Mariner leaves no doubt.

At a club with any record of success, this hire would be exceedingly odd and supremely distressing to its fan base. At a club like TFC, where playoff dreams melt away with the first thaw of spring, it's potentially devastating. In 2012, TFC set a record for futility to start a season. In 2013, they'll play without their nominative head coach for three months.

There's no reason Ryan Nelsen can't become a good coach, and his reputation as a player lends to that belief. But he does not begin the challenge in what one would call "ideal circumstances."

Montreal hires Marco Schallibaum

When Joey Saputo pulled the plug on Jesse Marsch's promising start as an MLS head coach, the belief was the Impact owner and the American did not see eye-to-eye on how best to move the club forward. Enter Swiss coach Marco Schallibaum, who has never coached outside of his native country.

In Schallibaum, Saputo (presumably) gets a coach who will go along with a plan that entails signing aging Italian after aging Italian and has the European sensibilities Saputo seems to covet. Perhaps Schallibaum is the foreign coach who breaks the MLS hex, though there's little in his history to provide much confidence.