Top 10 U.S soccer storylines in 2013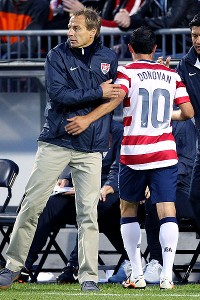 Tom Szczerbowski/Getty Images The pressure is on U.S coach Jurgen Klinsmann, left, while fans await Landon Donovan's next move
With the Mayan Apocalypse now safely avoided, U.S. soccer fans can cease scanning the heavens for any impending calamity and start focusing on 2013. Suffice it to say, there are enough events to keep American soccer aficionados of all stripes duly occupied for the duration of the year, be it online, at the corner pub or at their local stadium.

There are World Cup qualifying spots to be earned, personnel decisions to be made and youth world championships to be contested. Even the women's side, where 2013 will amount to a massive exhale following the 2011 World Cup and 2012 Olympics, will have its share of stories to follow.

1. Bring on the Hexagonal

Like the Mayan calendar, soccer has its cycles, and the third year of the 2014 World Cup cycle is about to commence. The U.S. successfully navigated its way through the semifinal round of qualifying in 2012, albeit with a few hiccups and anxious moments. Now the Hexagonal awaits, and while Honduras (who hosts the U.S. Feb. 6), Mexico, Costa Rica, Panama, and Jamaica should all provide stiff competition, the format is utterly forgiving, with the top three qualifiers automatically qualifying and the fourth-place finisher going to a playoff against a representative from Oceania.

Granted, all that really matters is that the U.S. qualifies. But plenty of eyes will be on how Jurgen Klinsmann's side progresses. His appointment back in July 2011 promised much in terms of attacking verve, and while some memorable results have been recorded against the likes of Italy and Mexico, the U.S. struggled enough against some minnows to invite skepticism as to how much progress the team has actually made. By next October, we'll find out.

2. Whither Landon?

Whether you love him, hate him or fall somewhere in between, Landon Donovan's decision to either take an extended break due to burnout or return after a brief respite will be picked apart with an electron microscope. Klinsmann, for his part, is trying to take the low-pressure approach to his star's decision and with good reason. For all his faults, perceived or otherwise, Donovan's experience, vision, and classy passing make the U.S. a better team, especially in the hostile away environments the team will encounter this year.

3. Will the Americans' defensive evolution continue?

One of the big stories to emerge in 2012 was the progression of Geoff Cameron, as the Stoke City defender gave Klinsmann a bona fide option in the center of the U.S. defense. Good thing too, as the form of other performers such as Oguchi Onyewu and Clarence Goodson dipped. And while captain Carlos Bocanegra continued to deliver steady performances, a leg injury late in the year gave everyone borderline nightmares and showed the importance of finding dependable depth in that area of the field. So will Omar Gonzalez get his chance? Will Tim Ream get back on Klinsmann's radar? Does Maurice Edu's future lie at center back? All are tricky questions for Klinsmann to ponder.

Out wide, Fabian Johnson's performances have silenced the demands of U.S. fans for Klinsmann to find a left back. On the other side, the ageless Steve Cherundolo continues to excel, although Timothy Chandler, who says he is finally casting his lot with the U.S., could force his way into the starting XI.

4. The Tom Sermanni era begins for the USWNT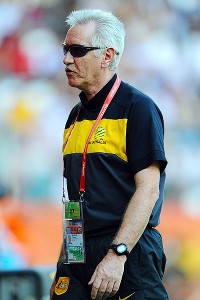 Lars Baron/FIFA/Getty ImagesNew U.S. women's coach Tom Sermanni has a hard act to follow, but will have some time to get his feet wet
The Scot has Andre the Giant-sized shoes to fill. Pia Sundhage merely went 91-6-10 during her five years in charge, reaching three major finals and winning two. Fortunately for Sermanni, 2013 ought to provide the kind of perfect, low-key laboratory to begin experimenting with new personnel and imprinting his own style. Of particular interest will be what Sermanni does with his back line. Christie Rampone remains world class but will hit 40 by the time the 2015 World Cup comes around. Questions abound in midfield as well as to whether mainstays such as Shannon Boxx, Carli Lloyd, and Heather O'Reilly will stick around. The cupboard isn't exactly bare, with Lauren Cheney, Megan Rapinoe and Tobin Heath in their prime, so the competition should be fierce.

5. Who will emerge (or come back) on the creative side for the USMNT?

2012 proved to be Graham Zusi's coming out party. He was named to MLS's Best XI and he began to make his mark on the national side as well. Good thing given the will-he-or-won't-he questions surrounding Donovan. But Klinsmann knows full well other players will need to stake their claim for more playing time. So is this the year for Joe Corona to make more of a contribution, or is it Mix Diskerud's time to shine? And what of oft-injured midfielder Stuart Holden? Will his long-awaited comeback include a resurrection with the national team as well? Klinsmann would like nothing better.

6. Who will partner Clint Dempsey up top?

Granted, "partner" is a relative term, given Dempsey's impulse to drop into midfield, but there is no shortage of candidates for Klinsmann to consider. Herculez Gomez's work rate alone makes him a valuable contributor even on nights when service is lacking, which happened a bit too often during the semifinal round of qualifying. Terrence Boyd is raw, but he is also refining his game as he accumulates minutes at the professional level. Then there is Eddie Johnson, who went from walking dead to "Grown Man" 2.0 towards the end of the semifinal round. Then there is Jozy Altidore. The AZ Alkmaar striker has been banging in the goals at club level yet still found himself in Klinsmann's doghouse. An improved performance against Russia provided a glimmer of hope for him going forward, but the goals will need to start flowing for him to make this spot his own.

7. Wambach's pursuit of Mia

One area Sermanni won't have to worry about for the foreseeable future is his front line. Alex Morgan scored 28 goals in 2012 while Abby Wambach nearly equaled her teammate, adding 27. In 2013 the tandem should still be wreaking havoc, and it's expected that Wambach, with 152 international goals, will eclipse Mia Hamm's mark of 158. The Algarve Cup is set for the end of February, and it's certainly possible that the record could be in Wambach's possession by tournament's end.

8. Redemption time for the U-20s

Two years ago, the failure of the U.S. U-20 men's team to qualify for the World Cup raised all kinds of alarm bells about the country's youth programs. The U.S. U-23 team suffered even more painful disappointment a year later when it failed to qualify for the Olympics despite hosting the qualifying tournament. Now the task of reversing the trend falls on U-20 coach Tab Ramos and a new crop of players. But already the same concerns that were raised about the U-23s are being thrown at his team, namely that it's chalk full of midfield and forward options -- including Real Salt Lake's Luis Gil and Liverpool's Marc Pelosi -- but light in the back. That will be a tricky problem to overcome by the time the team travels to Puebla, Mexico in February for the U-20 World Cup qualifying tournament.

9. The NWSL begins

Yes, this piece is purely the domain of national team concerns for both the men's and women's side. But given that the USSF is, in part, bankrolling the new National Women's Soccer League, not to mention the new league's impact on the women's national team program, we'll allow domestic club concerns to be discussed here. Of course, the question on everyone's mind is: Will the third time be the charm for a women's pro league, or will it be the third strike? That fact that the federations of Canada and Mexico are combining with the U.S. to fund the league, the hopes of the women's soccer community are firmly in the latter camp. But several current U.S. players, including Wambach and Hope Solo, are looking at the new league with a skeptical eye, while up-and-coming players such as Whitney Engen and Lindsay Horan haven't bothered to stick around to find out and signed with overseas clubs. Regardless, the league's success is critical to player development and the U.S. maintaining its perch among the international game's elite.

10. The U-17s get their chance to shine

The U-20s aren't the only youth side that will be on the radar this year, as manager Richie Williams will attempt to reach the U-17 World Cup in the United Arab Emirates in October and November. But first the U.S. must qualify, something they've never failed to do in 14 previous attempts. Williams won't be taking anything for granted as he takes his side to the CONCACAF qualifying tournament, which will be hosted by Panama in April. Once there, look for the likes of Rubio Rubin, Ahinga Selemani and Borussia Dortmund signee Junior Flores to make an impact.