Hopes and dreams for American soccer in 2013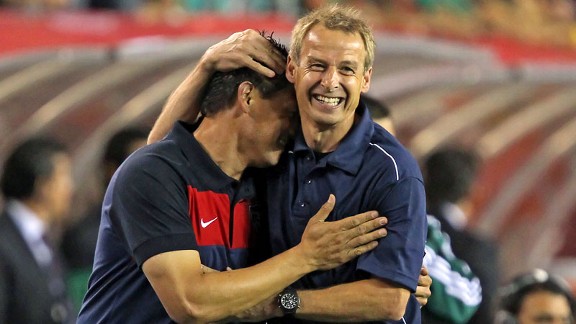 Hunter Martin/Bongarts/Getty ImagesWill U.S. coach Jurgen Klinsmann be celebrating again in Mexico on March 26?
Just over the next hill is a brand new year. A clean slate. A chance to make amends for the mistakes of the previous year and a new opportunity to reach goals unachieved. Hopes and dreams are on order, in staggering quantities, and gargantuan in individual scale.

So let's dream a bit. Let's look at 2013 as a field of rich soil where American soccer will cultivate those gigantic dreams. Here are five hopes for 2013. Forgive me if they're a bit out-sized. That's what New Year's is all about.

1. A stadium deal for D.C. United

Houston has a new building, San Jose has broken ground, New England's bad situation is of their own making - and United is due. With new ownership and a (seemingly) open-minded city council, maybe this will (finally) be the year. There's a nagging sense that getting United into its own building is the last piece that must click into place before we can finally count MLS as "here to stay." Even D.C.'s chief rivals would celebrate (quietly) news of a stadium for the league's most storied team.

2. Breezy World Cup 2014 qualification for USMNT

"Breezy", as in "not stressful." Or, if that's a bit too greedy, "less stressful than our worst fears." The first part of the U.S. Hexagonal schedule is daunting, with a trip to Honduras Feb. 6, a home match against Costa Rica March 22, and a trip to Mexico March 26 all coming in the first quarter. If Jurgen Klinsmann's boys can get, say, six points out of those games, fans should be doing cartwheels. While the rest of the schedule is hardly easy, the less pressure there is to squeeze out crucial points in September and October the better.

3. A win on Mexican soil in a game that matters

Which means victory on March 26. The Americans left behind a broken duck at the Estadio Azteca with a friendly victory in August, and while that win means something, it didn't have any meaningful repercussions past the final whistle. A win in Mexico when both teams are giving it their best shot would help launch the USMNT into the rest of their qualifying campaign as well as give Klinsmann a cushion should the team stumble at any point down the stretch.

4. An heir to Landon Donovan

Both on the field and off, for both club and country. Donovan's dance with sabbatical-cum-retirement has alarm bells ringing from the halls of MLSHQ to American soccer message boards. It's not necessarily that the USMNT or LA Galaxy can't be successful without him, it's that neither feel complete when he's not in the lineup. Donovan embodies "talisman" (not an American word, but let's just borrow it) because his presence is almost as important as his play. In 2013, both the national team and LA need to identity the player or players who will bring that same sense of calm and confidence to their sides, and make it stick. If Donovan plays, it's a transition. If he doesn't, it's a rather obvious hole will need filling.

5. Little to no talk about who might be MLS's "next Beckham"

Here's something on which MLS commissioner Don Garber and I agree: MLS has moved past the need for a David Beckham. Compounded by the sad truth that there is only one David Beckham in the world (that unique combination of looks/marketing appeal/reasonable soccer talent), it's pretty clear there simply won't be another one coming to MLS. The league's profile was helped immeasurably by Beckham's presence, but its long-term health will be dictated by its ability to connect with American soccer fans on its collective merits. There's more than enough star power sprinkled across the teams, and decent enough soccer on display week-to-week, for MLS to continue on its upward trajectory without Beckham. The Beckham era was almost a false dawn (see: 60,000 fans at Giants Stadium) that slowly morphed into a something more real over time because MLS erected sunrise-replicating equipment around it. Remove the Beckham, and the carefully constructed sun will still rise.