Dad's impending return to war tempers Cruz's holiday joy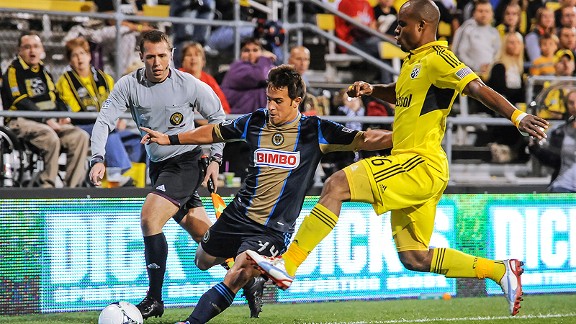 Jamie Sabau/Getty Images
The holidays are a time for precious gifts, both given and received. But for Philadelphia Union midfielder Danny Cruz, the best present of all is one that's shared. It's not money or a car or a trip to some exotic locale. It's simply time spent with his father, Al.

To be sure, sharing time with loved ones is something many of us cherish, a point driven home by the recent massacre in Newtown, Conn. Yet for the Cruz family, this holiday season comes with an undercurrent of anxiety. Al is also known as Army Sgt. 1st Class Alejo Cruz Jr., and earlier this month he got the kind of news that would dampen the mood of any family. An active-duty reservist, he got word that in January he will be deployed to Afghanistan.

Juxtaposed against what the families in Newtown are going through, such news pales in comparison. But it doesn't make the apprehension of U.S. servicemen and women serving overseas and their loved ones any less real, or their sacrifices any less valued.

The Cruzes are well-versed in what it means to serve in the military. Al Cruz's mother, Fern, was in the Women's Army Corps, where women served prior to the Army's gender integration in the late 1970s. His late father, Master Sgt. Alejo Cruz Sr., served as well. (He was born in Glorieta, Mexico, and his grave is inscribed with the words, "American by choice.")

This is by no means Al Cruz's first overseas tour. Talking to him on the phone, he recalls his previous deployments the way a player might rattle off prior clubs. There was Desert Shield/Desert Storm, Operation Iraqi Freedom and two previous stints in Afghanistan. He also points out that there are other servicemen and women who surpass his four tours, 17 years of active duty and six additional years as a reservist. For that reason, there is a matter-of-factness in his tone as he discusses his coming deployment.

"As long as you're still in, there's always the potential that you're needed again," said Al Cruz, who doesn't know his mission but likely will see combat. "I certainly wasn't anticipating it, but you're always ready, and you go. You do what you have to do."

But for Danny Cruz, 22, the news cut deep. It brought back childhood memories of his father being away for long stretches due to his service, creating a constant backdrop of worry about his father's well-being.

"Especially when I was younger, it was tough not having a father figure around," he said by telephone. "Communication back then was not as good as it is now, from a soldier's standpoint. It was rough trying to balance everything; sports, school, just life. And then to think that your father is over there, it gets rough. I had a very strong mother [Janet] who was our rock, and she made sure to be there for us."

For the younger Cruz -- who was born in Virginia, attended junior high in California and then high school in Arizona -- sports was a refuge, especially when his parents separated in 2006 and later divorced. Cruz didn't even begin playing soccer until high school, yet ultimately he represented the U.S. at the U-17 and U-20 level and played at Nevada-Las Vegas before entering MLS at age 19, where he has made a mark with his energy and hustle. The hours of dedication needed to reach that level often helped distract him when his father was away.

"When I'm not staying busy, that's when I start thinking about it," Cruz said of the danger his father faces overseas. "My dad's done a good job of keeping me focused, especially on soccer. It's been my getaway."

The impulse then is to think that after four previous tours, his father's latest deployment would be easier to take for all involved, that a level of comfort might be attained, even as it relates to the very uncomfortable thought of a loved one being put in harm's way. But that hasn't been the case for anyone, be it for Danny, his brother Johnny, 21, his sister Casey, 15, or his father. "There's always those unknowns," said Al Cruz.

Given his father's long service, Danny said he had hoped the overseas deployments were done. That made word of the latest tour even more jarring. Needing a release, Danny took to Twitter in a bid to help process the news.

Just got sme of the wrst news I culd hve received..my Dad has 2 go back 2 Afghanistan 4 his 5th tour..please keep him in your prayers #hero

— Danny Cruz (@Dannycruz5) December 6, 2012

"I didn't really know what else to do," he said. "I talked to my girlfriend and some of my really close friends, but I was shocked. I feel like, he's been there four times, and you've got to think that those tours are at least six months, and his were more than that."

The response from fans has been overwhelming, providing a welcome emotional boost. The Sons of Ben, a Union supporters group, has offered to put together care packages and send them overseas. Cruz even has received offers of support from fans of his previous clubs, the Houston Dynamo and D.C. United.

"I get chills thinking about it," Danny Cruz said about the fans' sentiments. "I'm going to print up everyone's messages and give it to my dad and take a picture with him. It's really good for these guys to know that they have people behind them. They know, but it's better to have them see it and hear it, and that's the most important part."

But for the present, the focus is on making the most of the family's time together in Phoenix. For Al Cruz, that will involve going to midnight Mass, opening a single gift on Christmas Eve and having every member of the family tell a story about the past year. No doubt, some of those will involve his father, Al Sr., who passed away a few months ago. Danny Cruz might even recall the 2011 MLS Cup final, when both his father and grandfather attended.

On Christmas Day, Al Cruz will partake in his favorite indulgence, pumpkin pie, a desert made even more special by the fact that no one else besides him and Danny will touch the stuff.

"Any time I can spend with my children is a godsend," said Al Cruz. "I missed so much early on and when they were in high school because of some of the deployments, so it's very special when we can all be together. There's nothing better than being with family."

On Christmas Day, their presence -- and the time to share their company -- will be the biggest present of all.