Parkhurst moves down in standings, but up in career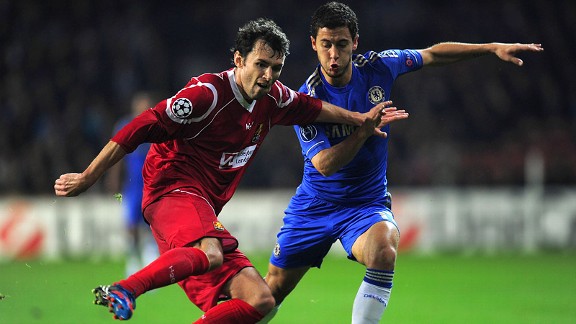 Shaun Botterill/Getty ImagesMichael Parkhurst, seen here in Champions League action versus Chelsea, will have plenty of opportunities to impress against the Bundesliga's best.
By signing with FC Augsburg of the Bundesliga from defending Danish Superliga champion Nordsaelland, Michael Parkhurst traded the chance at titles -- and the Champions League soccer they bring with them -- for a relegation scrap in Germany. In other words, Parkhurst had to forego the glories of playing for a successful team in order to take the next step forward in his soccer career.

- Parkhurst transfers to Augsburg

As with any player move from a lesser league to one of Europe's best, it's all about playing time for Parkhurst. If he gets it, and there's no reason to think he won't, especially in the crucible of German soccer against the likes of Bayern Munich and Borussia Dortmund, leaving behind the comfort and familiarity of Denmark will have been well worth it. The leap forward Parkhurst is making in regards to the profile of the league in which he'll be competing weekly is significant. Apologies to the Danish Superliga, but from the perspective of the quality of the competition he'll be facing, and the potential improvements it could bring to his game, jumping to Germany was a simple decision.

And let's not be naive: Money was probably a factor. Playing careers are short. Money isn't everything, but it's a lot of things.

On the United States national team front, Parkhurst should now have Jurgen Klinsmann's full attention as he takes the field in a league with which Klinsmann is intimately familiar. Augsburg's struggles to this point are not disproportionately related to their defense (though their ranking in goals-conceded total is only one place better than their league position), a situation that gives Parkhurst the chance to look good if that record improves and not look too bad if it doesn't. Most simply, if the answer to the question -- "Is playing consistently for a relegation candidate in the Bundesliga better than anything he could do in Denmark?" -- is, "yes", then Parkhurst can't help but improve his standing with USMNT. Short of Augsburg getting markedly worse on the defensive side of the game with Parkhurst in the lineup, the American will benefit from the German stage.

Parkhurst doesn't get much attention as an American soccer star. While the focus on defenders goes to MLS products in England (Geoff Cameron, Tim Ream), younger MLS talent (Omar Gonzalez), or older players who have plied their trade in leagues sexier than the Danish Superliga (Carlos Bocanegra, Steve Cherundolo), Parkhurst does the yeoman's work of slowly climbing the proverbial professional ladder. FC Augsburg might not be the pinnacle of soccer from in the general sense, but it does represent an apex for Parkhurst as a personal one. From Bradenton to college soccer to MLS to Denmark and now to one of the top leagues in Europe, Parkhurst has steadily improved his game, proved his worth, and succeeded in making every move a positive one. Not a star, but a model for American players nonetheless.

Yes, Augsburg is under serious threat of relegation. And yes, Parkhurst might very well find himself playing in the 2.Bundesliga next season. But for at least six months, he'll have every opportunity to prove he belongs on that level, impress Klinsmann, and maybe even set himself up for another step up the professional ladder he's climbed so adroitly to this point.