MLS: Kansas City, New York moving fast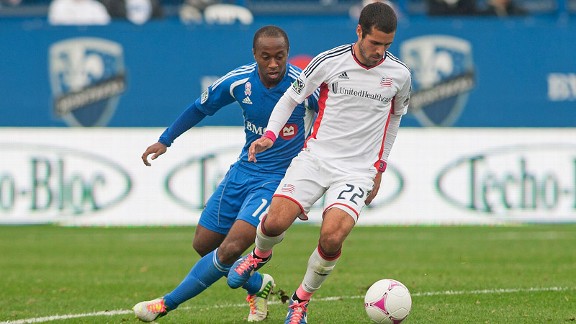 Francois Laplante/FreestylePhoto/Getty ImagesBenny Feilhaber is looking for a fresh start in Kansas City
The MLS offseason isn't even three weeks old, yet already there have been some notable shifts in momentum for several clubs. For teams that missed the playoffs, this isn't that much of a surprise. That kind of failure gives coaches and GMs a clear motivation to make personnel changes. But some of the bigger offseason moves so far have been made by clubs in the upper half of the table, proving playoff disappointment can be a powerful catalyst for mixing things up as well.

Granted, there are more big moves to be made, especially with the European transfer window opening at the start of the year. And who knows how some of these new pieces will fit together once they take the field? But some MLS teams have made bigger impressions than others. A quick rundown of those who have done the most to catch the eye:

1. Sporting Kansas City

Losing key midfielder Roger Espinoza to Wigan of the EPL isn't the preferred way to start the offseason, but after a flurry of moves in recent weeks, manager Peter Vermes appears to have actually strengthened his team's hand, providing SKC with more attacking firepower as well as increased depth.

The re-signing of Defender of the Year Matt Besler was a major step towards keeping SKC among the league's elite, but the first significant acquisition was midfielder Benny Feilhaber. The once and perhaps future U.S. international suffered through an inconsistent season rife in New England, yet Vermes' 4-3-3 seems a better fit for Feilhaber. SKC's penchant for winning the ball high up the field should also make it easier for him to get into the kind of spots where he can deliver the killer ball that Sporting was oftentimes starved of last season, especially in the playoffs.

Then again, the same logic was applied to Feilhaber's prospects with the U.S. under Jurgen Klinsmann, and that hasn't quite panned out as he hoped. Questions also remain about his defensive commitment, and lest we forget, it was a year ago at this time that much of what was being said about Feilhaber applied to Bobby Convey, who suffered through an injury-plagued season and never could find his way back into the starting lineup after recovering. But Feilhaber and Vermes do have a history from their time together with the U.S. U-20 team, and given the improved quality around him, it seems likely that the midfielder will have more success.

Of course, part of Feilhaber's effectiveness will come down to the efficiency of SKC's forwards, which leads to the team's other big signing, 28-year-old Argentine striker Claudio Bieler. He not only has a Copa Libertadores-winning pedigree with Ecuadoran side LDU Quito, but should provide SKC with the kind of guile inside the box that will complement more athletic types such as Kei Kamara, C.J. Sapong, and Teal Bunbury.

How a foreigner will adapt to MLS is always a huge unknown, but his work ethic is frequently cited as among his strengths. Given that SKC spent a week down in Ecuador with Bieler, the club certainly can't be accused of not doing its homework.
Add defenders Ike Opara, Josh Gardner, and Yann Songo'o, it's clear SKC now have the numbers to better compete on multiple fronts next season.

"When we start playing in the CONCACAF Champions League, we need to have some guys who have had experience playing in MLS that will translate that into playing in the CONCACAF Champions League," Vermes said last week on a conference call. "We don't want to just participate in that tournament. We want to be serious contender for it, and to do that we have to have a very deep roster."

Of course, MLS Cup remains the primary goal, and these moves taken together make SKC the early favorite out of the Eastern Conference to reach the league's championship match.

2. New York Red Bulls

A lack of familiarity with MLS hasn't stopped New York general manager Jerome de Bontin and sporting director Andy Roxburgh from jumping into the deep end of the MLS player market, and the results have been impressive. The acquisitions of attacker Fabian Espindola and defender Jamison Olave are a significant upgrade in quality, especially as it relates to Olave, assuming he can stay healthy. The arrivals of Kosuke Kimura and Josue Martinez do less to dazzle the eye, but the departures of Rafa Marquez and Sebastien Le Toux give New York significantly more space under the cap. Some of those funds were no doubt used on New York's other big acquisition, former Brazilian international Juninho Pernambucano, albeit to a non-DP contract.

On the surface, the move for a 37-year-old midfielder invites plenty of skepticism. This is precisely the age that David Beckham chose to leave MLS, while Cuauhtémoc Blanco was a year younger when he departed. Combined with the arrival of Tim Cahill, and this is a team more dependent than ever on aging stars, and questions remain as to how such a roster will hold up over the course of a full season.

That said, Juninho did make 40 appearances in all competitions during 2012 for Vasco da Gama. While his mobility is clearly not what it once was, he provides enough professionalism in the locker room and passing quality on the field to be the kind of positive influence Marquez was not. The fact that he was not signed as a DP makes this a risk worth taking.

Dax McCarty will need to reprise his 2012 form as Juninho's deputy in order for this move to work, however. Or acquire a third lung. Some help in midfield from Cahill may be required as well, but at least the Red Bulls appear to be headed in the right direction.

3. Philadelphia Union

The Union haven't made as many moves as some teams, but the arrivals of Jeff Parke, Le Toux, and Conor Casey have left Philadelphia in a stronger position than they were in at the end of the season.

"We needed to bring experience into our team, to bring some quality," Union manager John Hackworth said. "But we had some positional needs, and with those three acquisitions, we filled them."

In particular the acquisition of Parke from Seattle adds quality to an already strong back line, which may allow Amobi Okugo to return to midfield. Yet Philly's big problem last year was scoring, and the moves to obtain Casey and former hero Le Toux should at least give Hackworth more frontline options. Le Toux largely struggled in brief stints with Vancouver and New York, but the hope is he can recapture the form that saw him bag 26 league and playoff goals over two seasons with the Union. A bigger question surrounds Casey's physical state following surgery to repair a torn Achilles tendon in 2011 that was followed by hamstring and knee issues in 2012 with the Colorado Rapids.

"From all of the reports that I got, and spending some time with the doctors from the Rapids, [Casey] is 100 percent healthy and ready to go," Hackworth said.
A goalkeeper may yet be on Philly's shopping list, although when asked if former Turkish international Rustu Recber was a target as reported by the The Brotherly Game blog, Hackworth responded via text "Not that I know of." Yes, there's a bit of wiggle room there.

4. Portland Timbers

The Timbers have a lot of holes to fill, but the Caleb Porter era is off to an auspicious start. By itself, the arrival of midfielder Will Johnson from Real Salt Lake amounts to a significant boost to the team's midfield, one that will have an impact on both sides of the ball. But GM Gavin Wilkinson hasn't stopped there. The Timbers have been in search of competent outside defenders for almost the entirety of their MLS existence, and Michael Harrington will at least be able provide defensive solidity on one flank.

The arrival of Ryan Johnson, who had seven goals and five assists on a terrible Toronto team, should also add a more powerful element to Portland's attack.
One head-scratcher was the shipping of Eric Brunner – the team's best central defender in 2011 before injuries curtailed his '12 campaign – to Houston, but time remains for the Timbers to further shore up the back line.

"We are pleased with the pieces we've brought in thus far this offseason," Wilkinson said via a team spokesman. "We've added some quality pieces with considerable experience and success in MLS, and we will continue to look at improving the club where it needs improving."

Another question is where Darlington Nagbe will line up. While the pursuit of Mix Diskerud seems to have cooled, Wilkinson is on record as being in the market for an attacking midfielder. Will that push Nagbe out to the wing in Porter's preferred 4-3-3?
"That will be Caleb's decision, and Caleb obviously knows [Nagbe's] talents well after coaching him at (the University of} Akron," Wilkinson said.