MLS re-entry draft picks: Storylines worth watching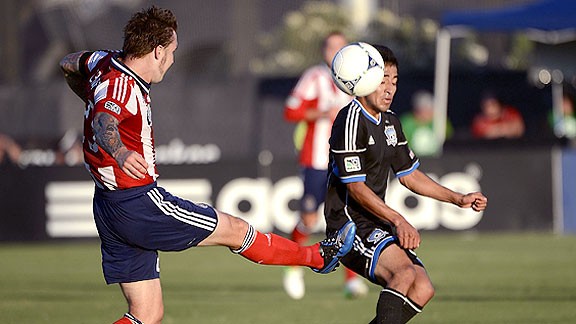 Thearon W. Henderson/Getty ImagesDanny Califf, left, has an opportunity for a fresh start in Toronto
The MLS re-entry draft held last Friday was a little like a group of friends throwing their unwanted trading cards into a pile, then taking turns picking from it in order to complete a set or to fill that one empty spot on a certain page in their trading card binders. No rare, expensive cards here; typically just a collection of run-of-the-mill commons and doubles. It's why they're in the pile in the first place. They're unwanted.

Sometimes there's a gem, for whatever reason. Sometimes, the exact right card - a personal favorite or the one needed to complete a special subset - gets thrown into the mix, begging to be snagged by someone smart enough to know what they're getting. Maybe that's the essence of the re-entry draft: It's a chance for savvy clubs to find one or two players unwanted by the teams that dropped them but capable of contributing in a new locale. Slip into just the right spot, and they can fill a hole.

After the second stage of the 2012 MLS re-entry draft, the most intriguing storylines revolve around the one or two big names picked (Danny Califf by Toronto FC, Conor Casey by Philadelphia) and a handful of moves for names of the role-player variety. It's not a given that any of these players will have meaningful parts in the 2013 seasons of their new clubs, but a few of the choices are noteworthy for their potential.

1. Danny Califf to Toronto FC

Shipped out of Philadelphia by Piotr Nowak before Nowak's dismissal, Califf now finds himself selected by a team to whom he refused a trade. At the time, TFC was in the midst of the worst start to a season in league history, so it's difficult to blame the former US international for his hesitance to go north of the border. Califf's sin in both Philadelphia and at Chivas USA wasn't necessarily being a poor defender, it was a high salary (though run-ins with Nowak didn't help in Philly). If Paul Mariner can convince Califf that Toronto is an okay place to be, and Califf stays out of the doghouse, he could play an important role in the center of the Reds' defense.

2. Conor Casey to Philadelphia

Just how much Casey has left in his tank is unclear, but if healthy he should make an immediate impact for the Union. The Union's recent track record with center forwards is not particularly good, and while Casey is not a long-term solution at age 31, he's a significant upgrade in that position. Even if Casey doesn't contribute to the scoresheet at his previous MLS rates, he'll be a good example and possible mentor for the Union's young forward Jack McInerney. There's plenty of risk for the Union here, but it's one well worth taking.

3. Dan Gargan, Ty Harden, and Bryan Jordan to San Jose

Individually, none of the players scooped up by Frank Yallop and the Earthquakes is going to make waves. But this is San Jose, where Yallop and his staff turn journeymen into key contributors and win with them playing important minutes. Gargan is a solid, if not spectacular, defender. Harden played under Yallop in LA during the end of his new coach's run as Galaxy boss. Jordan is a versatile right-sided player most comfortable at in the back line, swapping LA colors for the Galaxy's arch-rivals. One, if not all, will play a role in the Quakes' 2013 campaign. That's an acknowledgement of Yallop's knack for turning unassuming effort players into something greater upon their Northern Californian arrival.

4. Will Hesmer to LA

At one point in the not-too-distant past, Hesmer was one of the league's better goalkeepers with Columbus. In 2008, he helped the Crew to an MLS Cup title. His job was usurped by the surprising Andy Gruenebaum thanks to a series of injuries, and Hesmer became the odd man out in Ohio. Picked by the Galaxy, Hesmer has a chance to resurrect his career should LA choose to jettison Josh Saunders and fail in a reported bid to snag Chivas USA's Dan Kennedy. If the Galaxy's recent goalkeeper history is anything to go on, Hesmer will get a chance to prove he's still got it.

The re-entry draft has little to offer in star power. It's unlikely any of the picks will make or break teams, but there's always a chance a discarded name could play a role in a run to the playoffs or fill in for an injured starter during a crucial stretch. Like the discard pile, there's value there if you know what you're looking for.