Marquez didn't give fans his money's worth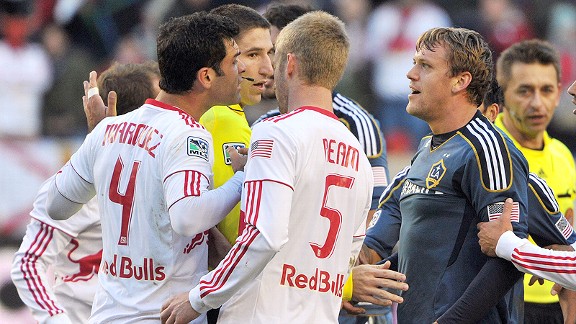 Christopher Pasatieri/Getty ImagesRafa Marquez (4) didn't endear himself to Red Bulls fans or opponents - including the Galaxy during this fracas in the 2011 playoffs
By mutual consent - and perhaps no two parties have ever mutually consented to something so vehemently as these two parties - Rafa Marquez has left the New York Red Bulls.

That it's a relief to the Red Bulls fan base that the Marquez experiment is over says everything you need to know about his tenure in New York. Over his 2 1/2 seasons in MLS, Marquez managed to alienate even those who were on board with his signing in 2010. He famously lashed out at teammates, failed to meet the standard of effort set for any player (much less one making millions), and regularly put himself at the mercy of referees and the league office with boneheaded actions.

- Red Bulls, Marquez part ways

- Carlisle: Move will benefit Bulls

Rafa's contributions to the Red Bulls and MLS are summed up in the fracas he caused with the Galaxy in the 2011 MLS playoffs. He tossed the ball that started a fight, threw a punch and a head=butt, then collapsed in a heap as though he'd been mauled by a Galaxy player. Drama didn't follow Rafa - he pushed it along in front of him wherever he went.

But it's really Marquez's lack of consistency that sticks in the craw. Not only in terms of his play, where he occasionally made a mark with an excellent pass (see the long assist to Thierry Henry in New York's win over Columbus in September) but in terms of the intrigue he caused. For everyone but Red Bulls fans, Rafa's disruptive act was a new bit of spice in an MLS dish that typically tastes bland.

But because Rafa simply didn't care, those moments were intermingled with long stretches when Marquez was either injured (and therefore out of mind) or utterly apathetic. The obvious lack of effort from Marquez in many an MLS game belied just how little the Mexican legend really wanted to be here.

The debate begins now as to where to place Marquez in the hall of terrible DPs. Was he better than Denilson? Did he do more than Nery Castillo? Even though he stuck around for two-plus seasons, does the fact he drew a massive paycheck for so long, with so little return, actually place him higher on the list than thoes who did even less but whose stays were much shorter?

The answer is probably "yes." The inverse relationship between Marquez's salary and his performance is mind-boggling. Marquez made roughly $10 million (including $4.6 million in 2012) for 44 games, 11 assists, and one goal.

The danger for MLS teams in bringing in big-money signings on the downslope of their careers has always been the possibility they'd treat it as a paid vacation, as a "retirement league". Marquez isn't the first big name MLS signing to embody that danger (he's not even the first big-name Red Bulls signing), but he does represent a certain kind of trap of which MLS clubs must be careful because the allure of the Mexican star is so great.

But in the end, whatever boost in shirt sales Rafa Marquez brought, the Red Bulls didn't make up for the damage he did in the locker room and the lack of production when he played.

Red Bulls fans will rejoice, and rightfully so. Maybe they can start to dream again - that their team won't have a petulant, apathetic cancer-making player alternately causing discord and wearing his lack of interest on his sleeve.

Adios, Rafa. It's been...real.