Marquez departure a boost for Red Bulls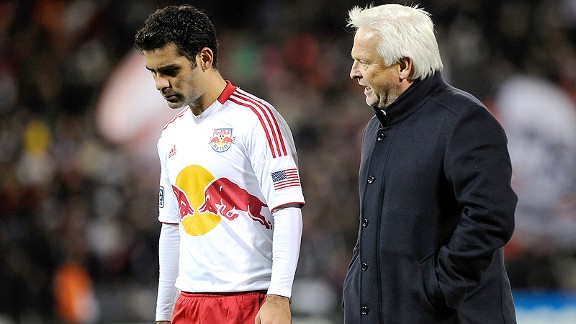 Patrick McDermott/Getty ImagesRafa Marquez, left, has followed former Red Bulls manager Hans Backe out the door in New York
A month ago, New York Red Bulls fans were hoping new sporting director Andy Roxburgh would one day turn into a competent MLS executive. Thursday he surpassed their wildest hopes by turning into Santa Claus, as he somehow convinced Rafael Marquez to tear up his contract, head back to Mexico, and rid the Red Bulls of their Designated Bust once and for all.

Various reports have Marquez preparing to sign with Liga MX side Leon. Given that Leon owner Carlos Slim is the richest man in the world, that no doubt played a part in convincing Marquez to leave.

Still, well done to Roxburgh, who is now tallying up the benefits from Marquez's departure. New York has freed up a Designated Player spot on its roster, and is no longer on the hook for the Mexico captain's $4.6 million salary. In a league where value for money is king, the $368,750 in cap space that will be freed up for 2013 is beyond significant.

- It's mutual: Marquez leaving Red Bulls

Better yet, whoever Roxburgh ultimately names as manager will be spared the agony of trying to find a spot in the lineup for Marquez. When he arrived in 2010, the Mexico international was thought to be the kind of central defender who would easily rule over opposition offenses.

Instead, his declining physical state left then-manager Hans Backe in a quandary. Marquez's lack of mobility and tendency to ball-watch made him a poor fit to play in the back, so Backe was forced to move Marquez into a holding midfield role. He wasn't much more effective there, and his poor play soon drew the wrath of the Red Bull faithful.

Granted, Marquez often wasn't available to actually hear what fans thought of him, as his penchant for injury saw him manage just 50 league and playoff appearances out of a possible 88 after his arrival midway through the 2010 season. That comes out to a cozy 56.8 percent appearance rate.

Of course there was more to this statistic than just Marquez's health. There was also his rap sheet. During the 2011 MLS playoffs when Marquez threw the ball – and hit – Los Angeles Galaxy attacker Landon Donovan, sparking a post-match melee. That indiscretion cost Marquez a post-match red card and an additional two-game ban. Then there was the episode earlier this year in which Marquez rugby-tackled San Jose's Shea Salinas on a corner kick, breaking the Earthquake midfielder's collar bone. Marquez could count himself lucky he got away with a three-game ban.

In this year's postseason the former Barcelona defender delivered the coup de grace, getting sent off with 15 minutes to go in the second leg of New York's playoff series against D.C. United with the score tied and the Red Bulls a man up. United went on to prevail, making Marquez's departure the last image Red Bulls fans would get of him. All told, he had more playoff red cards (two) than he did career MLS goals (one).

Yet if there was one episode that crystallized Marquez's stay in MLS, it came late in the 2011 season following a disastrous 3-1 home loss to Real Salt Lake, one in which RSL scored three times in the first 21 minutes. It was a match in which no one – especially Marquez – played well. Yet afterwards he insisted on highlighting the positive aspects of his own performance and then directed his ire at fellow center back Tim Ream.

Had Marquez displayed a scintilla of self-awareness, it would have gone some ways towards placating the Red Bull fan base. Instead, it only reinforced the perception that Marquez simply didn't care, and any remnants of goodwill soon evaporated. His subsequent performances did little to reverse that assessment.

One could argue that in addition to selling lots of Red Bull (the drink, not necessarily tickets), that at least Marquez brought some badly needed attention to MLS. The leagu, after all, is not averse to having villains such as Marquez's former international teammate Cuauhtemoc Blanco on its payroll. But Blanco largely delivered both on and off the field. Marquez's displays were nowhere near what the league – always in search of gaining street cred with the Latino market – had in mind when they signed him. And the fact that he was allowed to leave with a year remaining on his contract speaks to what little value he had to the Red Bulls.

About all that's left to discern now is if Marquez is the biggest bust in MLS history. And yes, he does have some competition in this regard. The good folks in Dallas are still trying to forget the performances of Brazilian winger Denilson, whose arrival midway through the 2007 so upset the balance of the team that FCD went from leading the Western Conference to a third-place finish and an early playoff exit. Nery Castillo's stint in Chicago did little to warrant his $1.78 million salary in 2010. The DP signing of Mustapha Jarju by Vancouver still perplexes given that he failed to find the net during his six-month stay in British Columbia.

But none of those players, as poorly as they performed, ever embarrassed the league and their club quite like Marquez did, whether it was his play, his indiscipline, or his public criticism of teammates. Some might offer up Lothar Matthäus as a bigger disappointment. Granted, the German international sent the wrong kind of message when he opted to recover from a back injury in that noted rehab facility called San Tropez. But by season's end, he was a solid contributor on a team that came within a game of reaching the 2000 MLS Cup final. Factor in Marquez's hefty salary that was third-highest in league history, and there can be little doubt that no player has delivered so little return on investment as he did.

Fortunately for New York, that is all in the past now. This move, along with the acquisitions of players such as Jamison Olave and Fabian Espindola has given Red Bulls fans a holiday season to remember, as well as more faith that an MLS outsider like Roxburgh is up to the job.