Engen takes her U.S. team bid to Liverpool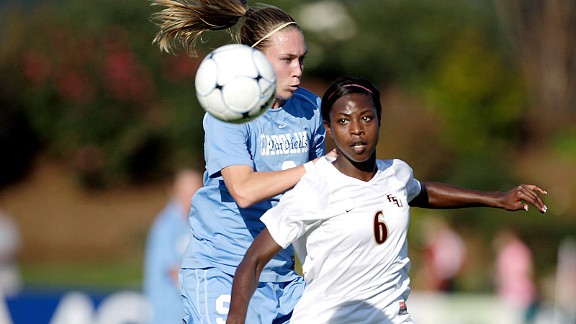 Takaaki Iwabu/Raleigh News & Observer/Getty ImagesWhitney Engen, left, started on her path to the U.S. team when North Carolina coach Anson Dorrance moved her to defense
Whitney Engen's dream moment on a soccer field is clear. A midfield teammate has just coughed up the ball, leaving Engen, a center back, isolated against an opposition striker. She readily admits her enthusiasm for this scenario is not shared by her coaches, but it's the thrill of the one-on-one battles that gets her going more than anything else in a game.

"I've talked to former teammates about this, and they all think I'm crazy," she says with a chuckle. "But it's the forward versus me, and it's going to go one way or another. I love that. I live for that."

Engen's preference for putting herself on the line partially explains her latest career choice. For the past two years – a period that included being named the WPS Defender of the Year in 2011 with the Western New York Flash – Engen has been on the fringes of the U.S. women's national team, only to miss out on the last two major tournaments.

But with WPS shutting its doors for good prior to the 2012 campaign, the Torrance, Calif. native made the kind of decision shared by only a few of her international teammates - heading overseas to play her club soccer, in this instance with Liverpool Ladies F.C. of England's FA Women's Super League.

Engen made her choice in October, even as plans for a new women's league in the U.S. were beginning to take shape, albeit under the radar. She said she had options in other countries, but given how critical communication is to a center back, the lack of a language barrier steered her to England. She expects to join her new club teammates in January.

"When I was in the process of making this decision, I had no idea what the plans were for a U.S. league," she said. "The opportunity to play abroad, especially in a city like Liverpool, is just so enticing that I couldn't really say no."

Engen isn't alone. Within the last year, other Americans such as Yael Averbuch, Becky Edwards, and former U.S. U-17 international forward Lindsey Horan have also opted to make the move overseas, although with the new U.S. league now forming it remains to be seen if any others will follow their lead. That said, the stability of the European club system does hold an attraction.

"I think in the last four years, I've lived in eight different places," said Engen. "Young soccer players like myself, Yael, Becky, we need games. We need minutes and games, and the WPS folding really hurt us in that regard."

This isn't Engen's first experience playing overseas, having played six games for Swedish club Tyreso FF earlier this year alongside former Western New York teammate and five-time FIFA Player of the Year Marta. Alas, the supporting cast for Liverpool won't' be quite as star-studded. The Reds finished dead last in the FA WSL in 2012, although the team under new manager Matt Beard is being largely rebuilt for this season.

"I look at that as a fun challenge," said Engen. "I'm just excited to get there and be a part of something new. If it's the case where for the first couple of games we're facing a lot of attacks from a lot of talented players, that's better for me. I want to play against anybody, anywhere, anytime, and work on my skills as a defender.

"With Western New York, I just passed the ball to Marta or Christine Sinclair or Alex Morgan and my job would be pretty much done for the day. As a player, I've grown the most in the situations that have been the toughest."

Among those moments came prior to her junior season at the University of North Carolina. Engen had spent the two previous years as a forward. UNC coach Anson Dorrance then informed her he was moving her to center back.

"I fought him tooth and nail on it," she recalled. "I looked at [Dorrance] like, 'You're crazy.' But he obviously knew what was best. I took to the position, that was going to be my role on the team, and I embraced it."

So much so that she was named a first-team NSCAA All-American as a senior while leading the Tar Heels to back-to-back national championships. Whether the FA WSL will stretch Engen's game to the same degree remains an open question, however.

"I think the English league, it's hit-or-miss club-wise," said Aaran Lines, who coached Engen when she was with Western New York, and remains the team's manager. "Just having one of my players play there recently for Chelsea, they were only training twice a week. The best environment for Engen to be in is hopefully in a league similar to WPS where you're training day in and day out."

A Liverpool spokesman indicated the team at minimum will train four times a week, but whether the overall experience will result in Engen making a breakthrough is unknown. That said, many of the signs point to her sticking with the national team at last. Both Lines and Dorrance are among those who believe Engen should have been included in the U.S. teams that went to the last two major tournaments under Pia Sundhage, and they still feel she could help them now given her blend of skill on the ball and physicality in defense.

"The quality that absolutely separates Engen, and what separated her when she played for me at UNC, is she has an extraordinary amount of competitive fire, and basically has the capacity to do anything to win," said Dorrance. "I think what she'll bring to an excellent U.S. team is this mentality in the back. I think right now as this U.S. team continues to evolve – and Pia did an absolutely magnificent job, don't get me wrong – I think an element that will continue to improve this team is to find some ball-winning personalities in midfield and in the back."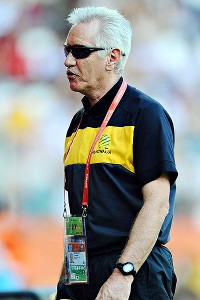 Lars Baron/Getty ImagesNew U.S. coach Tom Sermanni will give Engen a chance to prove herself
That decision is now up to Tom Sermanni, who replaced Sundhage in late October. Reached by telephone ahead of the U.S. team's match in Houston against China, the Scot indicated that he had heard the same concerns Lines did about the quality of the FA WSL, yet was aware of the efforts being made to raise the level.

He also admitted that having players performing overseas will make it tougher to monitor a player's progress, especially when it comes to performers like Engen with whom he isn't familiar. But it's an issue that Sermanni is well accustomed to dealing with. He estimated that last year, while managing Australia, he had upwards of 14 players playing for overseas clubs.

"From my perspective, ultimately I want to pick the best team for the U.S., it's as simple as that," he said. "Whether the players are playing overseas or in the U.S. shouldn't deter me picking them, one way or the other."

On the plus side for Engen is that what was a relatively set roster under Sundhage should open up considerably under Sermanni, especially with another 2 1/2 years before the next World Cup.

"One of my aims is to increase competition within the squad," said Sermanni. "And that is to look at other players and give opportunities to other players who perhaps haven't had opportunities over the last few years. But looking ahead, you've got one eye on the present and one eye on 2015. With that in mind, it's important for me to look at other players out there."

So much like her duels on the field, Engen's decision to join Liverpool will see her career go one way or another, although it's clear which way she thinks she's headed.

"When Liverpool called, it really spoke to me," she said. "I hadn't been with the club team environment for seven to eight months. It just sounded really alluring to be part of a team and work towards something. I think those are the situations where I play my best soccer. Hopefully it will maximize my chances under [Sermanni]."

And help her reach her ultimate dream.

USWNT Notes:

When the U.S. women's national team concludes its schedule against China on Dec. 15, it will have played 32 games this calendar year. While that may sound like a packed schedule, this isn't atypical for an Olympic year. In 2008, the U.S. played 36 games, 34 in 2004 and 41 in 2000. That said, Sermanni's first order of business heading into the New Year will be to give his players time off.

"One season tends to bleed into another, and I'm a great believer that one of the issues in modern-day football is fitting in time where players do get time completely away from the game, get time to refresh," he said. "Forget about football for a while, maybe three weeks, just chill out, and then get themselves mentally and physically refreshed to come back again."

-- Sermanni added he expects to get the team back together in early February in order to begin preparations for the Algarve Cup, at this point the only official 2013 competition and slated to take place March 6-13. Aside from an April 5 match against Germany, the rest of the schedule is in to be determined.

-- While Sermanni mentioned he wants more competition for places, he added that he wasn't in any hurry to usher out any of the old guard.

"I'm not making any judgments on the players that are in the squad until I start working with them," he said. "Ultimately, it's about performance for me. It's not about age or other factors. The players that perform the best will be the ones that I'll pick in the team."