What we learned from the MLS postseason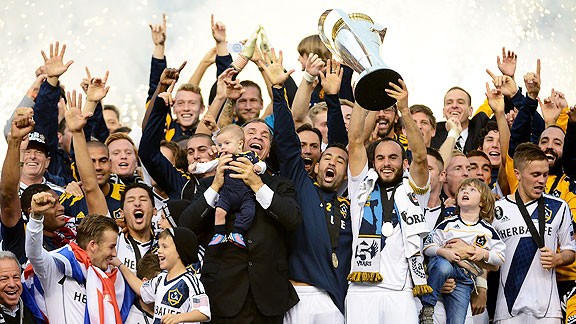 Harry How/Getty ImagesAnother year ends with the L.A. Galaxy lifting MLS Cup. But their success wasn't the only intriguing note of an entertaining postseason.
It used to be that fans of an MLS Cup champion had ample time to bask in the reflected glory of their team's success. In the early days of the league, the MLS Cup final was held in October. Training camps didn't begin in earnest until February -- plenty of time to sit by the fire and burn a hole in a DVR packed to the last megabyte with highlights.

Not so now.

Just days after the blue and gold confetti was vacuumed up from the Home Depot Center turf, attention has already turned to the upcoming season. The Re-Entry Draft-eligible players have been identified. The retooling of some MLS teams -- most notably in Salt Lake City and Portland -- has already begun at light speed.

All the more reason, then, to take a quick look back at the postseason and admire -- or in some cases shake your head at -- some of what transpired.

1. Not the best team in American history, but certainly the best coach

To the victors go the platitudes, overstated or otherwise. And leave it to former Galaxy midfielder and current Galaxy Academy Vice President Chris Klein to deliver up a whopper during the team's celebration on Monday.

"I think we're looking at the greatest team in American soccer history," he said.

Clearly, this edition of the Galaxy isn't even the best in club history, never mind American soccer. A better argument could be made for the 2011 Galaxy squad that also claimed the Supporters' Shield. All the more reason to laud the job that L.A. manager Bruce Arena did in 2012. Without question, this team was a wreck back in June. Injuries, a lack of fitness among key players and a general post-championship hangover had seen L.A. stumble out of the gate with a 3-8-2 record, one that by Arena's own admission saw his team concede the Supporters' Shield before the season's midway point.

Yet Arena remains the master at not only constructing a roster but also enabling it to reach its potential; he not only revived a season that was headed toward oblivion but also steered it toward a championship. It's also worth noting that before Arena's arrival in L.A., the Galaxy had devolved into a bad joke, even with Landon Donovan and David Beckham on the roster. Not anymore.

"It's about selection and managing those personalities," L.A. defender Todd Dunivant said before Saturday's match. "Bruce has done that masterfully throughout the years, and that's why he's been so successful.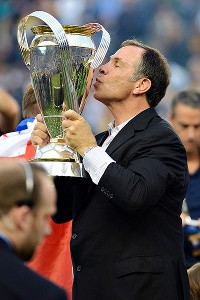 Harry How/Getty ImagesBest American soccer team ever might be an overstatement, but few can begrudge L.A.'s Bruce Arena of accolades for his outstanding management this season.
"He's good at pushing you when you need to be pushed. He's not the kind of guy that lets things slide, ever. He's always on you and making sure you never let your guard down. It's not something he does consciously. It's just who he is. ... And that's all the time. That's every practice, every day, so your standards are raised."

David Beckham, who was mired on a terrible team before Arena's arrival, was effusive as well. "I owe a lot to Bruce and his staff," he said.

2. It wasn't just the Galaxy's stars who shined

Clearly, the play of Robbie Keane and Donovan was central to the Galaxy winning their fourth MLS Cup title. Keane's six goals led the playoff scoring charts while Donovan added two goals along with three assists.

But as with any championship team, the supporting cast chipped in at critical times. Mike Magee again did his Robert Horry impression with three more playoff goals. Juninho delivered the critical pass to set up Omar Gonzalez's equalizer in Saturday's final. And overall, the back line -- one that included rookie Tommy Meyer -- was solid when it mattered most.

With Beckham -- and possibly Donovan -- now departing, one question is how the Englishman will be replaced. But as long as the supporting cast remains intact, L.A. should do just fine.

3. And what of Mr. Donovan?

After bagging his fifth MLS Cup title, Donovan continued to talk like a man intent on taking an extended vacation from soccer, telling the assembled media on Saturday, "It's not a woe-is-me story, but I have to listen to my heart, and right now my gut says to get away for a while."

Meanwhile, his coaches for both club and country are hoping he'll be back. At a roundtable with reporters on Friday, U.S. national team coach Jurgen Klinsmann said, "I'm very positive [Donovan] will continue to play." Arena said, "I think, hopefully, with a little bit of rest, [Donovan] will be ready to get back at some point."

The fact that the Galaxy midfielder will stay put during the offseason for just the second in the past five offseasons will be a plus. In early 2009, Donovan headed over to Bayern Munich. The 2010 and 2012 offseasons have seen the all-time U.S. leading scorer link up with Everton. That won't be the case this time.

So will six weeks off be enough for Donovan? (Given that there's no offseason tour for the Galaxy this winter.) Only he knows that. But the rest, plus the absence of pressure that comes with playing in one of the world's top leagues, will give him more recuperation time than he's normally had in the past several years.

4. Is Ricardo Clark turning into American soccer's Bad Luck Schleprock?

Let's be clear. The Houston Dynamo probably wouldn't have gotten past Sporting Kansas City in the Eastern Conference semis without Clark's range and grit in the center of midfield. He's a quality player who will no doubt be a big part of manager Dominic Kinnear's plans going forward. But boy, does he have a habit of being on the wrong end of some critical sequences in big games.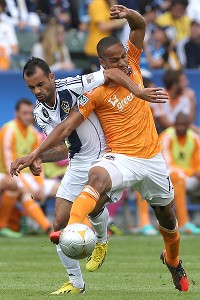 Jeff Gross/Getty ImagesRico Clark has had awful luck when it comes to MLS Cup, missing two for Houston and then losing the third.
Everyone remembers the gaffe in the 2010 World Cup round-of-16 match against Ghana when his pocket was picked clean in his own half, leading to Kevin-Prince Boateng's goal. And then on Saturday, he was whistled for a penalty after handling Magee's goal-bound attempt, with Donovan scoring the eventual game winner from the spot.

Granted, that kind of thing can happen to anybody. But given Clark's history -- and that he was playing in his first MLS Cup final after being suspended for the Dynamo's two trips in 2006 and 2007 -- Saturday's events will be tough for the Houston midfielder to stomach.

5. Sometimes, it's better to hold off on the celebrations

On Oct. 21, the San Jose Earthquakes clinched the Supporters' Shield with a 2-2 draw against the Galaxy. What ensued was a wild celebration in the Quakes' locker room that resulted in the floor positively swimming in champagne and melted ice. Three weeks later, the Quakes were out of the playoffs.

So should San Jose have held off on consuming the champagne? On the one hand, it was the Quakes' first major trophy since the team's resurrection in 2008. And perhaps the Supporters' Shield should be held in such regard that a big celebration is deemed acceptable. Certainly, when Sporting Kansas City celebrated its winning of the U.S. Open Cup with gusto, no one batted an eye. Then again, there was an over-the-top, premature feel to the festivities. MLS Cup remains the trophy that every team in the league wants more than any other.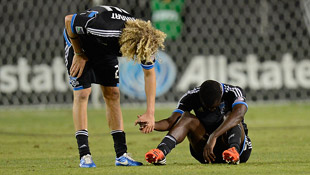 Thearon W. Henderson/Getty ImagesSan Jose's disappointing exit to L.A. in the playoffs led some to wonder whether the team's giddy celebration of the Supporters Shield took valuable focus from MLS Cup.
At last week's MVP presentation, both Chris Wondolowski and San Jose manager Frank Yallop denied that the celebration had any impact on the team's playoff psyche or postseason preparations. But one is still left to wonder whether that primal release of emotion had a detrimental effect once the playoffs started. Granted, the Galaxy were as tough a matchup as San Jose could have gotten at that stage, especially given L.A.'s ability in transition. But one suspects that if San Jose finds itself in a similar situation down the road, the postmatch party might be a bit more muted.

6. Real Salt Lake disappoints, and the retooling begins

Playoff disappointment isn't necessarily a catalyst for bold offseason moves. But in the case of Real Salt Lake, their ousting at the hands of the Seattle Sounders (along with some considerable salary-cap problems) has led to the departure of former mainstays Jamison Olave, Fabian Espindola and Will Johnson. And if coach Jason Kreis' Twitter account is anything to go by, then breaking up is indeed hard to do, as the RSL manager was effusive in his praise of the aforementioned trio.

It is with a tremendously sad heart that we at RSL say good bye to 3 absolute legends: Jamison, Fabian, and Will.

— Jason Kreis (@JasonKreis) December 3, 2012
Terrific soccer players but more importantly, terrific men.You will all be sorely missed, but you will remain family of RSL forever.

— Jason Kreis (@JasonKreis) December 3, 2012

That said, the moves had to be made. As good as Espindola was in stretches, his finishing touch tended to desert him in big matches. And the fact that RSL exited the playoffs without scoring a goal no doubt gave the club pause, as did its ousting from the CONCACAF Champions League when it could only tie Herediano 0-0 in the last group-stage match. Olave's health has been slowly deteriorating for the past two seasons, while Johnson's cap number of $243,750 made him vulnerable to a move.

Such departures are bound to raise a question or two about RSL's future, but one hallmark of the team under Kreis and GM Garth Lagerwey has been that whenever a player leaves, a replacement is already available from within. Chris Schuler has been waiting in the wings, and although he had some injury issues of his own this season, he appears ready. Kwame Watson-Siriboe also showed decently after arriving in midseason. In midfield, the time is now for Luis Gil to make the next step; the same is true for Sebastian Velasquez and David Viana. It also now looks as though Javier Morales will stick around for the foreseeable future.

Kreis and Lagerwey no doubt have more moves to make, but the outlook is far from bleak along the Wasatch Front.