U.S. team missing key players for WC qualies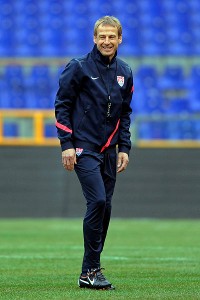 no_source / Claudio Villa/Getty ImagesJurgen Klinsmann's U.S. side will face Jamaica without the injured Landon Donovan and Michael Bradley.

It's a fact of life that whenever a U.S. roster is named for a World Cup qualifier, it's never perfect. A key player can be out of form, nursing an injury, or absent entirely. Yet the group tabbed by U.S. manager Jurgen Klinsmann to face Jamaica in two upcoming World Cup qualifiers has taken this particular penchant to an extreme.

Landon Donovan is absent due to injury. So is Michael Bradley. Clint Dempsey is on the roster, but he hasn't played a competitive game since June thanks to his protracted transfer saga with Fulham that saw him frozen out of the first team until he finally landed with Tottenham Hotspur on Friday. Given the uncertainty over Dempsey's fitness, you wonder how much of a part he will play in these two games, in particular the first match in Kingston this Friday.

"We'll see [his fitness] right away in the first couple training sessions, and also after testing [Dempsey]," Klinsmann said during a conference call with reporters. "Depending on that data, on what we see in training, we are open to throwing him in the water right away against Jamaica, if he's in a good physical condition."

Carlos Bocanegra escaped the nightmare of playing in the Scottish Third Division and secured a loan move to Spanish Segunda Division side Racing Santander. But the relatively low level of games he has participated in have raised questions as to just how prepared he will be.

"At least [Bocanegra] played a couple of games, so he's in a bit more of a match rhythm," said Klinsmann.

Words like "if" and "at least" crystallize perfectly what Klinsmann is up against. Many like to dismiss CONCACAF qualifying as being akin to a Sunday cruise, all sunshine with an umbrella drink thrown in. But while the U.S. definitely should progress, the semifinal round, with its groups of four teams as opposed to the final round hexagonal, is an unforgiving stage. One bad result, and a favorite can all of a sudden find itself not only having to run the table in the rest of its games, but requiring help from others as well.

The need to get at least four points from these two matches, combined with the questionable form of some key players, makes it imperative that Klinsmann get his lineup decisions correct. And this is where the payoff of throwing some players into the proverbial deep end during last month's friendly win over Mexico comes into play. Performers such as Geoff Cameron, Maurice Edu, Herculez Gomez and Fabian Johnson were among those who emerged from that game with their reputations -- and self-belief -- enhanced.

If it's determined that players such as Bocanegra and Dempsey aren't ready, Klinsmann can turn to alternatives with more confidence. This feeling is even more pronounced given that veterans who weren't present in Mexico, including Jozy Altidore, Steve Cherundolo and Clarence Goodson, have been added to the mix.

"I think the Mexico game really showed you all that we have some depth there," said Klinsmann. "We have some players that can step it up. They can make a surprising performance. They can surprise also the opponent. We as a whole team, I think we are improving, we are developing, we are getting stronger in the chemistry. The understanding between different components is working better and better."

Not that Klinsmann is overconfident. The U.S. manager strives to put matches such as the win over Mexico and the one over Italy last year in their proper context.

"Yes, we can beat also big nations away from home, but it doesn't give you a guarantee for tomorrow," he said. "Tomorrow is another whole new animal. We've got to go into Jamaica, and first of all, we have to respect them, and show that respect, and we have to be prepared to give everything we have to get a good result there."

Even if it isn't perfect.