Rico Clark takes his third chance at MLS Cup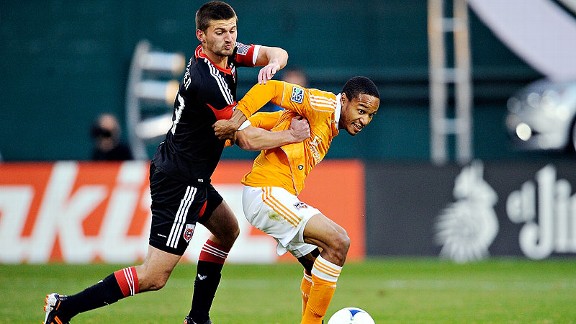 Patrick McDermott/Getty ImagesWhere there's a midfield battle, Rico Clark is there -- and having missed Houston's past two MLS Cup trips, he'll be in the thick of it on Saturday.
Saturday's MLS Cup final will be Ricardo Clark's third trip to the league's championship match, but it will be the first time he'll get to play. Given how infrequently second -- or, in this case, third -- chances come around in life, Clark has every intention of making the most of it.

The Houston Dynamo midfielder was a mainstay on the squads that won back-to-back championships in 2006 and 2007. But when MLS Cup rolled around, he was reduced to spectator status on both occasions. In 2006, yellow cards in consecutive playoff matches saw him ruled out of the championship game. A year later, his infamous kick out at then-Dallas forward Carlos Ruiz saw him earn a nine-game suspension -- a record at the time -- that included the postseason.

That Houston prevailed over the New England Revolution on both occasions was a testament to the team's depth, but that didn't make it any easier for Clark, who at the time was one of the premier holding midfielders in MLS. Still, it was believed that time was his ally and that he would soon have another chance to raise the Cup after toiling on the field.

Alas, the fickle nature of playoffs and careers intervened. The next two seasons saw Houston fail to make it back to the MLS Cup final. And when Clark departed for Europe after the 2009 campaign, the opportunity to play in the league championship match looked to have passed him by. But Clark's overseas stint came to an end after two-plus years and the chance to rejoin the Dynamo in midseason emerged. Now, with Houston back in the final -- and with Clark's adductor strain from earlier in the playoffs on the verge of healing -- the soft-spoken Atlanta native is on the brink of another championship. Only this time, he is determined to do more than cheerlead.

"It was definitely tough sitting on the sidelines both times," Clark said, referring to the 2006 and 2007 MLS Cups. "But I'm definitely thankful to have come back to a team that was in the middle of having a successful season. They were doing well when I joined, and I'm glad I can help out and move forward in the playoffs to get into this position. It was just a great situation that I found myself getting into, and I'm glad I'm in this position now."

Listening to Dynamo staffers describe Clark's contribution, it's as if the midfielder has never been away. Clark's range is still immense; his tackling remains sure; and his passing has been clean for the most part since his return.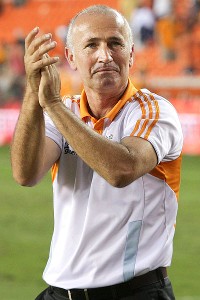 Bob Levey/Getty ImagesDynamo coach Dominic Kinnear has used Clark differently in his current stint with the club, giving him a box-to-box freedom that works well with the rest of his midfield.

"Clark makes it so much easier for Bobby [Boswell], Jermaine [Taylor] and Andre [Hainault] to read the game," said current Dynamo television analyst Eddie Robinson, who was Clark's teammate on Houston's championship teams. "He takes away a lot of passes into forwards' feet. His head is always on a swivel, looking at what's around him. He's not just trying to find the guy that he's responsible for. He tries to make sure that he takes that area that he's responsible for and makes it as difficult as possible for teams to try to make penetrating passes. Even when they do, he makes it so that the center backs can get really tight and not give the forwards any time to turn around and face up."

Clark's work rate remains an asset, as well. Manager Dominic Kinnear recalls a sequence in the Eastern Conference semifinals' first leg against Sporting Kansas City when Clark headed away a free kick, claimed the loose ball with a tackle, then sparked a counterattack that culminated in the midfielder's winning a corner kick.

"That all happened in about 10 seconds," Kinnear marveled. "That's Clark's game."

But there have been subtle changes to Clark and the way he has been used on the field. His foray into Europe, first with Bundesliga outfit Eintracht Frankfurt and later on loan with Norwegian side Stabaek, was marred by injury and inconsistency. Then there was his infamous turnover that led to a goal in the United States' round-of-16 defeat to Ghana at the 2010 World Cup. All of those events exposed him to the low ebbs that can dot a professional career, providing some difficult but valuable lessons in how to cope with them.

"Whatever situations I found myself in, whether it was injuries, battling my way back into the roster, getting into the lineup, just dealing with different situations at the club and pushing through that, it made me stronger mentally," Clark said via telephone. "Also, I think living in a foreign country where you don't speak the language, making life difficult … being able to overcome that definitely made me stronger."

All of those experiences have added a layer of maturity to Clark's game. To be clear, the midfielder remains a tenacious competitor, unafraid to apply his physicality when needed. But Robinson remarked that his former teammate seems less likely to foul in his own defensive third and overall makes better decisions on both sides of the ball.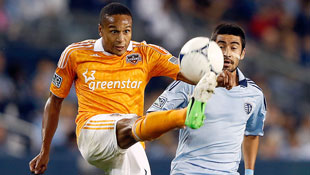 Jamie Squire/Getty ImagesClark's time in Europe matured him, improving his mental and physical strength. His impending battle with David Beckham on Saturday will be a test of how far he's come.

Good thing because it was right around the time Clark arrived that defender Geoff Cameron departed for Stoke City of the English Premier League. Although Taylor has filled in well in the back, Clark's presence in midfield has strengthened the spine of the team.

"If we would have had a dud the second half of the year, an awful lot of people would have brought up the fact that Cameron's not here, and rightly so," Kinnear said. "But we didn't talk about it. You always want that middle of the team to be strong with good players that physically can handle the game. With Geoff going away, the addition of Ricardo has made that blow easier to take."

Yet it's worth noting that Kinnear has opted to deploy Clark in a way that is different from the player's first stint with the Dynamo. Back then, Clark was the prototypical holding midfielder, sitting directly in front of the back four. But with Adam Moffat playing well in that position, Kinnear has at times moved Clark farther upfield in more of a two-way role, one that allows creative players such as Brad Davis and Oscar Boniek Garcia to cheat forward, given that Clark is around to blunt any counterattacking opportunities.

The tweak had the effect of containing the deeper elements of Kansas City's midfield in the conference semifinals; Kinnear hinted that he might use it again in Saturday's MLS Cup final against the Los Angeles Galaxy, especially given how David Beckham prefers to drop deep into his own half to collect the ball and orchestrate the attack.

"If Beckham gets time, he can play balls into the forwards' feet and that's where they can do their damage," Kinnear said. "Clark, for me, is going to be an important player for us on Saturday. We're not going to man-mark David Beckham, but he does like to sit in that area, and if he gets his head up, someone has got to be around him to put pressure on him. More than a few times, Ricardo is going to be in that situation."

Clark, for his part, is enjoying the positional twist Kinnear has asked of him. "[Moffat] and I have a better understanding now," he said. "It's been working for us so far, and that's not to say that Adam can't move up to different parts of the field. I think it's been a good relationship."

One that Clark hopes will lead to his hoisting the MLS Cup, only this time with sweat on his brow and dirt on his jersey.