MLS faces one of its greatest challenges with Beckham leaving L.A.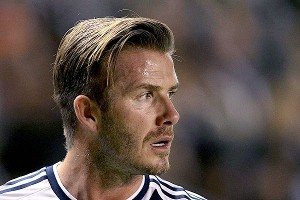 Victor Decolongon/Getty ImagesDavid Beckham announced Monday that the MLS Cup on Dec. 1 will be his final game with the Los Angeles Galaxy.
It was one year ago that David Beckham seemed poised to leave MLS. He was fresh off winning a championship with the Los Angeles Galaxy. The league, after several false starts, finally had its iconic Beckham moment. When the Englishman decided to stay with the league, it was hailed as a validation, but now, with the announcement that Beckham will play his last game with the Galaxy in the MLS Cup final on Dec. 1, it was merely putting off the inevitable.

And so MLS and Beckham find themselves stuck in a kind of Groundhog Day. Just as they did 12 months ago, the plaudits from all corners will pour in, hailing the signing of Beckham back in 2007 as a game-changer. Without question, that is the case, especially in terms of the league's finances and international profile. And just like a year ago, Beckham's departure will be accompanied by an airbrushing of history. Too often, Beckham's whims were placed in front of the league that he was supposed to be promoting. From his ferocious pursuit of England caps that sparked numerous loan deals -- and injuries -- to his insistence on attending Gary Neville's testimonial, MLS was often treated as a second-class citizen. The fact that Beckham averaged a little over 15 regular-season appearances a year during his time in MLS speaks to the fact that the Galaxy and MLS were not his first priority.

To be fair, Beckham largely came good in the last two years of his tenure in L.A., and his Best XI selection in 2011 was very much deserved. But to conveniently ignore the lower points of the relationship does a disservice to MLS, because it is precisely at this moment -- assuming that he leaves MLS -- that the league is facing one of its biggest challenges, namely to prove once and for all that there is more to it than merely serving as a marketing arm of Brand Beckham.

The evidence of the league's accomplishments is clear. The success of the Cascadia clubs, the evolution of the fan base that is inclusive of supporters' culture, the numerous soccer-centric stadiums that either have been or are in the process of being built, and the continued push for expansion are signs of a vibrant, healthy league. But MLS needs to do more to highlight these more tangible -- and admittedly less sexy -- signs of progress. Otherwise the sponsors who signed on when Beckham arrived won't feel compelled to stick around, and the naysayers who deride the league as nothing more than a retirement home for aging European stars, will be supplied with more ammunition.

As for Beckham himself, the timing of his departure does seem odd in that he had another year left on his contract, as well as the fact that he often spoke of how much the L.A. lifestyle suited his family. No doubt, more will be made clear when he faces the media on Tuesday, but perhaps, like the sheriff in the old westerns, Beckham felt that there was nothing left to accomplish, and therefore it was time to move on.

But if that means heading to Australia to join the A-League -- a move that has been long-rumored, but one his management team denied last Friday -- then that is a change that makes little sense. Beckham would essentially be moving to a league even more attention-starved than MLS was six years ago, and the limelight that Beckham craves would be much harder to come by.

Transitioning into an ownership role in MLS, a move that Beckham has often discussed, seems a more logical step. A move back to his native England would make plenty of sense as well, although whether that would involve the continuation of his playing career is unclear.

That said, Beckham has earned the right to decide when to exit the MLS stage. The league is clearly the better for it. Now it's time for MLS to prove that it can stand on its own.