Eastern Conference semifinals a real mixed bag
The Eastern Conference bracket of the MLS playoffs has a little bit of everything. There's the rising power in Sporting Kansas City, one that is keen to build off its regular-season success. Then there's a wily, veteran squad in the Houston Dynamo that is seemingly capable of flipping on the switch to deliver its best performances when the playoffs come around. D.C. United, a club that had been in the doldrums for the last few years, is now looking capable of building on its rich history. And then there are the Kings of Dysfunction, the New York Red Bulls, a talented side that can beat -- and lose -- to anyone.

Sporting Kansas City vs. Houston Dynamo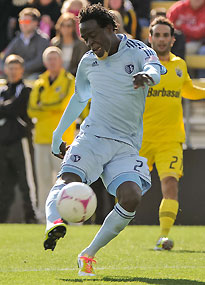 GettyImagesKei Kamara will be a major headache for Houston.
SKC's ascendency into the elite of MLS was cut short last season in the Eastern Conference final, when Houston upset Peter Vermes' side at Livestrong Sporting Park. Now Kansas City has its shot at revenge. Based on regular-season form, this would appear to be SKC's series to lose, but as last year showed, Houston is a different team when the playoffs roll around, and this two-game set will no doubt be a battle.

Key matchup: SKC forward Kei Kamara vs. Houston outside backs Kofi Sarkodie and Corey Ashe

While Graham Zusi is probably SKC's best player, Kamara creates a matchup headache for Houston manager Dominic Kinnear. If Kamara lines up on the right in SKC's 4-3-3, his superior size creates problems for diminutive left back Corey Ashe. If he stations himself on the left, Kofi Sarkodie's suspect one-on-one defending gives Kamara an advantage there as well. This may require either Brad Davis or Oscar Boniek Garcia to help out defensively, and thus limit their chances to get forward.

Players to watch: For SKC: defender Matt Besler, midfielder Roger Espinoza, midfielder Graham Zusi. For Houston: midfielder Oscar Boniek Garcia, midfielder Brad Davis, forward Will Bruin.

SKC defender Aurelien Collin got plenty of ink, but it was Besler's steady, composed play in the center of defense that helped the team record the best defensive record in MLS. An ankle injury has cast doubt on Espinoza's participation but his two-way abilities are critical to implementing SKC's high-pressure style. Zusi has built upon last year's breakout season, and his 15 assists were tops in MLS this year.

Garcia has arguably been the pickup of the second half, with his ability on the ball providing a valuable second attacking option to Davis. Speaking of Davis, he recorded double-digit assists for the fourth year running, and his delivery on set pieces remains a huge part of Houston's offense. Bruin continued his fine breakout season last Wednesday, scoring both goals in the 2-1 knockout round win over Chicago. He'll be counted on to use his 6-foot-2 frame to hold the ball up as well.

X factors: SKC forward Jacob Peterson and Houston forward Calen Carr

Peterson's four goals don't initially dazzle the eye, but further inspection reveals his strike rate per 90 minutes is actually highest on the team among players with more than 200 minutes played. And he'll be counted on to provide some balance on the wing opposite from Kamara. Carr's speed will be needed to stretch SKC's defense, and he's coming off an impressive performance against Chicago.

Outlook: Houston matches up well against Kansas City, especially now that it has two playmakers in Davis and Garcia in the lineup. Defensively Houston has precisely the kind of size and strength needed to neutralize SKC center forward C.J. Sapong.

But the additional year of experience Kansas City now has should provide the guile needed to get past an experienced side like Houston. The pairing of Espinoza and Zusi -- with Julio Cesar in a holding role -- would also appear to have an edge over Houston's central duo of Ricardo Clark and Adam Moffat. Clark still has the range and athleticism to compete in the middle, but there are questions as to whether Moffat can do the same. Assuming Espinoza is healthy enough, that should prove to be the difference in what will likely be a tight series.

Look for SKC to prevail 3-2 over the two legs.

D.C. United vs. New York Red Bulls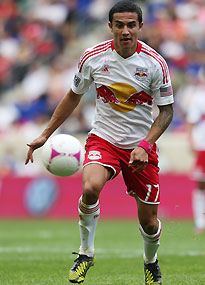 GettyImagesTim Cahill is key for setting the table for the likes of Thierry Henry.
The I-95 rivals meet for the first time in the postseason since 2006, and in this instance it's a matter of grit versus glitz, with DCU's young guns -- minus injured league MVP Dwayne De Rosario -- attempting to get the better of New York's star-studded side. United finished second in the Eastern Conference during the regular season, and with it gained home-field advantage, but the damage in the New York area caused by Hurricane Sandy forced a switch of venue, and now it is United that will host the first leg.

Key matchup: DCU midfielder Perry Kitchen vs. NYRB midfielder Tim Cahill

Assuming that Cahill can shake off a calf injury, he will be the man tasked with setting the table for forwards Thierry Henry and Kenny Cooper, and his success in that role allows Henry to stay higher rather than dropping too deep into midfield. While DCU also utilizes the services of veteran Marcelo Saragosa in a holding role beside Kitchen, it is the U.S. U-23 international who is more of a stay-at-home type and will need to be aware of Cahill's whereabouts.

Players to watch: For DCU: defender Brandon McDonald, midfielder Nick DeLeon, midfielder/forward Chris Pontius. For NYRB: midfielder Dax McCarty, forward Thierry Henry, forward Kenny Cooper

McDonald is the only DCU defender with playoff experience, and he'll need to use that knowledge as well as his physical strength to deal with the likes of Henry and Cooper. DeLeon is back close to his best after hitting the rookie wall earlier in the year, and is a player who can provide the unexpected from out wide. With De Rosario out, Pontius is the only proven goal scorer in the lineup, and it will be interesting to see whether Olsen deploys him in midfield or as a second striker in support of Lionard Pajoy.

McCarty has been the glue that has kept New York's midfield together all season, and while it seems a shame that manager Hans Backe has moved him out to the wing from his preferred holding role, his ability to win second balls and link defense to attack is still critical. Henry and Cooper are the most potent strike tandem in the Eastern Conference and, given the frailty of New York's defense, will need to be at their clinical best for New York to advance.

X factors: DCU midfielder Branko Boskovic and NYRB defender Rafa Marquez

Boskovic remains something of an enigma for United. His fitness is such that he can't last 90 minutes, but his creativity and his deliveries on set pieces provide a boost to the DCU attack. On a team that has scored few goals since De Rosario went down, Boskovic could be a difference-maker, even in a substitute's role. Marquez has endured an up and down season, and his ability to distribute cleanly out of the back is tempered by his lack of speed and at times shoddy positioning. New York desperately needs the good Rafa to show up.

Outlook: On paper, New York would appear to have the edge, but the Red Bulls' obvious talent is undermined by a penchant for self-destructive behavior on defense, especially early in matches. The presumed departure of Backe at the end of the season is another unwelcome distraction.

That's why despite United's relative inexperience, they have a shot at progressing. Much will depend on the play of Pontius, as well as Pajoy, whose holdup play has been a key part of United's offense over the last six weeks. United's newfound strength in the back will also need to come to the fore.

That said, it would appear that New York has too much firepower, and the fact that it now has home-field advantage gives it an additional edge.

Look for New York to win 3-2.