Western Conference semifinals promise plenty of fireworks
The Western Conference might not be as dominant as it used to be, but the four remaining qualifiers -- San Jose, Los Angeles, Real Salt Lake and Seattle -- still carry plenty of star power. In fact, so evenly matched are those four teams that any one of them is capable of walking off with the MLS Cup when the final is held Dec. 1. And the two conference semifinal pairings are as compelling as it gets, with a once-dormant rivalry having now crackled back to life in San Jose and L.A., while Real Salt Lake and Seattle face each other for the second year in a row after last year's riveting encounter.

San Jose Earthquakes vs. Los Angeles Galaxy

At the beginning of the year, it looked like the long rivalry between the two teams was set to become the MLS equivalent of Atletico Madrid and Real Madrid, a set-to that meant much more to the Earthquakes than it did the Galaxy. But two San Jose victories and a tie later -- all of them hotly contested -- you have as juicy a playoff series as you could hope for.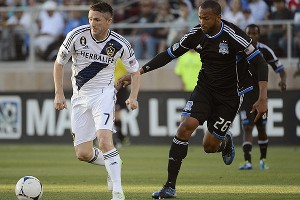 Thearon W. Henderson/Getty ImagesVictor Bernardez and San Jose must find a way to stop Robbie Keane, whose superior mobility is one of L.A.'s great assets.
Key matchup: San Jose defender Victor Bernardez vs. L.A. forward Robbie Keane

In the most recent 2-2 draw between the two clubs on Oct. 21, the physical and verbal battle between L.A. defender Omar Gonzalez and San Jose forward Steven Lenhart drew most of the headlines. But it was a matchup at the other end of the field that did plenty to catch the eye. Simply put, Keane's movement away from the ball gave Bernardez fits. If Bernardez tried to follow Keane into midfield, the Irishman's superior mobility allowed him to evade the San Jose defender and create space for others. If Bernardez stayed home, Keane had acres of space to make plays between the midfield and defensive lines. San Jose must find a way to track Keane better if it is to come out on top in this series.

Players to watch: For San Jose: midfielder Marvin Chavez, midfielder Simon Dawkins, forward Chris Wondolowski. For L.A.: defender Omar Gonzalez, midfielder David Beckham, midfielder Landon Donovan.

Chavez led San Jose with 13 assists, and his wide play is a critical component of the Quakes' attack. If injured L.A. right back Sean Franklin is unable to go, Chavez could have a field day against replacement Hector Jimenez. Dawkins gives San Jose an effective, ground-based attacking option to complement its direct game. Wondolowski is merely the league's leading goal scorer and is a poacher extraordinaire.
Gonzales will be tasked with providing a physical presence to combat the play of Lenhart and Alan Gordon. Beckham's long-range passing remains impressive, even if his mobility isn't what it used to be. Donovan has drawn attention with talk of taking a break from soccer, but his vision and classy passing remain among the league's best.

X factors: San Jose forwards Alan Gordon and Steven Lenhart; L.A. midfielder Mike Magee

The "Bash Brothers," as they're called, set the tone offensively for San Jose with their physical play and ability to attack crosses into the box. Magee has already shown himself capable of reprising last year's playoff heroics, scoring a critical equalizer in the knockout round against Vancouver.

Outlook: At the end of the regular season, L.A. looked perfectly positioned to spring a playoff ambush on San Jose, with its depth in midfield looking especially impressive. It was also thought that San Jose's reservoir of late-game karma, one that has seen it deliver numerous fight-backs this season, was close to running dry.

But the injuries to defenders Franklin and A.J. DeLaGarza, as well as other injuries to midfielders Christian Wilhelmsson and Juninho, are hitting the Galaxy at the worst possible time. If the backline remains hobbled for the bulk of the series, it's difficult to see how it will cope with an attack that led the league with 72 goals this season.

On the bright side for L.A., the San Jose defense has proved to be vulnerable, especially in transition when outside backs Steven Beitashour and Justin Morrow get caught too far forward. For that reason, there will be goals aplenty in this series.

Two weeks ago, L.A. would have been the favorite, but now expect a healthier San Jose side to prevail 4-3 over the two legs.

Real Salt Lake vs. Seattle Sounders

These teams met last year in the conference semifinals with RSL barely managing to hang on to a 3-0 lead from the first leg to win 3-2 on aggregate. This year the schedule is reversed with Seattle hosting the first leg Friday with the second leg set to take place at Rio Tinto Stadium six days later. Either way this figures to be a stellar series between two evenly matched teams.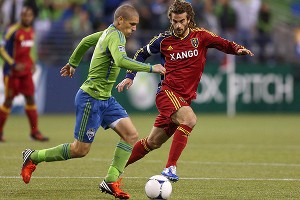 Otto Greule Jr/Getty ImagesJavier Morales will lead RSL's attack, while Osvaldo Alonso will look to shut him down.
Key matchup: Real Salt Lake midfielder Javier Morales vs. Seattle midfielder Osvaldo Alonso

Stationed at the top of RSL's midfield diamond, Morales remains RSL's attacking fulcrum. And while he has been known to set up shop in wide positions, the better to combine with Fabian Espindola, stopping the Argentine will be the primary responsibility of Alonso, who remains one of the premier holding midfielders in MLS.

Players to watch: For Seattle: defender Jeff Parke, midfielder Mauro Rosales, forward Fredy Montero. For Real Salt Lake: defender Nat Borchers, midfielder Kyle Beckerman, forward Alvaro Saborio.

Parke leads an unheralded backline that conceded the second-fewest amount of goals in MLS this year. Rosales missed last year's series with a knee injury, but is raring to go this time, and is one of the primary attacking conduits to the Sounders' frontline. Montero recorded another solid season in MLS, scoring 13 goals. His ability to drop off strike partner Eddie Johnson gives Seattle another playmaking threat.

Questions abound over the physical state of defenders Jamison Olave, Chris Schuler and Borchers. But with Olave the biggest doubt, RSL will rely heavily on the tactical wits of Borchers to get them through. Beckerman's tenacity and tackling are critical components to RSL's midfield, and he'll be tasked with keeping the likes of Rosales and Christian Tiffert at bay. Saborio's 17 goals placed him third in the league's scoring charts, and he'll likely need to come up big again for RSL to advance.

X factors: Real Salt Lake forward Fabian Espindola and Seattle forward Eddie Johnson.

When Espindola is in good form, RSL's attack is an order of magnitude more potent. His ability to pressure opposing defenders combined with a keen ability to link up with Saborio can make him a highly effective player. But there are moments when he finds himself too far from his striker partner to be effective, and his finishing touch can desert him at the worst possible time.

Johnson has enjoyed a fantastic bounce-back season, scoring 14 goals, but a hamstring injury he sustained in the regular-season finale against L.A. has cast doubt on his participation in the first leg. In a series as evenly matched as this one, his absence for any extended length of time could be the difference between advancement and an early exit. At minimum, his physical presence will be needed to occupy RSL center backs Olave and Nat Borchers, assuming they play.

Outlook: Even if Johnson is sidelined, Seattle appears to have a deeper team than last year thanks to the addition of midfielder Christian Tiffert and a healthy Rosales. Defensively, the Sounders have been excellent, thanks to a unit whose collective effectiveness has been greater than the sum of its component parts.

But the Sounders have never won a postseason series in their brief MLS history. They did manage to win a postseason game against RSL last year, but still fell short, and such playoff failures will hang over the club until they finally break through.

RSL seem to be heading in the other direction, with the core group that won the 2009 MLS Cup slowly being replaced. But Real is still a talented side. Its defense was just a shade behind Seattle's, and this time has the advantage of hosting the second leg at home. Granted, the team has struggled to score goals, but it is also a group that has been battle-tested both domestically and internationally.

In a series in which defenses figure to dominate, look for RSL to prevail 2-1.