MLS Playoffs: Power Rankings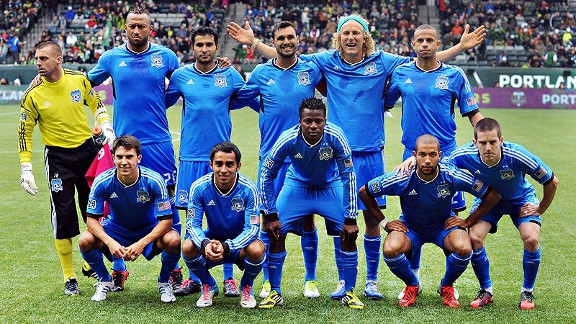 Steve Dykes/Getty ImagesSan Jose's never-say-die mentality makes it a tentative favorite for MLS Cup.
The MLS Cup playoffs have produced all manner of champions over the years. There have been teams like the 2008 Columbus Crew, whose regular-season dominance translated seamlessly into a championship. Then there was the 2005 Los Angeles Galaxy, who frankly sleepwalked through the regular season only to get hot at precisely the right time.

During the Galaxy's improbable run, an absurd eight out of 12 teams made the playoffs. These days the playoff system is a bit more of a meritocracy, with 10 out of 19 squads making the postseason, but the playoffs are still primarily about timing. All it takes is the right player to find form, the right bracket to grease a team's path or a few well-timed breaks for a side closer to the middle of the pack to be declared champion of MLS.

So while the regular season has revealed the favorites for the league title, the playoffs reveal plenty of credible contenders. Here's the list, power rankings-style.

1. San Jose Earthquakes

Why they'll hoist the Cup: San Jose's attack, adept both in the air and on the ground, led the league with 72 goals this season. The team's iron-clad mentality is also a plus: The Quakes will never think they're out of a match no matter what the score is, a spirit that has led to innumerable fight-backs this season.

Why they'll fall short: The Quakes' seemingly endless reservoir of karma has to run out sometime, right? And an oft-overlooked reason for all those memorable comebacks is a defense that can look very suspect at times, especially in transition when its outside backs are caught forward.

Verdict: It's all-or-nothing for San Jose. If it can safely navigate its way past the conference semis -- where a likely matchup against rival Los Angeles awaits -- then an MLS Cup final appearance is in the offing. Yet the Galaxy seem due for a win against these crazy Quakes.

2. Sporting Kansas City

Why they'll hoist the Cup: Taking a page from its 2000 MLS Cup champion forebears, SKC's defense has been the best in the league by a considerable margin while the team's high-pressure tactics have generated just enough offense to consistently get results. It's the exact blueprint that many previous MLS Cup winners have used in the past.

Why they'll fall short: Among all playoff teams, only Vancouver scored fewer goals than SKC's 42. The occasional dearth of goals has at times allowed opponents to hang around and snag results they didn't necessarily deserve, meaning this inability to put teams away could come back to bite Kansas City. The health of midfield linchpin Roger Espinoza is a worry as well.

Verdict: That said, SKC remains the class of the Eastern Conference and remains a favorite to reach the MLS Cup final.

3. Los Angeles Galaxy

Why they'll hoist the Cup: L.A. appears to have everything: talent, experience and the best manager in the business in Bruce Arena. The Galaxy's deep midfield, in particular, also looks capable of overwhelming opponents, while Robbie Keane has been in scintillating form, scoring 13 goals since returning from Euro 2012.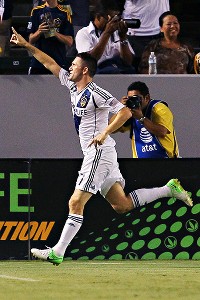 Victor Decolongon/Getty ImagesRobbie Keane's veteran savvy has helped the Galaxy rally despite injury struggles to key teammates like Landon Donovan and A.J. DeLaGarza.
Why they'll fall short: Health, or more specifically, the lack of it. Landon Donovan still seems well short of 100 percent, but an even bigger concern is the continued absence of A.J. DeLaGarza because of a knee injury. Rookie Tommy Meyer has filled in well in his absence; that said, it still seems a big ask for a first-year player to excel during the playoffs, especially as DeLaGarza provides valuable recovery speed in the center of L.A.'s defense.

Verdict: It seems counterintuitive for a fourth-place conference finisher to be considered a favorite to emerge out of the Western Conference, but that is the case, especially if DeLaGarza can return from injury by the later rounds of the postseason.

4. Real Salt Lake

Why they'll hoist the Cup: After being waylaid by a glut of injuries to the back line during last year's playoffs, RSL is healthy and rested this time around, which should allow its possession-based style to come to the fore. Real's defense has been almost impenetrable of late as well, something that'll come in handy against the potent attacks of the Western Conference field.

Why they'll fall short: The lack of a second scoring option alongside Alvaro Saborio remains a concern. Fabian Espindola has had his moments, and although his work rate is second-to-none, he's had his share of dry spells as well. Javier Morales hasn't chipped in with as many goals as expected, either.

Verdict: One of Espindola or Morales will have to step up in the goal-scoring department for Real Salt Lake to win its second championship in four years. The rest of the pieces are in place.

5. Seattle Sounders

Why they'll hoist the Cup: One could make a case that from front to back, Seattle is the most balanced team in the league. The Sounders conceded the second-fewest number of goals in MLS, and the attack is diverse, with Christian Tiffert and Mauro Rosales pulling the strings for Eddie Johnson and Fredy Montero.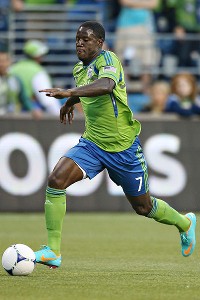 Otto Greule Jr/Getty ImagesCan Seattle overcome Eddie Johnson's unfortunate injury to finally mount a legitimate quest for MLS Cup?
Why they'll fall short: For whatever reason, a playoff hoodoo has hung over the Sounders as they've failed to win a single playoff series in their brief MLS history. This season, an odd frailty on set pieces has recently emerged, while Johnson's hamstring injury could mean that the Sounders are without a key attacking piece for the second year in a row.

Verdict: The Sounders have the talent and the manager to go all the way, but the injury to Johnson hints that Seattle will fall just short again.

6. D.C. United

Why they'll hoist the Cup: After losing Dwayne De Rosario to a possibly season-ending knee injury, manager Ben Olsen tweaked his side's tactics to become a more defense-oriented side with an opportunistic approach to the attack. The change has paid off in a huge way, as United went 5-0-2 down the stretch to secure its first playoff spot in five years. That increased focus on defensive duties can carry a team far in the postseason.

Why they'll fall short: Chris Pontius remains the black-and-red's only reliable goal scorer. Nick De Leon has become more consistent after hitting the rookie wall earlier this summer, but if Pontius is contained, it's difficult to see where else goals might come from.

Verdict: A trip to the conference finals is doable but United doesn't appear strong enough to get past Kansas City.

7. New York Red Bulls

Why they'll hoist the Cup: No team scored more goals in the Eastern Conference than New York, with Thierry Henry and Kenny Cooper finding the net a combined 33 times. The Red Bulls' ability to press opponents has improved significantly late in the season, giving them more of a defensive presence.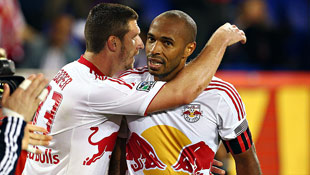 Jim McIsaac/Getty ImagesKenny Cooper and Thierry Henry have formed a superb strike partnership for the Red Bulls; they'll need to be on form to cover for a suspect defense.
Why they'll fall short: The center of defense remains highly suspect, with neither Markus Holgersson nor Rafa Marquez showing the kind of mobility needed to stay with opposing forwards. The likely departure of manager Hans Backe at season's end, no matter how the team does, is an unnecessary distraction.

Verdict: Barring a run of otherworldly attacking performances by Henry and Cooper -- hey, it could happen -- it looks like the Red Bulls' streak of seasons without a major trophy will reach 17.

8. Chicago Fire

Why they'll hoist the Cup: The return of midfielder Pavel Pardo could have a massive influence on Chicago's fortunes. The former Mexican international was out with a calf injury for six games, which coincided with the Fire's dip in form. His ability to read a game's flow and dictate its tempo makes everyone around him better.

Why they'll fall short: An over-reliance on Chris Rolfe to provide the bulk of the playmaking duties in the final third. Both Philadelphia and New England found ways in recent weeks to neutralize Rolfe, and Chicago struggled mightily as a result. A lack of consistent finishing -- as witnessed last weekend against D.C. United -- and a penchant for falling behind don't help, either.

Verdict: Although Chicago has had success against Kansas City during the regular season, the conference semis are as far as this team will go.

9. Houston Dynamo

Why they'll hoist the Cup: Just one year removed from an MLS Cup final appearance, this team is loaded with playoff experience. The addition this season of playmaker Oscar Boniek Garcia has made Houston's attack much less reliant on Brad Davis.

Why they'll fall short: Houston has been lights-out at home but frail on the road. After winning its first two road games of the season, the Dynamo won just once thereafter, including some horrid displays against nonplayoff teams. While overall the team has been solid defensively, there have been moments where Houston has been lackadaisical in the back and has been duly punished.

Verdict: A repeat of last year's run to the MLS Cup final is possible, but a likelier scenario will see the Dynamo crash out in the conference semis.

10. Vancouver Whitecaps

Why they'll hoist the Cup: The biggest reason Vancouver made the playoffs was a revamped back line that tied for the fourth-best defensive record in MLS this season. Jay DeMerit enjoyed a tremendous bounce-back season, while former Ireland international Andy O'Brien has proved to be a valuable midsummer pickup. World Cup veteran Y.P. Lee has helped lock down the right side of Vancouver's defense.

Why they'll fall short: The attack is in shambles and has been since a midseason retooling saw the team shed Davide Chiumiento and Sebastian Le Toux with Dane Richards, Kenny Miller and Barry Robson (who was signed in the preseason) coming on board. The team has scored just seven goals in its past 10 games, with four of those coming in 90 minutes against lowly Chivas USA.

Verdict: To have any hope of upsetting L.A. on Thursday, the Whitecaps will have to make use of the speed of Richards and Darren Mattocks. If Martin Rennie's side can pull off a miracle, then anything is possible. Don't count on it, though.