Maurice Edu hoping to reignite career with Philadelphia Union
Back in August 2012, the road ahead for Maurice Edu seemed full of promise. He had just completed a transfer to English Premier League side Stoke City and was just weeks removed from an impressive performance in the U.S national team's 1-0 friendly victory over Mexico, its first at the famed Estadio Azteca.

Yet Edu's path turned out to be a whopper of a blind alley, and now he's hoping that a loan move to MLS with the Philadelphia Union will be enough to overcome his unintended detour.

As Edu discussed the move via telephone, he admitted that his national team future has been on his mind to a degree, and with good reason. There are just three months left until U.S. manager Jurgen Klinsmann names his final roster. But Edu is also aware that his bid to get back on Klinsmann's radar means completing some other steps first. One of those involves falling back in love with the sport that has treated him so well for the majority of his life.

"You have to crawl before you walk," he said. "I want this season to get started as soon as possible, to get back playing consistently, to start enjoying things, and playing well. From there I think things will work themselves out."

That affection for the game was certainly put to the test during the 18 months he spent with Stoke. With his previous side, Rangers, Edu helped the club win trophies, while also seeing time in the UEFA Champions League. But the club's descent into bankruptcy forced a fire sale that involved selling Edu to Stoke.

Initially, the move seemed a natural progression for an experienced international. But Edu made just one substitute appearance during his entire time at Stoke. A short-term loan at the end of last year to Turkish side Bursaspor provided something of a respite, but when he returned to England, he was frozen out yet again. A somewhat lengthy recovery from sports hernia surgery didn't help matters, but ultimately, not even the arrival of manager Mark Hughes was enough to see his standing improve.

"When you're not playing, it's difficult," Edu said by telephone. "You get frustrated and you start to lose focus a little bit. Sometimes you get distracted from your goal because you can't see a light at the end of the tunnel. You feel like you're putting in all the work and doing all the proper things to get the opportunity. But when it's not coming, it can be difficult to stay the course, and you find yourself not enjoying what you're doing anymore. At times that happened for me. I wasn't enjoying the game anymore. I think a new opportunity and a fresh start is really what I needed."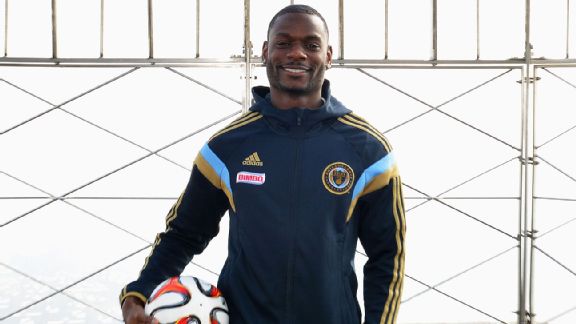 Slaven Vlasic/Getty ImagesAfter a tough 18 months at Stoke in England, Maurice Edu is back and wants to turn things around with the Philadelphia Union.
Edu will certainly get that in Philadelphia. He's familiar with both manager John Hackworth, who coached Edu while serving as an assistant with the U.S. national team, as well as assistant Rob Vartughian, who was an assistant at the University of Maryland during Edu's time there. And despite a Union backline that looks thin at the moment, he's slated to play in his preferred role as a box-to-box midfielder in Hackworth's 4-3-3, a position that proved difficult for the Union to fill in 2013.

"Last year, I think we were undersized in our midfield. We didn't have the physical presence in there in terms of a guy who could cover as much ground as Mo does," Hackworth said. "We certainly didn't have the experience that he brings. We didn't have a guy that went box-to-box."

Philadelphia lacked a playmaker, as well, a need that has since been filled with the arrivals of Vincent Nogueira and Cristian Maidana. With Brian Carroll slated to be in more of a dedicated holding role, the presence of Nogueira and Maidana should allow Edu to be able to pick his spots in terms of when to get into the attack.

"The one thing I really appreciate about Mo's game is he wants to be in the box and get on the end of things," Hackworth added. "That is extremely hard for opposing defenses to deal with. One second a guy is winning a ball in the midfield and the next second he's getting on the end of a service and breaking through on goal. We didn't have that to the degree we wanted to last year for sure."

Hackworth added that he's discussed his approach with Klinsmann, and that the two are in agreement that Edu's future -- at least in the short term -- is in midfield. All of this is fine with Edu.

"The brought me in to play in the midfield, and that's where I want to operate," he said.

Edu's move to the Union was downright whiplash inducing. News of the Union's pursuit emerged during the MLS player combine, and carried past the SuperDraft, with the league balking at Edu's reported salary demands. Ultimately the deal got done, and Edu's gratitude remains evident.

"I've come here to a club where the manager, the owner, my teammates, they all have a lot of belief in me that I can come in and help this team," he said. "So I'm looking to repay all the hard work they put in to get me here."

And impress a certain national team coach, as well.