The controversial era of Chivas USA comes to an end
The single biggest embarrassment to Major League Soccer has been removed at last.

The league announced on Thursday that it had purchased Chivas USA from owners Jorge Vergara and Angelica Fuentes for an undisclosed fee, and that the search for new owners who would commit to keeping the team in the Los Angeles area would begin immediately. That commitment would include the building of a new stadium for the club.

On a conference call with reporters, MLS commissioner Don Garber added that the league was in the process of hiring an "experienced sports executive" who would run the team on the league's behalf until local owners can be found, with a goal being to find such an owner by the end of the year.

The move amounts to a colossal cutting of losses by MLS, which had watched as the club suffered both on and off the field. That didn't stop Garber from issuing a spirited defense of Vergara and Fuentes, who owned a 50 percent stake in the club until 2012, when they bought out co-owners Antonio and Lorenzo Cue.

"This [sale] is not a reflection on the Vergaras. … They are really good people," Garber said. "They're smart, they're creative. Jorge in particular was a huge believer in soccer in America and still is. He was one of our strongest advocates down in Mexico, and helped in our relationship with the Mexican federation. Every time he had a chance to talk about the league down there, it was positive."

Garber is being kind.

Vergara may have started the venture back in 2005 in the hope of spreading the brand of parent club Chivas de Guadalajara, but that aim never materialized. The team name, intended to attract more Latino fans, had the unintended consequence of alienating a good portion of that fan base that supported other clubs, be it in Mexico or elsewhere.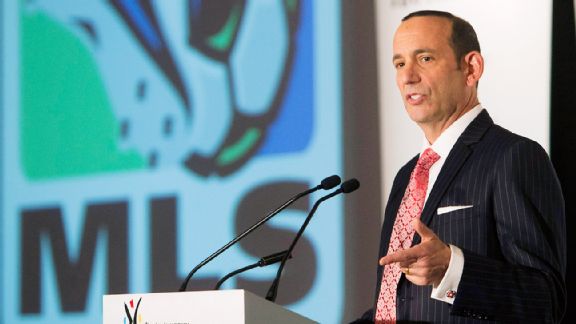 AP Photo/The Canadian Press/Ryan RemiorzDon Garber held firm to his promise that he would fix the troubled Chivas USA franchise.
Vergara was also guilty of other missteps. There were the misguided attempts to stock the club with castoffs from Liga MX, both of which resulted in the club finishing in last place in the Western Conference. The only period of success came under the stewardship of Bob Bradley and his successor Preki, one in which the club qualified for the playoffs four consecutive years. Since then, the club has finished in last place in the Western Conference three of the past four years.

The performance has been just as poor off the field, with attendance in 2013 sinking to 8,366 fans per game, the first time since 2005 that an MLS team's official attendance had fallen below the 10,000 mark.

"There were a wide variety of decisions that were made by the league and by ownership that just weren't right," Garber admitted.

He later added, "I don't think it was a market issue at all, but an execution issue."

If those had been the only mistakes Vergara made, MLS likely wouldn't have seen the need to buy out Vergara and Fuentes. But Vergara seemed hell-bent on embarrassing the league again and again. On Nov. 13, Vergara is alleged to have held a company meeting in which he identified all of the non-Spanish speakers in attendance and told them "If you don't speak Spanish, you can go work for the Galaxy, unless you speak Chinese, which is not even a language."

The remark sparked two race discrimination lawsuits, one of which involved youth coaches Dan Calichman and Ted Chronopoulos, who were both fired after they complained about the club's attempt to acquire data related to the ethnicity of the club's youth players. Garber indicated on the conference call that the discrimination suits have since been settled, and are no longer pending cases, but plenty of damage had been done, and it was clearly in everyone's best interest that Vergara and Fuentes rid themselves of their investment.

Speculation as to who the new owner would be immediately centered on Colorado Rapids owner Stan Kroenke, who purchased 60 acres in Inglewood, Calif., last month. But Garber indicated that Kroenke's ownership of the Rapids eliminated him as a candidate to purchase Chivas USA.

"Those days for us are over. … We're not interested in one owner owning multiple teams," Garber said.

As for whether Kroenke would be involved in a stadium solution, Garber added, "I'm not familiar with what his plans are for the stadium site. We haven't spoken about that. But all these rumors that I heard that he was buying the land so that he could launch a second MLS team are unfounded."

MLS now has a rare opportunity to try to make things right, and Garber indicated that the league remains committed to having two teams in Los Angeles. He also admitted that there is increased pressure as well.

"You can only relaunch once, and you have to get it right the second time around," he said.

All true, but it's hard to imagine a new owner doing any worse.