MLS's incoming Florida teams aim to have the best rivalry in the league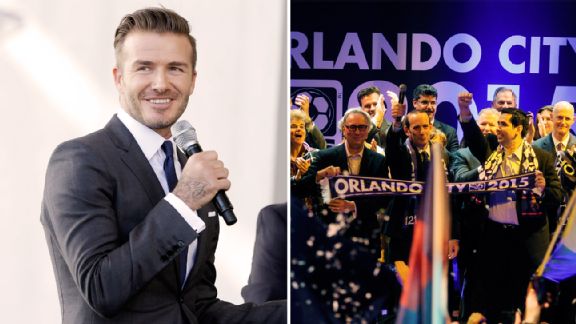 AP Photo, USA TODAY SportsMLS incoming Florida teams -- Miami and Orlando -- have already kicked off a growing rivalry.
Orlando City Soccer Club doesn't start its first MLS campaign until next year, and David Beckham's Miami project doesn't yet have a name, colors or a place to play. But already rivalry is percolating in Florida.

The future Miami franchise's entry into American soccer's top league follows another Florida team, located a 3½-hour drive north in Central Florida. Orlando City, built on the foundation of a successful three-year run in USL PRO under chairman Phil Rawlins, begins MLS life in 2015. By the time Miami comes on board a few years later, Orlando will have already established itself as the team that brought MLS back to the state the league deserted nearly 15 years ago.

Despite Orlando's head start and the interval until Miami's club launches, there is already nascent bad blood between Central Florida and South Florida in the soccer realm. That being said, the rivalry can't fully start until the two play each other, but the anticipation is already building.

"The sport is built around local rivalries," said Rawlins. "You can see that in the Pacific Northwest. The rivalry between Vancouver, Seattle and Portland. It's great for all of those three. It's great for the game, it's great for the MLS. We really welcome David into the state, and welcome Miami. We can't wait -- we're champing at the bit to take them on on the field."

The Cascadia standard is a high one, but Max Ramos of the MLS Miami supporters group Southern Legion echoed Rawlins when talking about the dynamic between Orlando and Miami. Like in the Pacific Northwest, this isn't just about soccer or even sports; there are cultural differences at play that will raise the heat of hatred.

"When people think Florida, they think Miami," declared Ramos, who runs social media efforts for the Southern Legion group. "It's Florida's biggest city. It's the richest city. When people want to travel to Florida and they're not doing family stuff, when they want to do something more adult, they come to Miami.

"Orlando is Disney World, it's Universal Studios. That's why we've been calling them 'Mickey Mouse Club,' because of the old theme park idea. And this year they're actually playing at Disney World. It's pretty funny to us."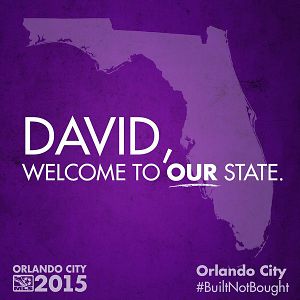 Courtesy of Orlando SCOrlando City SC kicked off the Floridian rivalry with this Twitter post.
A war of words is already underway between the two teams and their supporters. There is no soccer yet, but that's not slowing down the rhetoric. Miami fans throw "Mickey Mouse Club" at Orlando while Orlando fans quickly latched on to a hashtag spread by the club's Twitter account during Beckham's announcement: "Built not bought."

"We wanted to welcome Miami to the league. Just let them know where their place was, that they were on the verge of being the second-best team in the state," said Rawlins with a chuckle.

Ramos tried to play off Orlando's criticism by hurling some of his own. He pointed to Orlando's former life as the Austin Aztex. He also highlighted Miami's place as an international city.

"They already don't like us because in their minds, they earned an MLS club by being in USL PRO for a few years and having these big crowds and everything, while we were just given it because Beckham wanted a club. Because Miami is a posh city and Beckham is posh.

"The fact that [Miami] hasn't [had a team] has hurt MLS's image around the world, because when people around the world think of American cities, the big three is Miami, New York and L.A. New York has two teams, L.A. has two teams, and Miami didn't have one. And now we do, and we're excited about the future of this club."

Talking to figures from both sides of the equation, it is clear that the major differences between Miami and Orlando -- and the basis for a future rivalry -- lie both in Florida's cultural variation and the distinct ways the two clubs arrived on the scene. Keeping in mind that Miami isn't a sure thing quite yet, the rivalry is already heating up in anticipation of 2017.

These things almost always fall to the fans, something Rawlins recognizes and Ramos embodies.

"These are things that are best developed and determined by the fans," said Rawlins. "The fans themselves have got a natural rivalry between the two cities. There's going to be a natural rivalry that grows up between the two teams. I think it's always best to let these grow organically."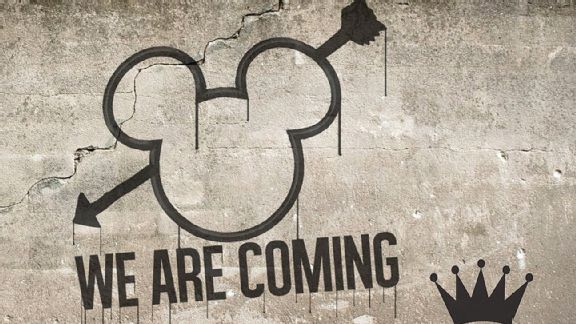 MLS Miami fansThe fans of the incoming MLS Miami franchise posted this in response to Orlando City SC's tweet.
The Orlando City SC part owner also admitted that he enjoyed playing a role in stoking up the rivalry.

"We had a little bit of fun. Our fans loved [the 'built not bought' hashtag]," Rawlins stated. "The fans jumped in on it and took it to a whole other level between themselves as well. And that's what it's all about."

"That's what makes soccer such a great sport around the world," opined Ramos. "It's the idea of the 'other,' the rival. The team down the road, or in our case, the team up north in Central Florida. What will really drive this rivalry too will be the difference between Central Florida and South Florida because while they're within the same state they're two different worlds. So it will be more of the cultural thing as well. That's why I think the rivalry has a chance to grow, because of the cultural difference, the geographic difference."

The jury remains out on whether Orlando-Miami can approach the intensity and passion of Cascadia. The bar is high, and it wouldn't be an indictment of the renewed MLS presence in Florida if the new rivalry fails to reach that standard.

But there remain a few years between now -- with Orlando preparing for its first MLS season and Miami seemingly on its way to joining it -- and when a Florida derby hits the field. That's plenty of time to ratchet up the vitriol. Ramos foresees the already fomenting dislike transforming into the type of hatred that will push Orlando-Miami into rarefied rivalry air.

"Obviously we don't want to have any physical problems, any violence," Ramos said. "It isn't good for American soccer. But it will be an intense rivalry."

He added, "I feel like this rivalry could really grow into something similar to what we have in college football in the state, where it's a very hard-core thing. We're excited for it."