World Cup hopeful Agudelo aiming to impress in Europe
Arriving in midseason isn't the best way for a player to secure his preferred jersey number. At such a juncture, a player is typically left looking for scraps.

But the No. 18 shirt that Juan Agudelo acquired upon being loaned to Dutch side FC Utrecht still carries plenty of meaning.

"There were a couple of other numbers left," he said via telephone. "But I have 17 caps, and my goal is to get my 18th."

International appearances are never guaranteed. Just ask Mike Magee, who missed out on making his inaugural appearance with the U.S. last weekend thanks to a brutally timed bout of food poisoning.

In Agudelo's case, he's taking nothing for granted, be it for club or country. After signing a contract with Stoke City of the English Premier League, Agudelo was denied a work permit, forcing him to look elsewhere for the kind of playing time that may will not only advance his career, but keep him in the running for this summer's World Cup. After exploring options in Belgium, Agudelo settled on Eredivise club Utrecht. If all goes well, he plans on reapplying for the work permit that proved elusive the first time.

"I didn't want to go somewhere where it would hurt potentially my chances of maybe achieving my dreams," he said. "I felt like a team like Utrecht in Holland would give me the best chance. Also the best chance to portray myself on the European stage, and doing well in a league that is so well-thought of."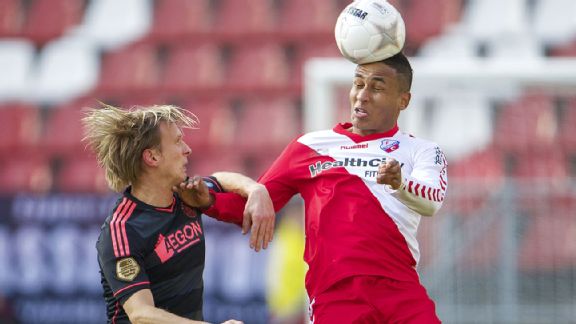 VI Images via Getty ImagesJuan Agudelo's flick-on header helped set up Steve De Ridder's equalizer in FC Utrecht's 1-1 draw with heavily favored Ajax.
It's early days of course, but the 21-year-old striker has made a good impression so far. In his first start last weekend against league-leading Ajax, his flick-on header helped set up Steve De Ridder's equalizer, and he managed to last the full 90 minutes despite enduring cramps in the second half.

"I felt comfortable, and it was very exciting to play in front of a crowd like that and against a team like Ajax," he said. "It was a really fun game for me. Unfortunately it was tough because I haven't played a full game since November, but I'm happy that I finished."

In terms of adapting to life in the Netherlands, Agudelo feels he has had little trouble so far. He feels the style of play suits him, the training sessions have been engaging, and he has settled into life away from the game as well.

"In training, it's very involved with the ball," he said. "You don't think about the fitness that you're doing because you're having so much fun. It gets your first touch better.

"I enjoy the style that's played over here. I feel like I can use my body a lot with my strength. It's not so much having to adapt, but something I realize can help me a lot. And I think it's a very counterattacking league, which involves space and I feel very comfortable when there's space given by the defenders. It's very fun to play that way when you're able to turn and face the goal."

If that means getting back into the thoughts of U.S. manager Jurgen Klinsmann, so much the better, though at this point the odds of making the World Cup roster seem long. The two discussed Agudelo's move overseas prior to its completion, and they agreed the forward was better off getting settled in Europe as opposed to attending the January camp.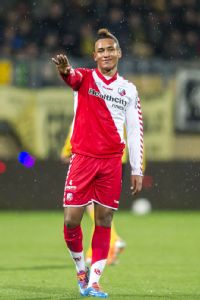 VI Images via Getty ImagesJuan Agudelo is still holding to his hopes of making the World Cup roster and is focused on making an impression in Eredivisie.
At minimum, it's encouraging just to have Agudelo's career moving in a positive direction again. It seems ages ago that the Colombian-born striker burst on the scene with the national team and the New York Red Bulls. But whispers of poor training habits dogged his time in New York, and a torn meniscus sustained while on Olympic duty proved to be the start of an injury-hit spell for the striker. A stint with Chivas USA eventually resulted in a trade to New England, where Agudelo not only bagged seven goals and an assist, but began to rehabilitate his off-field reputation as well.

"The league's pretty small, and we had heard the [criticisms] when we made the move with Chivas to acquire Agudelo," New England GM Mike Burns said. "But during his time here, he was extremely professional, even after he signed his contract with Stoke. He still gave everything he had and came to work, punched the clock every day and really helped us get into the playoffs."

Although the injury bug bit Agudelo again during his time with New England -- including knee and hamstring problems -- he was on the field when it mattered most.

"I think the true testament is the last game of the year against Columbus, he scores a goal to help us win the game and solidify that playoff spot," Burns said. "What else can you say to that? He never mailed it in. He gave us everything he had and we had a lot of respect for that."

The only concern at this point is why does a player as young as Agudelo get injured so often? Agudelo insists that he was overworking himself during the week instead of thinking about recovery. As a consequence, he's altered his approach in the past year to include yoga, and he hopes it will pay off now that he's in Europe.

At this point, injuries seem to be the only issue capable of stopping the U.S. forward. His ability, including an impressive blend of skill, speed and strength, is unquestioned. If Agudelo's health and hunger can be maintained, there's every reason to think a recall to the national team -- and a different jersey number -- is in his future.