MLS' rumor mill is heating up with several big names linked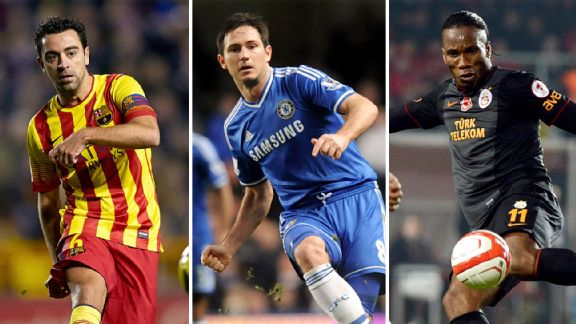 Getty ImagesThe MLS rumor mill is churning with big names like Xavi, left, Frank Lampard, middle, and Didier Drogba, right, attached to the league.
It wasn't that long ago that any MLS rumor promising the arrival of a big name was sure to be drawn out over weeks or months -- if it actually ever did come to fruition.

Generally speaking, the marquee talent that has settled in North American locales did so after a laborious period of courtship marked by the type of back-and-forth, will-he-or-won't-he dance routine that fatigued everyone involved by the time a contract was signed and the player unveiled.

Then Clint Dempsey and Michael Bradley dropped into the league via rapid, whirlwind cloak-and-dagger operations, and the world seemed to change a bit. The old rumor mill wasn't gone, but the way MLS managed to grab two high-profile Americans with very little buildup proved it was possible for the stories of big-name DP signings to unfold in a markedly different way.

In this brave new world, Dempsey's summer arrival in Seattle and Bradley's signing at TFC (which was paired with that of Jermain Defoe, whose arrival was actually rumored for some time) has been followed closely by the old kind of buildup, almost as if the news cycle was balancing itself. Without judging the validity of the rumors (because really, who can tell?) let's take a look at a few of the big-name players connected to MLS in recent times and consider where, or if, they fit in the league. By no means is this a comprehensive list, of course.

Notably, the new round of superstar rumors often come with a familiar seven-month maturation period; many of the names linked with MLS aren't rumored to arrive until late summer, after the end of the current European club season and the World Cup.

Xavi

Several factors line up to give logical credence to a Xavi move to the U.S. after the World Cup. Most notably, the Barcelona midfielder's age; while Xavi is Xavi, and no one would suggest he's over the hill at age 34 (which is what he'll turn this weekend), he is past his peak and ripe for speculation of a move to a league like MLS. Second, and this seems to be where the rumor mill is getting much of its grist, there is a Barcelona connection at the Red Bulls, the team with whom he's been linked. Whether Thierry Henry is playing a part in recruiting Xavi is unclear -- reports have Xavi claiming no contact and declaring he doesn't even have the former Blaugrana striker's phone number.

Whatever the reality of the connection with New York, Xavi would be an amazing signing for MLS. He'd immediately become the most technical player in the league currently, and arguably the most technical player in the history of the MLS. Any team would benefit from his influence, but he'd be especially interesting with the Red Bulls. A spine made up of Xavi, Dax McCarty (doing the dirty work and feeding the Spaniard), Tim Cahill and Thierry Henry (the two men who would most benefit from Xavi's passing) is, on paper, an MLS Cup-winning team.

Frank Lampard

From the moment David Beckham left the L.A. Galaxy to spend half a season in France, Chelsea midfielder Frank Lampard's name popped up as a possible replacement. After a period in which it looked possible Lampard would leave England for America came and went, the rumor mill is now silent on any Galaxy interest. Thanks to the re-signing of Omar Gonzalez to a DP deal, the Galaxy do not have an open slot. That doesn't mean we can't speculate about an MLS with Lampard in it; Chelsea will eventually move on, and Lampard may or may not call it a day on his career. MLS remains a possibility.

If not the Galaxy, where? Lampard's intelligence, passing, and goal-scoring ability from midfield would be welcome on most MLS teams, but it's worth wondering if the physical nature of MLS would be a problem for Lampard at age 35. At Chelsea, Lampard benefits from the high-quality cast around him -- in MLS, he'd be asked to control more of the game himself. Assuming that transition wouldn't be a problem, teams that could most use Lampard and have open DP slots include Chicago, FC Dallas and Montreal.

Didier Drogba

MLS has a long history of flirting with Drogba, currently with Turkish giants Galatasaray. Prior to the Ivorian's move to China back in 2012, MLS seemed like an obvious place for him to continue his career. Since, the temperature of Drogba-to-MLS rumors has cooled, though it's possible he would again consider jumping the Atlantic at age 35. Notable about the Drogba rumors that have long bounced around the MLS sphere is that they rarely included a specific destination. Though few teams could afford him, and there's the open DP slot situation to consider, Drogba is still good enough that he'd be the top forward on almost every team from the moment he arrived.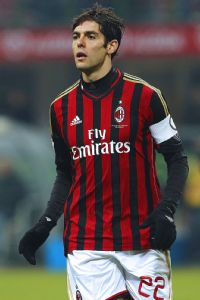 Marco Luzzani/Getty ImagesKaka is another big name linked to MLS.
After missing on several forward signings, Chicago could use the experience and finishing of Drogba. For a team that was smack in the middle of the league scoring charts in 2013 (Chicago tied with Sporting Kansas City for ninth in goals scored), a striker like Drogba might not seem so obvious a need. But Chicago's reasonable goal haul belies its issues up top, where a rotating cast of underwhelming characters, and a poor history of DP signings (Cuauhtemoc Blanco excluded) makes Drogba a possible home run. Among the other clubs with forward needs where Drogba might fit are Columbus, Houston and Philadelphia. Unfortunately, none of them have shown an inclination for spending on the level needed to attract a player like Drogba to MLS.

---

There's a fine line between accentuating Major League Soccer's "retirement league" reputation and signing marquee players who would boost the league's profile. But if we're dreaming and paying no mind to the legitimacy of rumors, it might be difficult to find an MLS fan who wouldn't love to add names like Ronaldinho, Kaka (rumored to be on his way to Orlando in 2015, for what it's worth) and Miroslav Klose to this list. Diego Forlan would be there, too, and was recently linked to the Chicago Fire (after TFC failed to land him last summer), but the Uruguayan just announced a deal to sign with Cerezo Osaka of the J-League.