MLS notebook: Beckham latest, Xavi rumors and Edu's future
PHILADELPHIA -- There was more than just draft news to digest on Thursday as events at the Philadelphia Convention Center unfolded.

We had information about pending transfers, as well as news about David Beckham's attempt to secure an expansion franchise in Miami. There was clever maneuvering, even beyond D.C. United's trading of the No. 1 overall pick to the Philadelphia Union.

Here's a summary of some of the storylines that developed throughout the day of the MLS SuperDraft.

Beckham announcement set for February

News on this had gone quiet during the holiday period, even as the Dec. 31 deadline to hammer out a stadium deal with various municipalities in the Miami area came and went. But MLS commissioner Don Garber brought the expansion attempt back into focus when he revealed that the league expects to make an announcement about Beckham's plans in early February.

"We have been spending a lot of time -- I was down [in Miami] last weekend, I've been down there a lot -- working with them, working with potential ownership groups, trying to finalize a stadium a stadium plan," Garber told reporters Thursday. "Right now, we've got a lot of work to do."

Beckham has teamed with longtime business partner Simon Fuller as well as Marcelo Claure -- the billionaire owner of Brightstar Corp. -- to try to bring an MLS team to Miami. The stadium plan that has gained the most attention is a bid to lease a parcel of county-owned land in the Port of Miami.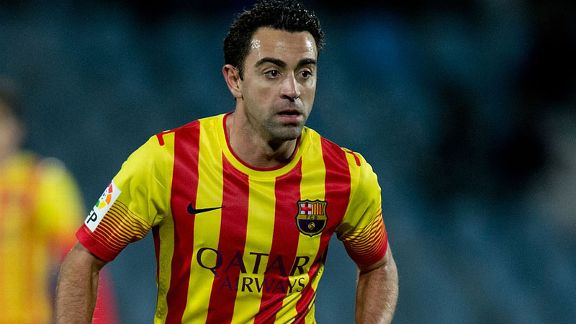 AllsportThe Red Bulls refused to be drawn on Xavi rumors but both Mike Petke and Andy Roxburgh did voice their admiration and hope.
Red Bulls coy over Xavi

Published reports on Thursday had Spain and Barcelona midfielder Xavi denying he had agreed to move to MLS, either with the New York Red Bulls or with 2015 expansion side New York City FC. But one source told ESPNFC.com's Doug McIntyre that an inquiry had been made by the Red Bulls, and when asked about his club being linked with the player, coach Mike Petke didn't dismiss the idea out of hand.

"You never know with Red Bull," he said. "If we feel it's the right fit in the field, if we feel it's a right fit from a marketing sense, then anything can happen. As of now, I don't think in the next week we'll be announcing Xavi or anybody. But obviously he's a player that is coming up on a contract soon, and you never know. That's all I can say."

Full SuperDraft coverage
- Carlisle: Draft winners, losers
- Profile: No. 1 pick Blake ready for Philly
- Twellman: Revs' successful picks
- FC TV: Goalie picked first
- Lalas: MLS return like 'giving up?'

Xavi's contract expires in 2016, but Red Bulls sporting director Andy Roxburgh confessed he would love to bring one of his favorite players to New York. "If [Xavi] had been in the draft we would have been trading all over the place," he quipped.

He later added: "If you asked me, would I like to have Xavi? Of course. It isn't even a discussion. He'd be phenomenal for the league, and phenomenal for us. But in the short term I can't imagine such a thing happening."

Camilo saga closing in on resolution

The deal to transfer reigning Golden Boot winner Camilo to Liga MX side Queretaro looks close to being completed at last, with a league source telling ESPNFC.com that the Brazilian can expect to command a transfer fee of about $2 million. Of course, "close" has characterized the proposed deal for much of this week, but Garber made the clearest statement yet that the deal would get done.

"There's been a transfer that is going to happen," he said. "Ultimately, we're very disappointed. [Camilo] had a contract. That contract -- in the world we live in, whether it's here or around the world or under FIFA rules -- needs to be honored.

"But we all deal in a world where players are not happy with where they are and the mathematics do that. Ultimately, there was a good result: a high transfer fee, they get allocation money and Vancouver will rebuild their team with a new coach."

Perhaps mindful of how long this episode has dragged on, both Vancouver president Bob Lenarduzzi and new manager Carl Robinson were more circumspect in their comments, but essentially echoed Garber's statement.

"I've said all along, we're unwilling participants in this exercise," Lenarduzzi said. "Our best scenario was Camilo was going to be with the Whitecaps. But obviously that will be determined hopefully in the next 24 hours and we'll be able to move on."

As to whether this episode will result in other players testing the validity of MLS contracts in this manner, Garber said he was confident it wouldn't. He also was not worried about FIFA challenging the way MLS contracts are written.

"FIFA honors and recognizes Major League Soccer's system," he said. "We are able to be protected. FIFA would have supported us in this situation. But you deal with players. How many times have we seen players in the Premier League who decide they want to get sold? They have a contract and they are just unhappy. Next thing you know, the player is moving from one club to another."

"I'm a soccer guy for the last 15 years, but I'm also an American sports guy. If you sign a contract, if I sign a contract, you honor it. FIFA will honor contracts in our system. We just have to manage it."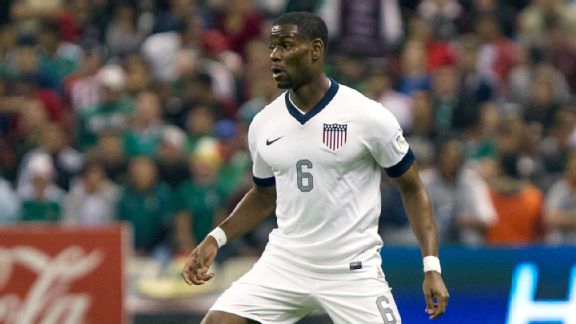 Miguel Tovar/Getty ImagesMaurice Edu's return to MLS is still far from certain.
Edu negotiations continue

The other transfer generating buzz around MLS is the proposed move of Stoke City's U.S. international, Maurice Edu, to Philadelphia. Sources told ESPNFC.com earlier in the week that MLS was balking over a transfer fee that is at minimum $1.2 million. But with Garber receiving plenty of boos from the Union fans in attendance, all parties sought to defuse the situation.

On Wednesday night, a source close to Edu would say only that the talks were "at a delicate stage." Union general manager Nick Sackiewicz told ESPNFC.com via email that "these negotiations are always very fluid and can turn on a dime. I know everyone is anxious and excited, but should take a deep breath and step back while we work through all the options."

As for Garber, he insisted the back-and-forth was nothing out of the ordinary.

"The league office is going to review and is going to be very engaged in what players get paid and what the contract length is, etc., etc.," he said. "In this particular case, we're going to continue to negotiate a deal that makes sense. If it makes sense for Maurice, he will come back. If it doesn't make sense for Maurice, then he won't."

That said, if the latter scenario is the one that plays out, you can bet that Garber's next visit to Philadelphia will be even chillier than the one he experienced Thursday.

If he looks like a coach...

As the Colorado Rapids are still without a manager, it was left to assistant technical director Pablo Mastroeni to discuss the club's draft picks with the media.

Mastroeni certainly looked the part of a head coach -- and with team president Tim Hinchey telling ESPNFC.com earlier this week that personally speaking, he'd like to see Mastroeni step into the role, it appears as though the former Rapids midfielder has the inside track.

"I'm going to meet with the club when I get back, and go into a bit more detail about what my role will be with the team moving forward," Mastroeni told reporters. "But all I know right now is just learning the ropes on this side of the fence."

"Being on the field for all those years it's definitely a different perspective, and one I feel I've acclimated quickly to with the group I have at the [team's] table. I'm excited about the future."

One steal or two?

Prior to Thursday's festivities, Portland Timbers manager Caleb Porter compiled his list of top prospects, and checking in at No. 4 was Maryland forward Schillo Tshuma. So imagine his surprise when the Generation adidas prospect was still on the board when it was time for Portland to make its selection at No. 17.

"It's rare to get a player of that caliber with the 17th pick," he said. "We're really excited about his future and he'll fit in with the way we play and fit into our locker room."

But Porter's delight didn't end with Tshuma's acquisition. He added that he was also surprised to find speedy Washington defender Taylor Peay available at No. 26. "We feel like we got two steals," he said.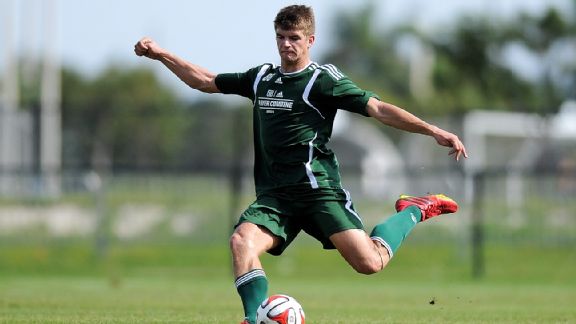 Steve Mitchell/USA TODAY SportsNick Hagglund's superb Combine performances made him a much hotter prospect than Toronto FC had been hoping.
Toronto sees both sides of combine effect

A solid performance by a player at the MLS player combine can elicit some conflicting emotions for a team's technical staff. On the one hand, strong play can confirm a team's assessment of a player it's interested in drafting. On the other, it can create almost too much interest, making it more difficult to acquire a preferred target.

So it proved for Toronto GM Tim Bezbatchenko, who saw Xavier defender Nick Hagglund perform so well down in Fort Lauderdale that it forced TFC to trade up five spots to land him.

"I don't think [Hagglund] lost a ball at the combine, and we had seen him at our other combine we hosted in Seattle back in December," Bezbatchenko said.

"So he's been on our target list, and when we looked at the other teams ahead of us, we knew there was a good chance they were going to pick him based on some knowledge that we had. You want to come here and capture the players that you want. You don't want to be left in a position where you're getting your second choice."

The selection of Elon midfielder Daniel Lovitz came about in a completely different fashion. Toronto knew all about Lovitz's ability to deliver service from out wide, but the player didn't participate in the combine due to an injury, allowing him to fly a bit more under the radar.

"It's a balancing act," Bezbatchenko said. "You want them to do well at the combine, but not too well."