MLS Superdraft winners and losers
PHILADELPHIA -- There's a dichotomy at work when it comes to drafts.

There's the instant gratification part where an attempt is made to judge precisely how well each team fared even though a ball has yet to be kicked. But as is the case with all player acquisition mechanisms, obtaining new players is primarily about the long view.

That said, it was hard to walk away from the 2014 MLS SuperDraft and not be impressed with the work done by some of the teams. With that in mind, here are the early impressions of what transpired at the Philadelphia Convention Center.

Teams that helped themselves

D.C. United

When a club trades down, there's always a risk that it might backfire, in that the desired player might no longer be available. But DCU's move to swap picks with the Union resulted in a near-perfect outcome. Not only did United get the player it wanted all along in Cal defender Steve Birnbaum, it bolstered its stock of allocation funds in the process.

"I don't need a goalkeeper right now," D.C. United manager Ben Olsen said. "I think it was a win-win for both Philly and D.C. We get the guy we wanted, they get the guy they wanted. We get a little extra spending money on the open market and everybody's happy."

And Birnbaum?

"I think he'll be fine. He's got the mental side, he's got the physical side to be a starter in this league at some point. How quick that goes, I don't know. That's up to him and the guidance we give him. From a starting point, we're very excited."

With United finishing off the day by grabbing UCLA midfielder Victor Munoz in the second round, Olsen should be.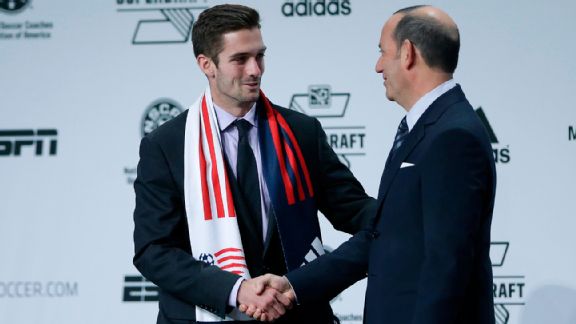 AP Photo/Matt RourkeThe drafting of Steve Neumann at the No. 4 spot kicked off a successful draft for the New England Revolution.
New England Revolution

When New England moved up to acquire the No. 4 pick overall earlier in the week, the trade was viewed in many quarters as a way to acquire two-time MAC Hermann award winner Patrick Mullins. The Revs did indeed acquire Mullins, but were able to wait until the 11th pick -- obtained in a trade with the Colorado Rapids -- to do so. In the meantime, they grabbed Georgetown midfielder Steve Neumann, who seemed destined to be grabbed by the Union with the sixth pick.

Those two players seemed to fit perfectly with the technical players already on the roster such as Kelyn Rowe and Diego Fagundez.

"Both of them are smart players, both of them are fluid players, and both are going to have to work hard," New England manager Jay Heaps said. "I think that's something we value."

Heaps especially valued Neumann's versatility.

"I've seen him play a lot of positions in college," said Heaps. "I think he's a different style of player, and I think he's a player that will fit into a couple of different positions that we peg them for."

As for Mullins, the fact that he slipped out of the top 10 was of no concern at all.

"It doesn't matter where you're going," he said. "I knew I was going to get drafted today, and I was excited. I think I ended up in a great place. They have a great style of play and have some good attacking players. Just from talking to them at the combine, I really felt that they had a good belief in me as a player, and that's all you want."

New England completed its day buy selecting Cal center midfielder Alec Sundly.

Philadelphia Union

Throughout the combine, the consensus top talent was UConn goalkeeper Andre Blake, yet he was rarely mentioned as the No. 1 pick. In a way it was understandable, as a field players, particularly in attack, are viewed as having the potential for a greater impact.

But in a draft that was viewed as being short on attacking talent, and with other teams maneuvering to land the No. 1 pick, Philadelphia struck first and was able to land Blake, parting with the No. 2 pick and some allocation money.

That was by no means the only way in which the Union helped themselves, however. Philadelphia traded down twice, and according to manager John Hackworth, the money obtained actually saw Philly come out ahead on the allocation ledger. The team then obtained an attacking midfielder in Pedro Ribeiro, who Hackworth said was operating at less than full speed at the combine because of recent hernia surgery. Given that Ribeiro played for PDL side Reading two summers ago, Hackworth had a high level of comfort with the pick.

"Ribeiro trained with us off and on for a couple of weeks, and he was excellent, and he still is," Hackworth said. "And with the hernia, I don't think anyone has seen him at his best. He's got size, good technical ability, and he's dangerous going forward."

The club finished off the day by acquiring a solid center back in Michigan State product Kevin Cope, and an outside back in Akron's Robbie Derschang.

All told, a solid day's work.

The Headscratcher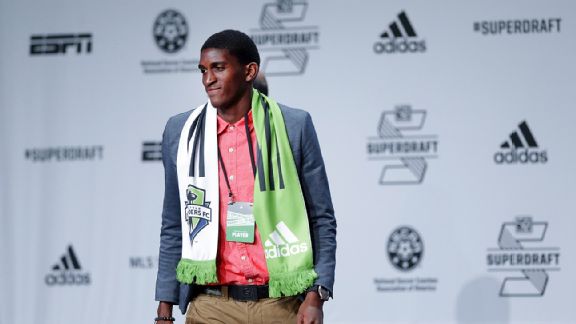 AP Photo/Matt RourkeSome have questioned if the Seattle Sounders were wise in using the No. 8 pick to draft Damion Lowe.
Seattle Sounders

After parting with Jhon Kennedy Hurtado and Patrick Ianni, and obtaining Jalil Anibaba in a pre-draft trade with Chicago, it was no surprise that the Sounders sought to add some depth to the center of defense. What was something of a shock was the players chosen to solve that issue. The Sounders used the eighth pick on University of Hartford center back Damion Lowe and later used the 22nd selection on University of Louisville defender Jimmy Ockford.

At the combine, there were few quibbles about the athleticism of either player, but both performers seemed less than comfortable with the ball. Lowe in particular appeared to have poor distribution and could easily be pressured into making bad passes. Granted, the combine doesn't always paint an accurate picture of a player's talents, but with defenders such as New Mexico's Kyle Venter (who went to the L.A. Galaxy at No. 23) and Cope (who Philadelphia chose at No. 25) on the board, the sense is that Seattle could have done better.